C3 inspires spiritual, intellectual, and creative exploration and action, led by the questions, "what are the biggest challenges we face on our shared journey, and how do we respond to those challenges?"
Last week, C3 Teacher Kent Dobson opened our new series Saints, Mystics, and Misfits with an introduction to one of the most influential people in his life, Richard Rohr. He shared a list of ten ideas gleaned from Rohr, which you can review here.
This week, Kent brings Ken Wilber and Integral Theory into the spotlight. Our Guest Musician is Patty PerShayla, who is a pretty big deal, having won the WYCE Jammie Award for Best Rock/Pop Album of 2019. Charity McMaster will give the meditation.
We were so pleased to see 100 people at the Gathering last week, and we'd love to see all of you again this week at Central Park Place (formerly Grand Haven Community Center) for Pre-Talk at 9 a.m. in the Woodbine Room, the Gathering in the Mackinaw Room at 10 a.m., and Talk Back at 11 a.m. C3 Kids meet at 10 in the Woodbine Room. If you can't join us in person, you can watch online on C3's Facebook page.



🆕  Would you take five minutes to help promote C3?
Type "C3 West Michigan" into Google's search engine and leave us a review! Whether you attend our Gatherings in person or watch online, you can help us spread the word about our community. Reviews can be of any length or simply give us your star rating. Reviews can also be "liked." Our goal is to reach 150 reviews in 2023. Thanks for helping us out.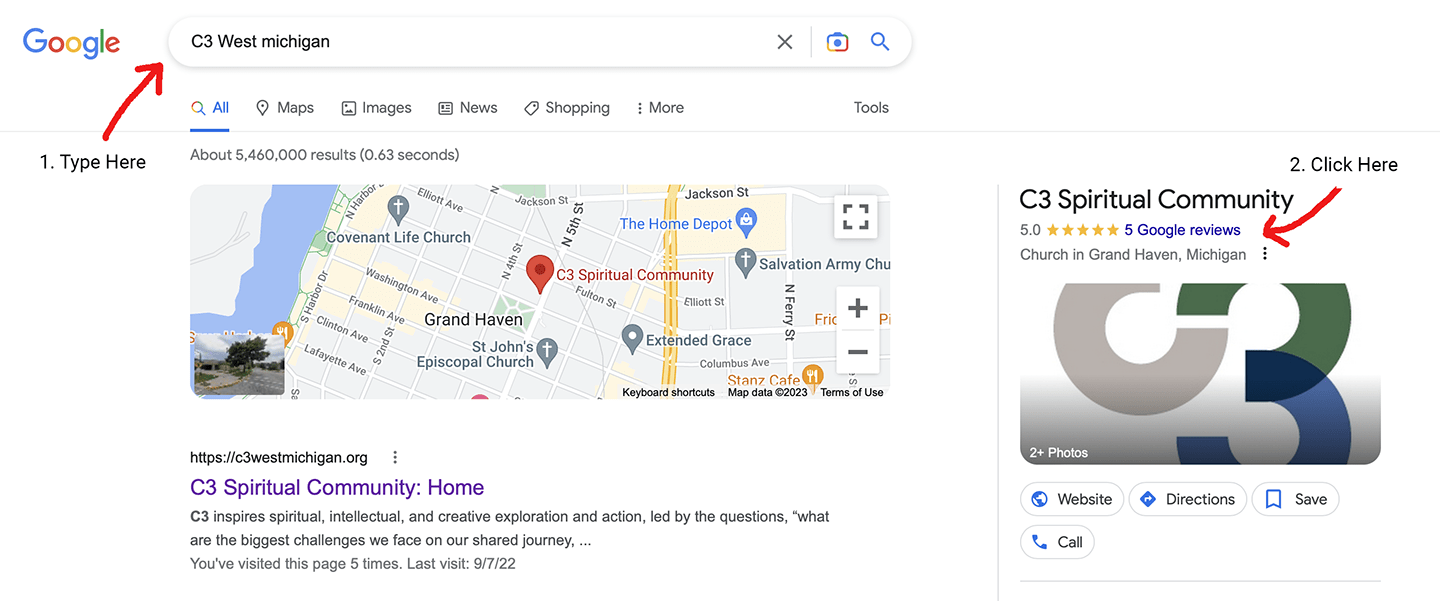 Thank You, Readers!
As we enter 2023, we want to express our gratitude to you, not only for your faithful reading of the C3 Update, but especially for your input and the feedback that guides us as we produce this newsletter.
 In 2022, 
We sent out more than 22,200 total emails (59 mailings to the entire C3 Community).

Readers opened those emails 15,075 times. That's an average of 255 readers for each newsletter! 
Thanks to all of you for being a part of this journey we are on together. Here's to a 2023 of continued community and growth!
 Chrys Moelter-Gray, Newsletter Submissions and Editor
Annie Wassmann, Newsletter Designer
Save the Date!
The C3 Annual Meeting will be held on Sunday, February 19. We typically give the community a report on the state of things, vote on acceptance of a budget for the year, vote on new Trustees for the board, affirm membership, and happily recognize one person's extraordinary contributions with the Phil Koster Meritorious Service award.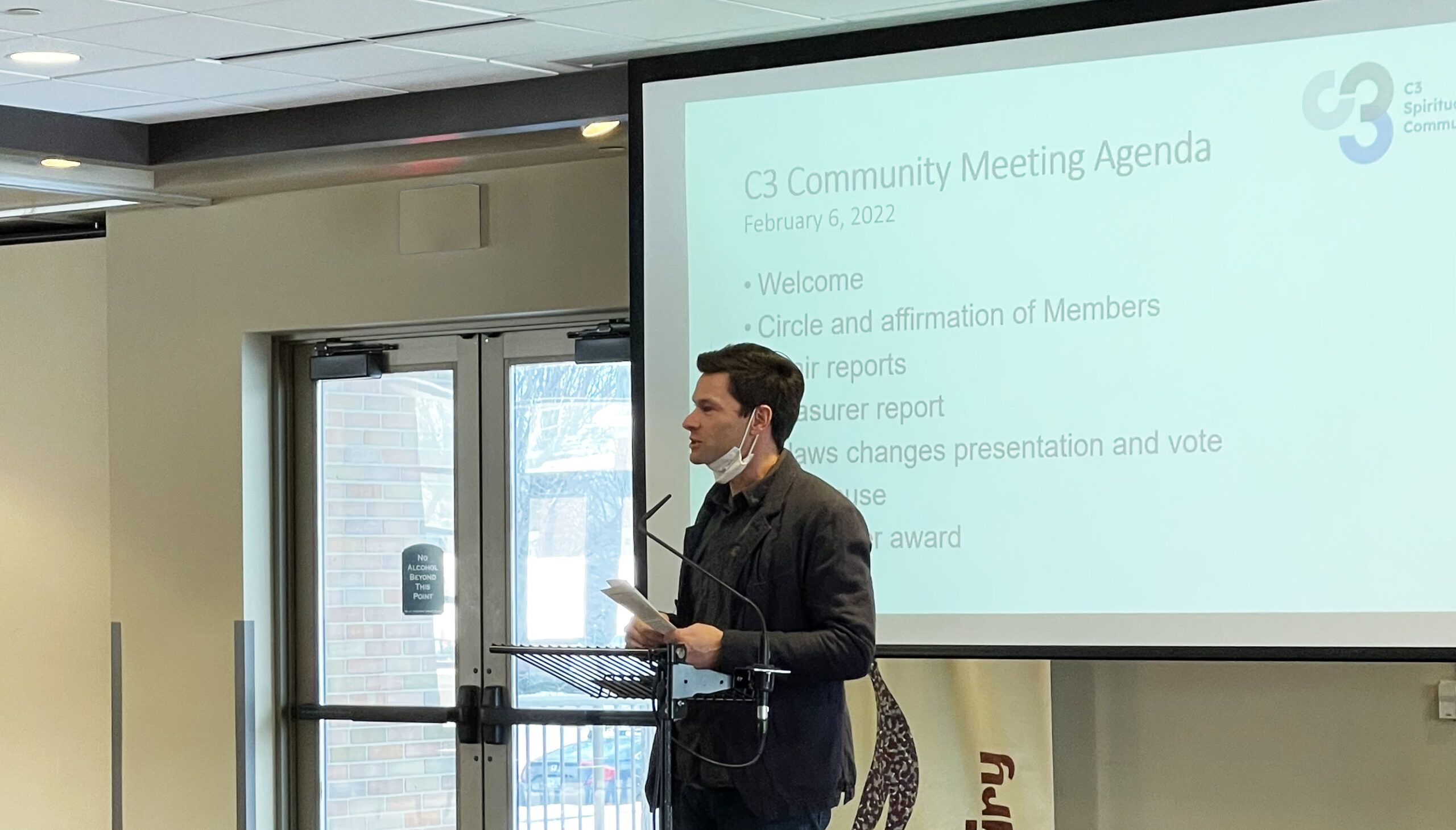 Year-End Finance Update
As a result of your ongoing financial support and the Finance Team's meticulous eye on expenses, we ended the year with a balanced budget and we begin 2023 on strong financial footing. The year-end campaign goal was $20,000, and you exceeded that with contributions of $22,000! THANK YOU!!!   
—Mark Smith, Treasurer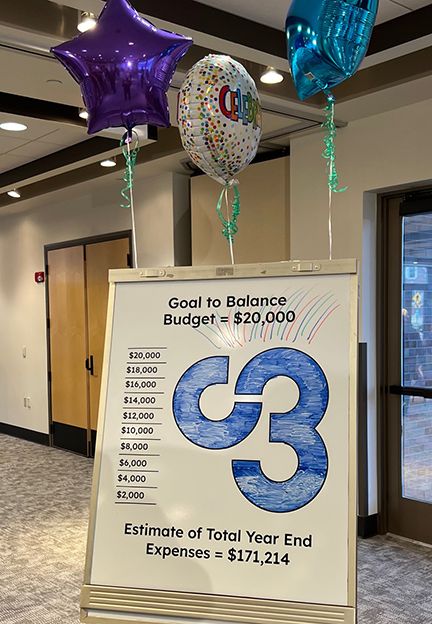 "Long-haulers" with C3 or its Predecessors

There have been 70 responses to our request to identify people who have been with C3 and/or its predecessors for many years. If you are a C3 long-hauler, would you please contact Ellie Williams, and tell her the YEAR you first became an active member of this community? We value these people who carry the history of this enduring and evolving spiritual community.
Year in Review

On December 30, you should have received 2022: A C3 Year in Review. Click here to review or in case you didn't see it in your inbox the first time around!
Caring for the members of our C3 Community is a shared communal responsibility, rather than a role reserved for a pastor, priest, or leader. Our C3 Community Care Team encourages members to support each other at time of need with notes, cards, phone calls, visits, meals, and transportation. C3 members are urged to contact the Community Care Team to inform them of life events, illness, or hardships, which can be shared with the C3 Community. To report a need or request help, or to help visit members in hospital, rehab or recovering at home, contact Cheryl Van Abbema: email or Mike and Charlotte Rozich: email.
Georganna Klemp, daughter of C3 members Bill and Karen Klemp, died on January 11. Cards may be sent to Karen, Bill, and Georganna's daughter Emma at 15901 Leonard Road, Spring Lake, MI 49456.
Lowell and Mary VanDeRiet sent this message: Many thanks to all of our old friends at C3 who took the time to send us cheerful Christmas Greetings! We are both doing well for our age, except for Lowell's major hearing and memory loss.  He always remains cheerful and content, which is a huge blessing for both of us. We love to see how well C3 is doing and the wonderful things that you accomplish for the community.
We received this note from Kathleen and Justin Kleaveland: Thank you so very much for the beautiful poinsettia plant and for all the many Christmas Greetings. You all are so very generous. At almost 90 + 99 we are doing quite well. Love, Kathleen & Justin

Would you like to support C3 through your purchases on Amazon?
It's easy using Amazon Smile! Of course, we encourage you to shop locally, when possible, but if you do find yourself using Amazon, you can support C3 using Amazon Smile. Instead of going to your usual Amazon site, go to smile.amazon.com. Sign in with the same account you use for Amazon. Select your charity (C3 – West Michigan's Inclusive Spiritual Connection) and voila!  Amazon will contribute .5% for each qualifying purchase you make! Need help with this process? Please contact Mark Smith.
Thanks to C3ers shopping at smile.amazon.com or using the Amazon app with AmazonSmile turned ON, everyday purchases make an impact. So far, AmazonSmile has donated $612.70 to C3!
Your ongoing support of C3 is greatly appreciated. Online donations can be made here. Automatic donations can be set up by contacting Carol Takas at Selby Accounting. Checks should be sent to C3 Spiritual Community, P. O. Box 371, Grand Haven, MI 49417. C3 is a 501(c)(3) Tax-Exempt Organization. Our tax ID is 38-1960212.


Humanity for Prisoners January Newsletter
Click here to access the January edition of the HFP Communicator.

C3 Book Club and Friends

Join us at The Bookman at 6:30 p.m. on Tuesday, February 7, for our discussion about The Plot Against America by Philip Roth (which is available on Hoopla).
March 7: Apeirogon by Colum McCann
C3 Men's Group 

The C3 Men's Group meets each Tuesday from 7 to 8:30 p.m. at the American Legion Hall on Harbor Drive in Grand Haven. Questions? Contact Phil Koster at 616-402-1751.

🆕  Free Community Day at the Muskegon Museum of Art

Join us in celebrating and honoring Dr. Martin Luther King Jr. on Monday, January 16 for a Free Community Day at the Muskegon Museum of Art. Explore the galleries with Muskegon High School student docents, watch a film screening of Black Man, and get creative with an MLK Day Art Activity. Schedule here.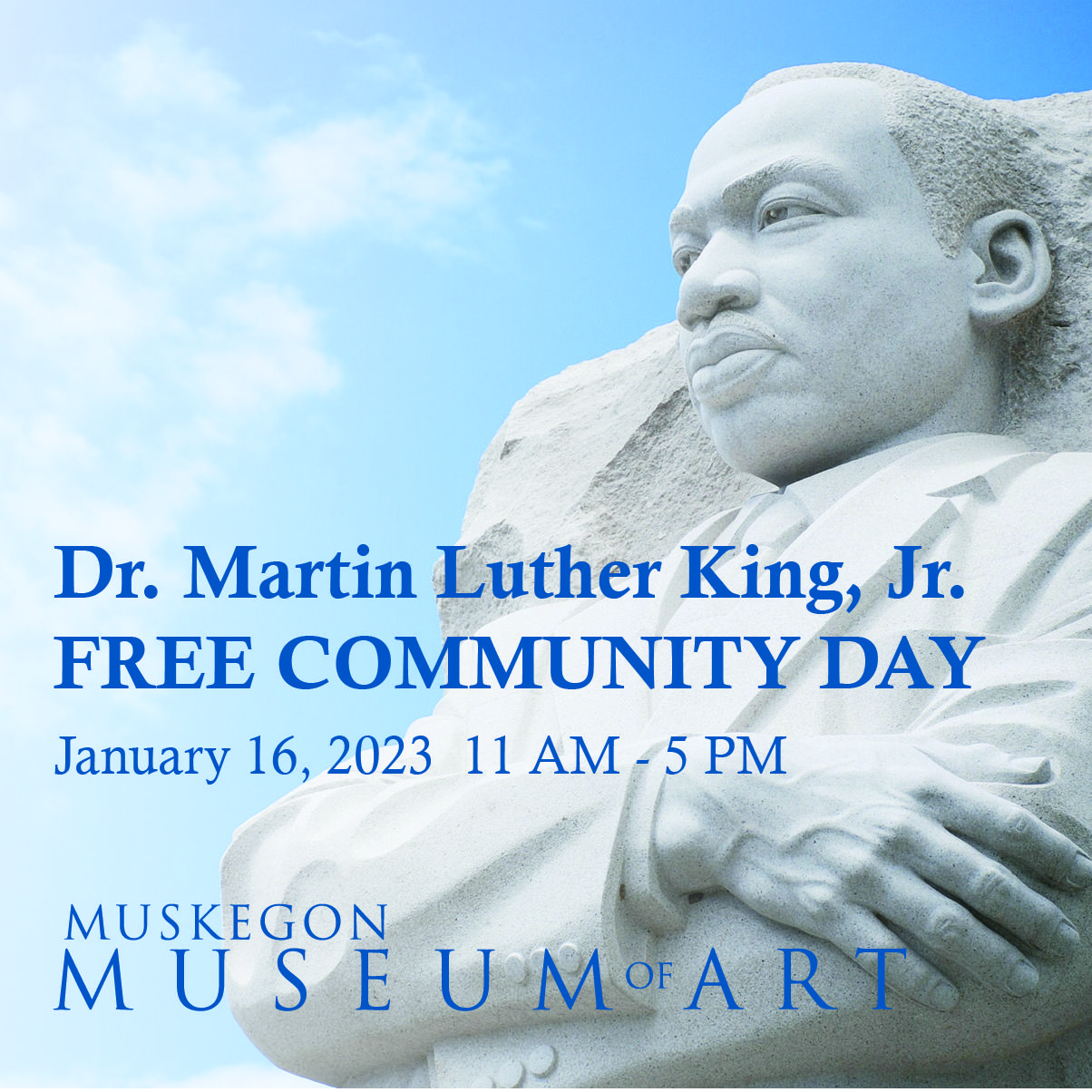 Attention, Writers of All Ages!
The Bookman is now accepting submissions for the 2023 Snowbound Writers' Contest through January 31, 2023! All writers who live in Ottawa or Muskegon County are eligible to submit a short story or poem connected to the theme of TIME, in particular as it relates to the following quotation: "I wish it need not have happened in my time." – Frodo Baggins, "The Fellowship of the Ring" by J.R.R. Tolkien. Surely some of the gifted writers among our C3 family will find this an entertaining and timely challenge, considering the recent change in Ottawa County government!
Momentum Center Happenings
— Free Dinner and Movie- Tonight!
Join the community for free dinner this evening, January 13 at 5 p.m. (pot luck items welcome, but not required), followed by the movie The Sea Beast at 6 p.m. The movie addresses the teaching of history, the impact of marginalization, and the promise of redemption. Flyer here.
— 🆕  The Impact of Mental Health on Families: Coming Up for Air
Visit the Holland Momentum Center (345 W. 14th Street) on Tuesday, January 17, to view this locally produced film and a panel discussion about Mental Health. Flyer here.
— Implicit Bias Training
Understanding Perspectives, a program in implicit bias training, will be held in person from 6 to 7:30 p.m. on Monday, January 23, at the Momentum Center in Grand Haven. The training is limited to the first 35 people to register.
— Registration Now Open for Civil Rights Road Trip
The second Civil Rights Road Trip has been scheduled for April 24-27, 2023. See information about the trip at the link above. The ten C3 members or friends who made this trip the first time all agree that it is a life-changing experience.

Sunday, January 15

Central Park Place (Mackinaw Ballroom, 421 Columbus Ave., GH)
9 a.m. Pre-Talk, in Person
10 a.m. C3 Kids, in Woodbine Room with Miss Mary and volunteer Patti Baldus
10 a.m. Gathering, In Person + Livestream on Facebook
C3 Teacher: 

Kent Dobson

Music: Patty PerShayla
Meditation: Charity McMaster                                      
11 a.m. Talk Back
Monday, January 16 — Martin Luther King Jr. Day
Tuesday, January 17
7 p.m. C3 Men's Group (American Legion, GH)
Sunday, January 22

Central Park Place (Mackinaw Ballroom, 421 Columbus Ave., GH)
9 a.m. Pre-Talk, in Person
10 a.m. C3 Kids, in Woodbine Room with Miss Mary and volunteer Charity McMaster
10 a.m. Gathering, In Person + Livestream on Facebook
Guest Teacher: 

Michael DeWilde

Music: Hannah Laine
Meditation: Charlotte Rozich                                     
11 a.m. Talk Back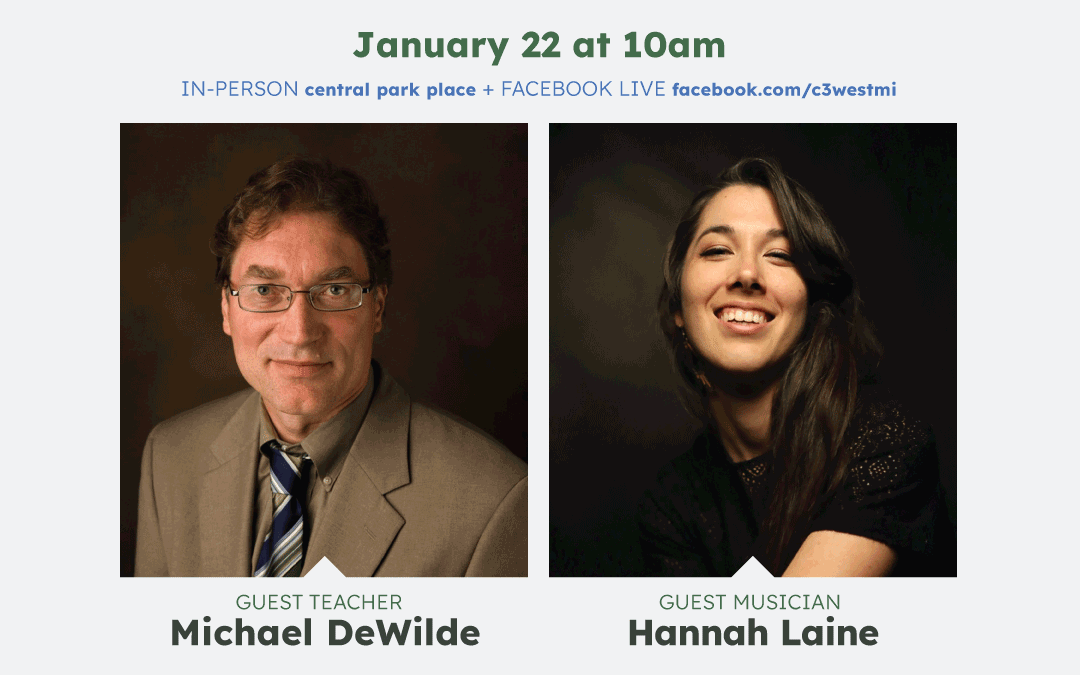 Michael DeWilde, frequent Guest Teacher at C3, is the director of the Koeze Business Ethics Initiative in the Seidman College of Business, as well as a full professor in the Management Department at GVSU. He holds an MTS from Harvard University and did his undergraduate work at William James College (GVSU) in Michigan. His research and teaching interests include the impact of social capital on civic and economic well-being, neuroethics, and the use of roleplaying in business pedagogy.
Hannah Laine is a musician and vocal empowerment coach from Grand Rapids, best known as the vocalist for the Future-Soul band Earth Radio. She began singing and songwriting at a very young age, and has found refuge in music as a way of healing and processing her life experiences. Skilled in piano, vocal improvisation, beat-making, layering effects, and looping, her abilities to create a soundscape or groovy bop are limitless.

Find Us + Share on Facebook

Each week we post information about upcoming Gatherings and other special events. Help us extend our reach and recognition by sharing our posts!
Instagram Photos Needed
We would love to feature photos of C3 members in action or other C3 events on our Instagram feed. Email your high res photos (or ideas) to trustee

Tom Edwards

.