We're pleased to see Kent Dobson for the second week in a row. He'll  wrap up his take on Be of Value: Care of the Earth this Sunday with his teaching Defeated Decisively. And there will be another Rilke poem.
House of Hamill last played at C3 early in 2018, so it's been a while since they have visited. Be ready for some high-energy Irish/Folk music from Rose and Brian, and there's sure to be some Irish fiddle!

Masks are optional now at our In-Person Gathering. The decision of whether or not to wear a mask will be up to each individual. Also, please allow a couple extra minutes to negotiate the 

southbound US-31 detour

. 
Sundays at the Grand Haven Community Center (421 Columbus 

Ave., Grand Haven

)
9:00 a.m. Pre-Talk: In Person Meet the morning's teacher in a small group setting for an open discussion of the morning's theme.
10:00 a.m. Gathering: In Person + Livestream on 

Facebook

Welcome, readings, meditation from a community member, teaching and music

10:00 a.m. C3 Kids: In Person (Woodbine Room)
11:00 a.m. Talk Back: In Person A chance to share questions, comments and stories related to the morning gathering.
Membership Committee to Update the C3 Directory

With the COVID interruption, we have not kept our membership records up to date. So, for three Sundays, June 5, 12, and 19, we will be taking pictures to update our membership directory. For some, it will be your first time, for others it will be an update. The directory is a way for our members to connect to one another, and a picture is sometimes useful. Look for the camera in the Mackinaw Ballroom after the Gathering.
Behind the Scenes

Look for our new, rotating flag display outside the Community Center during our Gatherings. Valerie Engeltjes inquired during a board meeting if a Pride flag could be displayed on Sundays. Tom Edwards took on the challenge and devised a system to display different flags that show C3 support. Have a flag idea? Email Tom. Also, thanks to Yvonne Olmsted for donating additional flags for display.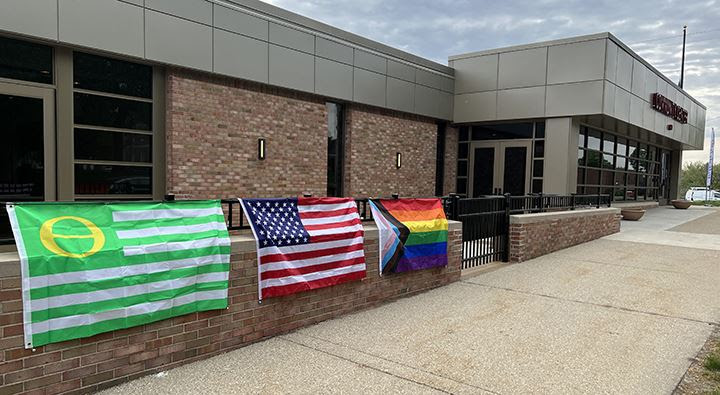 How about  a Few More Volunteers . . . 
for the Grand Haven Parks Clean-Up Blitz? You can still sign-up for tomorrow's (Saturday, May 21) Clean-Up Blitz hosted by C3. Just email Rod Van Abbema, rodvanabbema [at] gmail [dot] com, and let him know you would like to help. Come to East Grand River Park Saturday at 10:00 a.m. (20 S. Eastern Street; take Franklin Avenue east off Beechtree to the park entrance on S. Eastern Street). Bring some gloves and go to work with us! Light lunch at noon!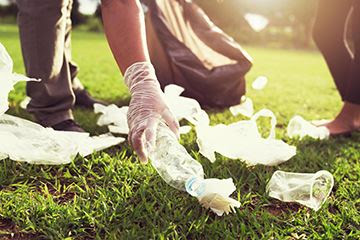 Earth Day Fair and March
Our C3 Community was well represented at the Earth Day Parade and Fair last Saturday, as the weather cooperated with sunshine! About 100 kids visited our Kids' Table and planted sunflower seeds to take home. At the C3 table, people signed up to participate in our Grand Haven Parks Clean Up Day, scheduled for May 21. (There will be more information about that event next week). Steel Doin' It and Prevailing Winds provided delightful music, and the March featured an all-electric truck, which garnered lots of attention. The booths included recyclers, artists who create with recycled materials, the Audubon Society, Citizens' Climate Lobby, and wildflower planting programs. Thanks to C3 members Leslie Newman, Patti Baldus, Yvonne Olmsted, and Dawn Briegel, who are on the planning committee.
Vigil for Peace and Justice
Our Vigil for Peace and Justice will be held in Grand Haven from noon–1:00 p.m. this Saturday, so if you are participating in the Adopt-A-Highway cleanup activity, which begins at 10:00 a.m., you may arrive a bit late to the Vigil, and that's okay!

C3 Men's Group     C3 Men's Group meets in-person at 7:00 p.m. on Tuesdays at the US Retail Office (next door to i'move, 18000 Cove Street) just off the Van Wagoner exit, east of US-31. For additional information, contact Phil Koster at 616-402-1751. New participants are welcome to join
C3 and Friends Book Discussion Group
We will continue to meet at 

The Bookman

, but we'll start at 7:00 p.m. (instead of 6:30) for our next meeting on Tuesday, June 7. Please join us for our discussion of The Humans, by Matt Haig, author of Midnight Library.
     The Humans is a funny, compulsively readable novel about alien abduction, mathematics, and that most interesting subject of all: ourselves. Combine Douglas Adams's irreverent take on life, the universe, and everything with a genuinely moving love story, and you have some ideas of the humor, originality, and poignancy of Matt Haig's latest novel. —Goodreads
Happy Reading! If you need to meet by Zoom, please email joycevcawthon [at] gmail [dot] com. New members are welcome to join! 
July 5:  Crying in H Mart by Michelle Zauner

Did You Know?
Did you know that you can use money from your IRA to contribute directly to a charitable organization, like C3, without it being considered a taxable distribution? It may also serve as your Required Minimum Distribution (RMD) for 2021. To make a qualified charitable distribution (QCD), be sure to consult with your tax advisor or financial representative before making this decision, because it is important to follow the guidelines and understand the process.
Donate via PayPal, it's safe and secure!
Your ongoing support of C3 is greatly appreciated. Online donations can be made here. Checks should be sent to C3 Spiritual Community, P. O. Box 371, Grand Haven, MI 49417. C3 is a 501(c)(3) Tax-Exempt Organization. Our tax ID is 38-1960212.

Momentum Center
Prom with a Purpose Tomorrow Night If you'd like to enjoy a fun night out with great people, who will soon be your friends, even if you don't know them yet, come on out to the Prom with a Purpose benefitting the Momentum Center. Tickets are still 

available online

 or at the door tomorrow evening at 5:00 p.m. at the Trillium. Click on the link for all the details.
Town Hall Meeting on Organizations Confronting Racism The Momentum Center is hosting a town hall this month on organizations confronting racism. The (Anti) Racism Task Force town hall will be held via Zoom on Monday, May 23 from 6:30 – 8:00 p.m. See the details and register to attend 

here

.

Saturday, May 21
10:00 a.m.: 
Grand Haven Parks Clean-Up Blitz (
East Grand River Park, GH)
12:00 p.m.:  Vigil for Peace and Justice (Central Park, GH)

Sunday, May 22

Grand Haven Community Center (421 Columbus 

Ave., GH

)

9:00 a.m. 

Pre-Talk

, In Person

10:00 a.m. Gathering, In Person + Livestream on Facebook
Meditation: 

Nelleke Knarr 
10:00 a.m.: C3 Kids, Central Park Clean Up! in Woodbine Room with Miss Mary
11:00 a.m.: Talk Back, In Person
Tuesday, May 24
7:00 p.m.: C3 Men's Group (

US Retail Office, 

18000 Cove St,

 SL)
Saturday, May 28
12:00 p.m.:  Vigil for Peace and Justice (Central Park, GH)
Sunday, May 29
Grand Haven Community Center (421 Columbus 
Ave., GH
)
9:00 a.m. 
Pre-Talk
, In Person
10:00 a.m. Gathering, In Person + Livestream on Facebook
Teacher: Civil Rights Road Trip Panel with Moderator Barbara Lee Van Horssen 
Meditation: 

Cindy Anderson 
10:00 a.m.: C3 Kids, End of School Party! in Woodbine Room with Miss Mary
11:00 a.m.:

 

Talk Back, In Person