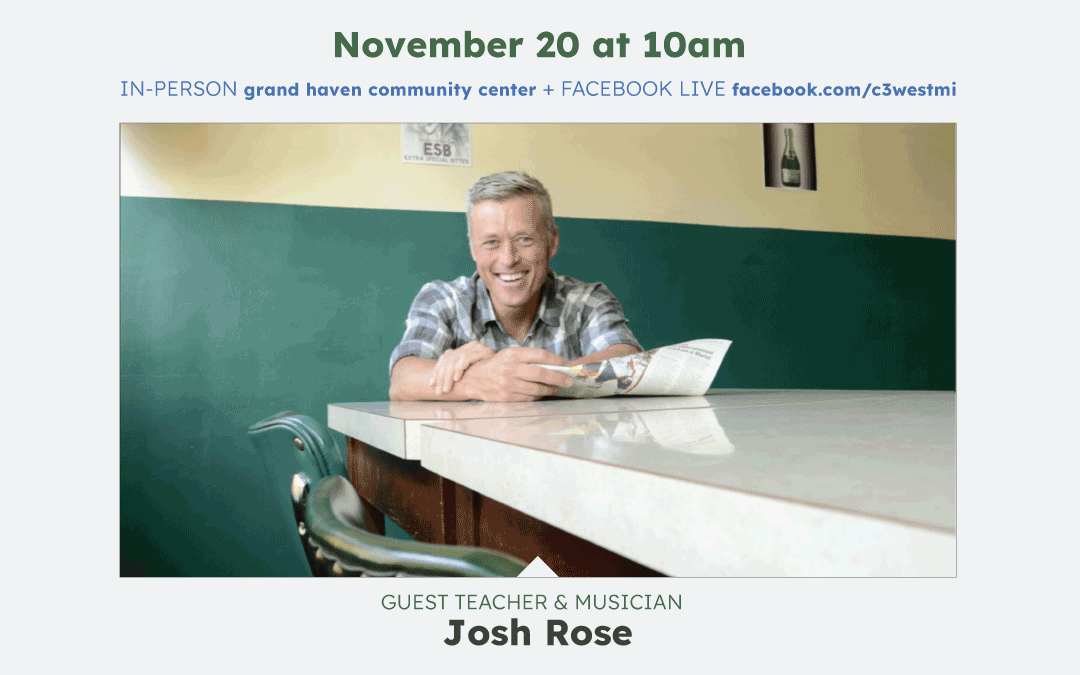 The Great Questions
Sundays at the Central Park Place  (Mackinaw Ballroom, 421 Columbus Ave., Grand Haven)
Masks are optional at our In-Person Gathering. The decision of whether or not to wear a mask will be up to each individual.
9:00 a.m. Pre-Talk: In Person
Meet the morning's teacher in a small group setting for an open discussion of the morning's theme.
10:00 a.m. Gathering: In Person + Livestream on

Facebook




Welcome, readings, meditation from a community member, teaching, and music

10:00 a.m. C3 Kids: In Person (Woodbine Room)
11:00 a.m. Talk Back: In Person
A chance to share questions, comments, and stories related to the morning gathering.
Program for Sunday, November 20, 2022
Sunday, November 20, 2022
The Great Questions
Three Chords and the Truth
 Gathering Host: Sandy Kate Stephens 
Music: Josh Rose
Meditation: David Dean
 Moment of Silence
Music: Josh Rose
Readings / Teaching: Josh Rose
It was wonderful to walk down the long flights of stairs knowing that I'd had good luck working. I always worked until I had something done and I always stopped when I knew what was going to happen next. That way I could be sure of going on the next day. But sometimes when I was starting a new story and I could not get it going, I would sit in front of the fire and squeeze the peel of the little oranges into the edge of the flame and watch the sputter of blue that they made. I would stand and look out over the roofs of Paris and think, 'Do not worry. You have always written before, and you will write now. All you have to do is write one true sentence. Write the truest sentence that you know.' So finally, I would write one true sentence, and then go on from there. . .. If I started to write elaborately . . . I found that I could cut that scrollwork or ornament out and throw it away and start with the first true simple declarative sentence I had written. Up in that room I decided that I would write one story about each thing that I knew about. I was trying to do this all the time I was writing, and it was good and severe discipline. — A Moveable Feast, Ernest Hemingway
Songs now originate in factory-like conditions . . .There are other songs, though, that come from those who craft. These songs are plucked from the air, like lightning bugs destined for an old Mason jar. These songs are polished like ancient stones in the Flat River. These songs come wrapped in brown paper with an old twine ribbon. Songs like these come from the soul and etch themselves into your being. These songs wander around with you like a lost cloud on a lost day. —Josh Rose
Music: Josh Rose
Gathering Host: Sandy Kate Stephens 
Music: Josh Rose
(end)