What great energy and connections at last Sunday's Welcome Back Gathering! Close to 100 people attended, Kent's teaching and Drew's music were great, and the conversations were copious! You can keep the energy going by being there this week, too!
Kent Dobson is on the schedule as our teacher this week, as our value of Care for the Earth comes into focus in our ongoing series Be of Value. Last week's teaching, Environmentally Sensitive Area, pointed us in this direction, and following the very successful Earth Day Fair last Saturday, we are primed and ready to take a closer look through Kent's teaching Tikkum Olam and the Tao.
Music will be provided by longtime C3 friend, Jen Sygit. Jen calls Lansing home, where she hosts a weekly radio show, in addition to her solo work and performances with the all-female band Stella! You can look forward to her rich voice and original tunes!

Masks are optional now at our In-Person Gathering. The decision of whether or not to wear a mask will be up to each individual. Also, please allow a couple extra minutes to negotiate the southbound US-31 detour. 
Sundays at the Grand Haven Community Center (421 Columbus Ave., Grand Haven)
9:00 a.m. Pre-Talk: In Person
Meet the morning's teacher in a small group setting for an open discussion of the morning's theme.
10:00 a.m. Gathering: In Person + Livestream on 

Facebook




Welcome, readings, meditation from a community member, teaching and music

10:00 a.m. C3 Kids: In Person (Woodbine Room)
11:00 a.m. Talk Back: In Person
A chance to share questions, comments and stories related to the morning gathering.
Treasurer's Notes about Welcome Back Sunday
This past Sunday (4/24), we were treated to the opportunity to bid on and purchase beautifully handcrafted bowls created by Tom Webber. Financially, the fundraiser was a success as we raised over $2,800. More importantly, the auction and Small Bites gave us all an opportunity to connect with one another like we haven't been able to for a while. A huge THANK YOU to Tom for his generosity and for the opportunity for us to witness the beauty of his art. It is also important to recognize Tom Edwards and Andy Cawthon for their work behind the scenes to bring this auction together – THANK YOU BOTH, and thanks to all of you who bid on and purchased the works of art!
Just Cause Update
The Just Cause process has generated two different versions of a Just Cause statement to offer the C3 Community. Complete information will be available at the Gathering on Sunday; you can also view it here and share your thoughts at feedbacktoC3 [at] gmail [dot] com. The Board would love to know which statement you prefer!
Treasurer's Notes
Internal Audit: Earlier this year an internal financial audit was conducted by Dave Hodson and Sally Alderink. Their conclusion: "After completing our audit, we feel comfortable saying that C3 has adequate financial controls in place, and the monthly financial statements presented to the Board are an accurate summary of the income/expense and financial position of C3." Thank you to Dave and Sally for taking on and completing this important project.
Quarterly Update: Our first quarter expenses are about as expected; however, donations have been lower than anticipated, in part because of lower in-person Sunday attendance. While we receive generous donations in multiple ways, a critical source comes from gifts made during the Sunday Gathering. As the weather warms and the world opens up more, our attendance will grow, and with it, the resources we have to sustain our community and its work. We're excited to offer a fun opportunity to support C3 on April 24, Welcome Back Sunday, where festivities will include a silent auction featuring beautiful wooden bowls created by Tom Webber. The bowls will also be on display at the April 17 Gathering. Please join us in that fundraising effort and consider how you can continue or renew your financial support of C3's future. Each and every gift is appreciated!
Dine With Nine
This Sunday is the last opportunity to sign up for the first post-pandemic Dine with Nine on Saturday, May 14, at 6:00 p.m. Sign up at the Connections Table in the lobby. Coordinators of the event are Joyce Cawthon, Kathy Smith, and Mary Ackerson. Contact Joyce with questions: [email protected]gmail.com  or 616-502-3133. 

Adopt-A-Highway – tomorrow!
If you signed up for the Adopt-A-Highway Cleanup, don't forget that it's tomorrow morning, Saturday, April 30. Meet in the Community Center parking lot at 10:00 a.m. Be sure to review the safety video and read the safety rules before then!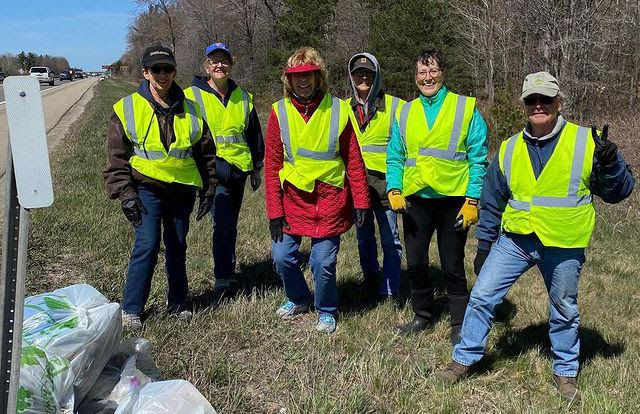 Earth Day Fair and March
Our C3 Community was well represented at the Earth Day Parade and Fair last Saturday, as the weather cooperated with sunshine! About 100 kids visited our Kids' Table and planted sunflower seeds to take home. At the C3 table, people signed up to participate in our Grand Haven Parks Clean Up Day, scheduled for May 21. (There will be more information about that event next week). Steel Doin' It and Prevailing Winds provided delightful music, and the March featured an all-electric truck, which garnered lots of attention. The booths included recyclers, artists who create with recycled materials, the Audubon Society, Citizens' Climate Lobby, and wildflower planting programs. Thanks to C3 members Leslie Newman, Patti Baldus, Yvonne Olmsted, and Dawn Briegel, who are on the planning committee.

Cindy VanIttersum helping kids plant sunflower seeds at the C3 booth and Dawn Briegel (right). Earth Day Green March (below).
Vigil for Peace and Justice
Our Vigil for Peace and Justice will be held in Grand Haven from noon–1:00 p.m. this Saturday, so if you are participating in the Adopt-A-Highway cleanup activity, which begins at 10:00 a.m., you may arrive a bit late to the Vigil, and that's okay!

C3 and Friends Book Discussion Group
What a great discussion last week, so many ideas and interpretations!
Our next book is Everything I Never Told You by Celeste Ng. A profoundly moving story of family, secrets, and longing, Everything I Never Told You is both a gripping page-turner and a sensitive family portrait. Because of the elections on May 3, our meeting will be moved to Tuesday May 10, 6:30 p.m. at The Bookman. New members are welcome. If you need to meet by Zoom, please email joycevcawthon [at] gmail [dot] com.
May 10: Everything I Never Told You by Celeste Ng
June 7: The Humans by Matt Haig, author of Midnight Library
July 5:  Crying in H Mart by Michelle Zauner (switched with September's book)

C3 Men's Group – Meeting by Zoom    
With most members out of town during the winter months, the C3 Men's Group meets via Zoom on Tuesday evenings at 7:00 p.m. To join via the Zoom link, contact Phil Koster at 616-402-1751. New participants are always welcome.
A big round of applause to the C3 members that organize, collect, and deliver donations to groups in need of support. Char Zoet and her helpers, Ellie Williams, Patti Baldus, and Charmaine Kole take on this task for our Charter for Compassion—[email protected] (see more about current and past collections below). Thank you!

Week [email protected] for May: Ukraine Fundraiser
During May we will be supporting our allies in Ukraine by sending donations to World Central Kitchen, an organization "First to the Frontlines," which provides meals to areas in crisis. The organization is located in Washington, DC. There will be a table in the lobby where you can contribute and receive a free Ukrainian flag. Donations can be made in one of three ways:
by check to C3 with a note in memo section—"Ukraine Fundraiser"

by credit card (via Square; see Chase at the sound table)—note "Ukraine Fundraiser"

by PayPal at the 

C3 website

—when prompted to "add special instructions to the seller," note "Ukraine Fundraiser"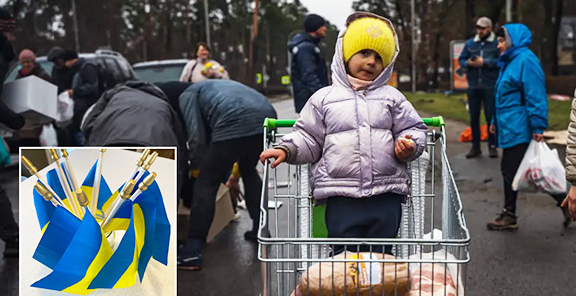 CCD Children's Garden Program
Nancy Peters from the Coalition for Community development sent this note after receiving the donations of garden tools and supplies from April's Week [email protected] collection:
     "Wow! So many much-needed supplies for our CCD Children 's Garden Program! Thanks so much for promoting and arranging this donation!"
Common Humanity Meditation
The Greater Good Science Center offers this Common Humanity meditation to "help overcome that sense of difference and distrust by opening channels of compassion." It takes about ten minutes.

Did You Know?
Did you know that you can use money from your IRA to contribute directly to a charitable organization, like C3, without it being considered a taxable distribution? It may also serve as your Required Minimum Distribution (RMD) for 2021. To make a qualified charitable distribution (QCD), be sure to consult with your tax advisor or financial representative before making this decision, because it is important to follow the guidelines and understand the process.
Donate via PayPal, it's safe and secure!
Your ongoing support of C3 is greatly appreciated. Online donations can be made here. Checks should be sent to C3 Spiritual Community, P. O. Box 371, Grand Haven, MI 49417. C3 is a 501(c)(3) Tax-Exempt Organization. Our tax ID is 38-1960212.

Momentum Center
C3 Participants in Civil Rights Road Trip

A dozen members or friends of C3 traveled with a group of 40 people to Birmingham, Selma, and Montgomery, AL, and Memphis, TN, on the Civil Rights Road Trip from April 18–21. Eyes were opened (and tears flowed) as they visited the 16th Street Baptist Church and the Birmingham Civil Rights Institute; walked across the Edmund Pettus Bridge in Selma; toured the Legacy Museum and viewed the National Memorial for Peace and Justice in Montgomery; and finished by visiting the National Civil Rights Museum at the Lorraine Motel in Memphis. Planning is underway for these folks to share what they learned with the C3 Community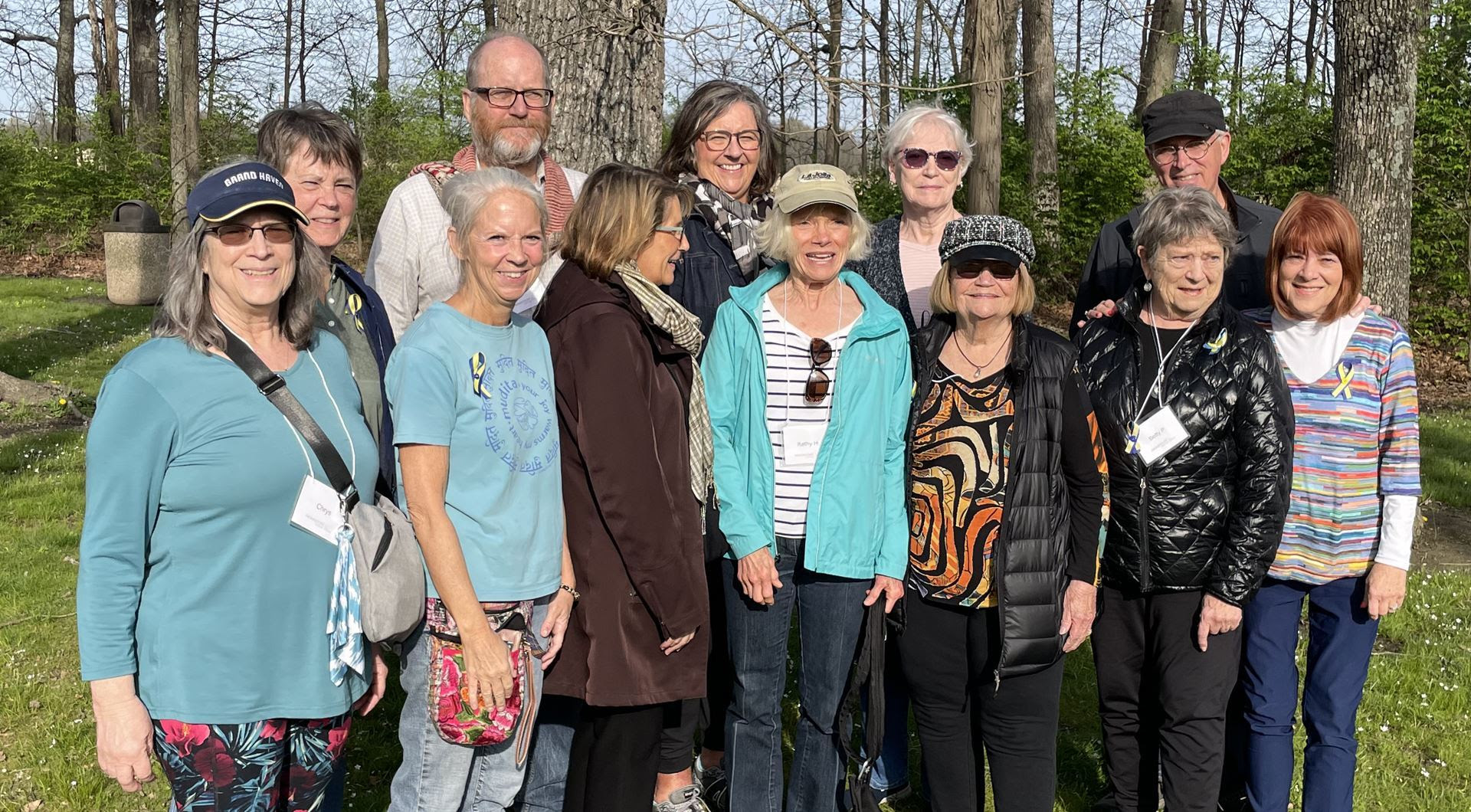 Front: Chrys Moelter-Gray, Barbara Lee VanHorssen, Cyndi Casemier, Kathy Humphrey, Ellie Williams, Betty Porter, Jane Curtis. Back: Sarah Jacobs, Tom Redick, Cindy Anderson, Linda Bengston, Bill Haug. 
Dinner and Movie Night
The movie for Friday, May 13 is 

Up from the Bottoms

, a documentary which follows the stories of African Americans, now in their 80's and 90's, who migrated north in the 1940's to the war factories of Muskegon. Free dinner (pot luck items welcome) at 5:00 p.m., movie at 6:00 at the Momentum Center.
COVID-19 Vaccine Clinic
Dunewood Pharmacy will be at Loutit Library from 11:00 a.m. until 1:00 p.m. on Thursday, May 5 to offer a COVID-19 vaccine clinic. Call 616-850-6910 to set up an appointment. Walk-ins will be taken, if space is available. The Pfizer vaccine will be administered to patients ages 12 and up for doses 1, 2, and 3. A fourth dose is available for those over the age of 50 or immunocompromised. For questions about the vaccine, call Dunewood Pharmacy at 616-842-5193.

Saturday, April 30
10:00a.m. Adopt-A-Highway Cleanup (Community Center  parking lot)
12:00p.m. Vigil for Peace and Justice (Central Park, GH)
Sunday, May 1
Grand Haven Community Center (421 Columbus Ave., GH)
9:00 a.m. Pre-Talk, In Person
10:00 a.m. Gathering, In Person + Livestream on Facebook
Meditation: Mary Ackerson 
10:00 a.m.: C3 Kids, in Woodbine Room with Miss Mary
11:00 a.m.: Social Time and Silent Auction, In Person
Tuesday,May 3
 7:00 p.m.: C3 Men's Group via Zoom