C3 inspires spiritual, intellectual, and creative exploration and action, led by the questions, "what are the biggest challenges we face on our shared journey, and how do we respond to those challenges?"
Our series Saints, Mystics, and Misfits continues with I Asked for Wonder: Abraham Joshua Heschel. Kent Dobson is with us as Teacher, Ruth and Max Bloomquist provide the music, and Margaret Willey will give the meditation.
Will you join us this week at Central Park Place? Pre-Talk is at 9 a.m. in the Woodbine Room, the Gathering in the Mackinaw Room begins at 10 a.m., and Talk Back follows the Gathering at 11 a.m. C3 Kids meet at 10 in the Woodbine Room. If you can't join us in person, you can watch online on C3's Facebook page.



Dine with Nine 🆕
The next Dine with Nine will be on Saturday, March 11, at 6 p.m. Mark your calendar! Sign-up dates are January 29, February 5, 12, 19, and 26. This event happens several times a year. You are invited to gather in people's homes to share food, fun, and conversation. This popular program aims to connect adults regardless of age or relationship status, bringing together widows, singles, couple, partners and divorcees at the home of the evening's host. Each person is asked to bring an element of the meal
—an appetizer, salad, dessert, wine, or bread, while the host will provide the main entree. Coordinators of the event are Joyce Cawthon, Kathy Smith, and Mary Ackerson. Contact Joyce Cawthon (616-502-3133) with questions.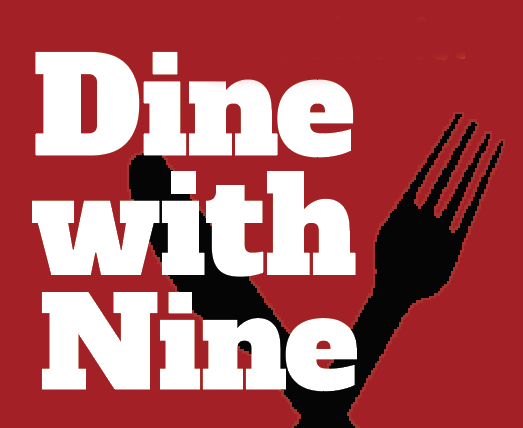 Welcome Our New Office Manager!
We are happy to announce that Becky Park began orientation as our new C3 Office Manager this past week! As many of you know, Becky has a long history with C3. She is excited to begin a new chapter with us and looks forward to connecting with everyone. She will work part-time at the C3 office, and continue her part-time work at The Bookman. She will need some time to learn the ins and outs of the job, and office hours will be determined in the next few weeks. Welcome, Becky!
C3 Annual Meeting
The C3 Annual Meeting will be held on Sunday, February 19. We typically report on the state of the Community, approve the budget for the year, approve the slate of new board trustees (see below), affirm membership, and happily recognize one person's extraordinary contributions with the Phil Koster Meritorious Service award. Familiarize yourself with this year's slate here. 🆕

Would you take five minutes to help promote C3?
Type "C3 West Michigan" into Google's search engine and leave us a review! Whether you attend our Gatherings in person or watch online, you can help us spread the word about our community. Reviews can be of any length or simply give us your star rating. Reviews can also be "liked." Our goal is to reach 150 reviews in 2023. Thanks for helping us out.
Caring for the members of our C3 Community is a shared communal responsibility, rather than a role reserved for a pastor, priest, or leader. Our C3 Community Care Team encourages members to support each other at time of need with notes, cards, phone calls, visits, meals, and transportation. C3 members are urged to contact the Community Care Team to inform them of life events, illness, or hardships, which can be shared with the C3 Community. To report a need or request help, or to help visit members in hospital, rehab or recovering at home, contact Cheryl Van Abbema: email or Mike and Charlotte Rozich: email.
Georganna Klemp, daughter of C3 members Bill and Karen Klemp, died on January 11. Her obituary can be read here. Cards may be sent to Karen, Bill, and Georganna's daughter Emma at 15901 Leonard Road, Spring Lake, MI 49456.

Automate your donations 
Want to make your life easier and more predictable?
Why not put your donations to C3 on autopilot?

No more having to remember to send a check!


No more trying to remember — did I or didn't I?
It is a secure and easy set up — just call Carol Takas at Selby Accounting. Please direct any questions to Mark Smith.
Your ongoing support of C3 is greatly appreciated. Online donations can be made here. Automatic donations can be set up by contacting Carol Takas at Selby Accounting. Checks should be sent to C3 Spiritual Community, P. O. Box 371, Grand Haven, MI 49417. C3 is a 501(c)(3) Tax-Exempt Organization. Our tax ID is 38-1960212.

Week [email protected] in February  🆕
During February, we will be collecting funds for Food for Ukraine. Gifts may be by cash, check or credit card and will be funneled to Ukraine through the Mennonite Central Committee in Goshen, Indiana. Checks should be made out to C3 with "Food for Ukraine" in the memo line. Likewise, cash should be in an envelope labelled "Food for Ukraine" and deposited in the donation boxes or brought to the "Week [email protected] C3" table in the Gathering Room. Chase is prepared to assist you with credit card giving. When giving, please indicate that your donation is for "Food for Ukraine," so that it goes into the correct C3 fund, and so that we can best tabulate total value of the project. Dates for receiving are February 5, 12, and 19. Gifts may also be sent to: C3, PO Box 371, Grand Haven, MI 49417.

Momentum Center Volunteers

A number of C3 members volunteer in a variety of ways at the Momentum Center, and there is always ample opportunity to spend some time in a volunteer role there, either for ongoing tasks, or as occasional helpers. Some current needs include: 

Ice Cream Servers (Holland)

Flyer Distribution (Grand Haven)

Prom Committee

Momentum Café

Momentum Center Instructors (Grand Haven & Holland)

Take a look at the volunteer page for ideas about what kinds of opportunities are available. The volunteer registration also gives an extensive list of volunteer tasks. Would you like to help eliminate stigma in our community?

C3 Book Club and Friends

Join us at The Bookman at 6:30 p.m. on Tuesday, February 7, for our discussion about The Plot Against America by Philip Roth (which is available on Hoopla).
March 7: Apeirogon by Colum McCann
C3 Men's Group 

The C3 Men's Group meets each Tuesday from 7 to 8:30 p.m. at the American Legion Hall on Harbor Drive in Grand Haven. Questions? Contact Phil Koster at 616-402-1751.

Loving Spoonfuls Volunteers  🆕
Loving Spoonfuls meals have resumed at St. John 's Episcopal Church on Sunday afternoons and Wednesday evenings. Some C3 members used to volunteer with serving these meals on Sunday afternoon. There is need now is for occasional volunteers for both meals. If you are interested in resuming this activity or starting as a volunteer, please contact Cindi at St. John's to be added to the schedule. An email will be sent when there are openings that need to be filled. If you want to form small teams to work together, please do so and pass that information along to Cindi.
Community Involvement

Our Core Values at C3 guide us, and challenge us to define and live a good life. A review of the Core Values at the link indicates several areas in which C3 promotes involvement in the greater community. Are you among the West Michiganders concerned about the adverse effects of Ottawa Impact in the county? To learn more, several groups are listed here to explore. Local TV channels and the Holland Sentinel have also provided significant coverage.
Momentum Center Happenings
— Implicit Bias Training
Understanding Perspectives, a program in implicit bias training, will be held in person from 6 to 7:30 p.m. on Monday, January 23, at the Momentum Center in Grand Haven. The training is limited to the first 35 people to register.
— Registration Now Open for Civil Rights Road Trip

The second Civil Rights Road Trip has been scheduled for April 24-27, 2023. An informational meeting will be held at the Holland Momentum Center on February 16 at 7 p.m. Learn more here.

Sunday, January 29

Central Park Place (Mackinaw Ballroom, 421 Columbus Ave., GH)
9 a.m. Pre-Talk, in Person
10 a.m. C3 Kids, in Woodbine Room with Miss Mary and volunteer Joyce Cawthon
10 a.m. Gathering, In Person + Livestream on Facebook
C3 Teacher: 

Kent Dobson

Music: Ruth and Max Bloomquist
Meditation: Margaret Willey                                     
11 a.m. Talk Back
Tuesday, January 31
7 p.m. C3 Men's Group (American Legion, GH)
Sunday, February 5

Central Park Place (Mackinaw Ballroom, 421 Columbus Ave., GH)
9 a.m. Pre-Talk, in Person
10 a.m. C3 Kids, in Woodbine Room with Miss Mary and volunteer Sandy Kate Stephens
10 a.m. Gathering, In Person + Livestream on Facebook
Guest Teacher: 

Nelleke Knarr

Music: Matt Gabriel
Meditation: Bob Kleinheksel                                     
11 a.m. Talk Back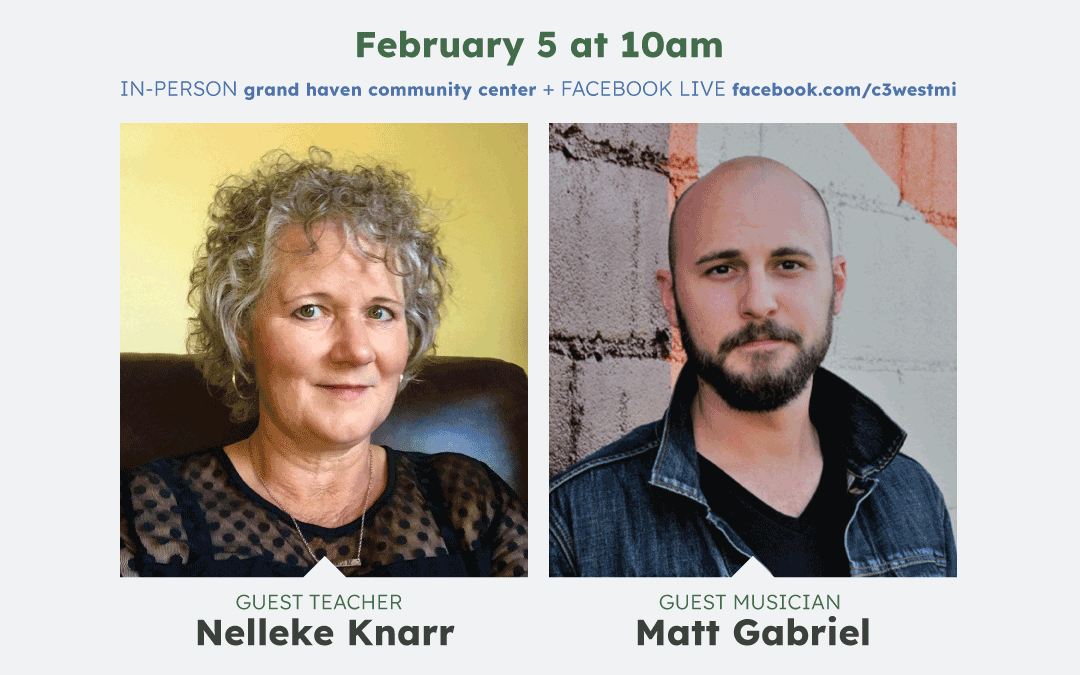 C3 member Nelleke Knarr has a rich and diverse spiritual background, with roots in Catholicism, New Age, New Thought, and feminist spirituality. Her perspective is strongly informed by her training and work as a musician, music teacher, and music therapist. She draws inspiration from nature, poetry, and relationships.
Matt Gabriel is a singer/songwriter who has spent over a decade writing and performing music around the country–the quality of folk and blues you would expect from an artist who grew up between Chicago and Detroit. He's got a must-see live show and a very approachable recorded sound. It's music you can trust and believe in.

Find Us + Share on Facebook

Each week we post information about upcoming Gatherings and other special events. Help us extend our reach and recognition by sharing our posts!
Instagram Photos Needed
We would love to feature photos of C3 members in action or other C3 events on our Instagram feed. Email your high res photos (or ideas) to trustee

Tom Edwards

.