C3 inspires spiritual, intellectual, and creative exploration and action, led by the questions, "what are the biggest challenges we face on our shared journey, and how do we respond to those challenges?"
C3 Teacher Kent Dobson will be with us this Sunday to add The Undiscovered Self—Carl Jung to our study of Saints, Mystics, and Misfits. Our meditation will be given by Beth Buelow. Loren Johnson makes a return visit as musician.
Please join us this week at Central Park Place. Pre-Talk is at 9 a.m. in the Woodbine Room, the Gathering in the Mackinaw Room begins at 10 a.m., and Talk Back follows the Gathering at 11 a.m. C3 Kids meet at 10 in the Woodbine Room.If you can't join us in person, you can watch online on C3's Facebook page.



Guest Teacher, Nelleke Knarr, February 5, 2023
C3 Annual Meeting
The C3 Annual Meeting will be held next Sunday, February 19. Please make every effort to attend! We typically report on the state of the Community, approve the budget for the year, approve the slate of new board trustees (see below), affirm membership, and happily recognize one person's extraordinary contributions with the Phil Koster Meritorious Service award, which is always a highlight of the year! Familiarize yourself with this year's slate here.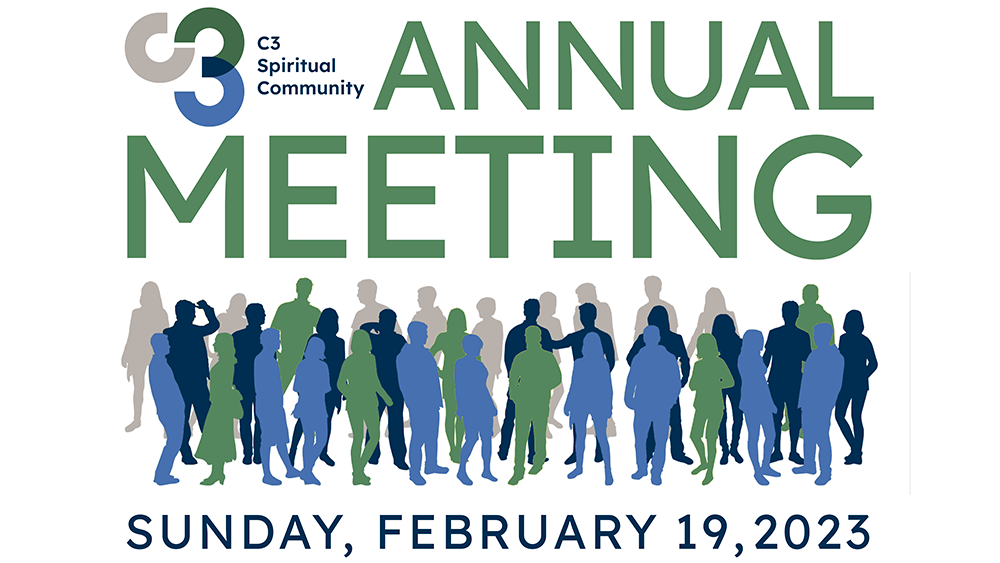 🆕  Attention, please!
Our Board of Trustees has two important reminders for the C3 Community
attending the Gathering:
Please watch for any spills on the carpet and report them to a board member or Sunday Gathering Team member, and/or clean them up as much as possible.

If there are any concerns about our shared space and time with Life Church attendees, please take those concerns to our Liaisons Teresa Colbry or Kim Crozier, rather than directly to the Life Church members.
🆕  Sunday Dinner Group

Let's revive the Sunday Dinner Group! This is an opportunity to join fellow C3ers for dinner at a local restaurant at 5:30 p.m. on Sunday evening. Current plans are to try Burger Theory at the Holiday Inn in Spring Lake this Sunday. Please sign up on the list at the table in the back of the Mackinaw Room, so we can call ahead for a reservation, or contact Chrys Moelter-Gray at 248-217-3879 (call or text).
Dine with Nine
The next Dine with Nine will be on Saturday, March 11, at 6 p.m. Mark your calendar! Sign-up dates are February 12, 19, and 26. This event happens several times a year. You are invited to gather in people's homes to share food, fun, and conversation. This popular program aims to connect adults regardless of age or relationship status, bringing together widows, singles, couples, partners and divorcees at the home of the evening's host. Each person is asked to bring an element of the meal – an appetizer, salad, dessert, wine, or bread, while the host will provide the main entree. Coordinators of the event are Joyce Cawthon, Kathy Smith, and Mary Ackerson. Contact Joyce Cawthon (616-502-3133) with questions.
Caring for the members of our C3 Community is a shared communal responsibility, rather than a role reserved for a pastor, priest, or leader. Our C3 Community Care Team encourages members to support each other at time of need with notes, cards, phone calls, visits, meals, and transportation. C3 members are urged to contact the Community Care Team to inform them of life events, illness, or hardships, which can be shared with the C3 Community. To report a need or request help, or to help visit members in hospital, rehab or recovering at home, contact Cheryl Van Abbema: email or Mike and Charlotte Rozich: email.
Hank and Karen Nash plan to relocate to Washington (state) to be near their children and new grandchild. They have sold their condo in Florida, and will be back to Spring Lake in March to sell their home here. They will see us at C3 when they return to the area then. Feel free to contact them at hurontrillium [at] yahoo [dot] com. Our congratulations, both on the grandchild and the new adventure!
🆕  Margaret Willey shares the news of her mother's passing last Sunday. Barbara Rose Willey died peacefully at home, surrounded by loved ones, after a long decline. She was 95, beloved mother of 11 children (including Ann Willey, friend of C3) and many grandchildren and great grandchildren. She lived in St. Joseph, Michigan. She is already deeply missed. Expressions of condolence and support may be sent to 545 Leggat Street, Grand Haven, MI 49417, or by email to Margaret.

THANK YOU! Your support matters and is greatly appreciated! 
It takes a lot of time, energy, and money to produce all the great things that happen at C3. Whether it is our Sunday Gatherings or working within our West Michigan communities, we strive to make a difference, with compassion. Your financial support allows us to continue to learn, teach and live our values to heal and effect change.
Your ongoing support of C3 is greatly appreciated. Online donations can be made here. Automatic donations can be set up by contacting Carol Takas at Selby Accounting. Checks should be sent to C3 Spiritual Community, P. O. Box 371, Grand Haven, MI 49417. C3 is a 501(c)(3) Tax-Exempt Organization. Our tax ID is 38-1960212.

Week [email protected] in February
This month we are collecting funds for Food for Ukraine. Gifts may be made by cash, check or credit card and will be funneled to Ukraine through the Mennonite Central Committee in Goshen, Indiana. Checks should be made out to C3 with "Food for Ukraine" in the memo line. Likewise, cash should be in an envelope labelled "Food for Ukraine" and deposited in the donation boxes or brought to the "Week [email protected] C3" table in the Gathering Room. Chase is prepared to assist you with credit card giving. When giving please indicate that your donation is for "Food for Ukraine," so that it goes into the correct C3 fund, and so that we can best tabulate total value of the project. Dates for giving are this Sunday and February 19. Gifts may also be sent to: C3, PO Box 371, Grand Haven, MI 49417.

🆕  Momentum Center February Newsletter 
Click here to access the February edition of Gaining Momentum that includes a special letter from Barbara Lee VanHorssen on Collaboration.

C3 Book Club and Friends
Our discussion of Apeirogon by Colum McCann is scheduled for Tuesday, March 7, 6:30 p.m., at The Bookman. Join us!
April 3: One Long River of Song by Brian Doyle
C3 Men's Group 

The C3 Men's Group meets each Tuesday from 7 to 8:30 p.m. at the American Legion Hall on Harbor Drive in Grand Haven. Questions? Contact Phil Koster at 616-402-1751.

Muskegon Museum of Art Postcard Salon 2023
Here's another opportunity to stretch your creative wings! The popular Postcard Salonevent returns for 2023. Join in by creating your own cards for the show and attending the party on April 20. All postcards will be on sale for $30 each, so show them, sell them, and buy them. Cards due: February 24, 2023. Exhibition: March 30–April 21, 2023. Salon Reception: Thursday, April 20, 5:30-8:00 pm (Sale starts at 6:30 pm)
Loving Spoonfuls Volunteers
Loving Spoonfuls meals have resumed at St. John 's Episcopal Church on Sunday afternoons and Wednesday evenings. Some C3 members used to volunteer with serving these meals on Sunday afternoon. There is need now is for occasional volunteers for both meals. If you are interested in resuming this activity or starting as a volunteer, please contact Cindi at St. John's to be added to the schedule. An email will be sent when there are openings that need to be filled. If you want to form small teams to work together, please do so and pass that information along to Cindi.
Momentum Center Happenings
•  Registration Now Open for Civil Rights Road Trip
The second Civil Rights Road Trip has been scheduled for April 24-27, 2023. An informational meeting will be held at the Holland Momentum Center on February 16 at 7 p.m. Learn more here.
•  Free Dinner and Movie Nights
     Join community members this evening, February 10, for dinner at 5 p.m. (pot luck items welcome but not required), followed at 6 p.m. by the movie Loving at the Grand Haven Momentum Center (714 Columbus Avenue).
      The Holland Momentum Center (345 W. 14th Street) offers Free Popcorn and Movie on Monday, February 13, at 5:30 p.m. The movie Soul will be shown in Spanish with English subtitles, so come brush up on your Spanish skills, and meet some of the members at the Holland Momentum Center!

Sunday, February 12

Central Park Place (Mackinaw Ballroom, 421 Columbus Ave., GH)
9 a.m. Pre-Talk, in Person (Woodbine Room)
10 a.m. C3 Kids with Miss Mary and volunteer Patti Baldus (Woodbine Room)
10 a.m. Gathering, In Person + Livestream on Facebook
C3 Teacher: 

Kent Dobson

Music: Loren Johnson
Meditation: Beth Buelow                                    
11 a.m. Talk Back
Tuesday, February 14
7 p.m. C3 Men's Group (American Legion, GH)
Sunday, February 19

Central Park Place (Mackinaw Ballroom, 421 Columbus Ave., GH)
9 a.m. Pre-Talk, in Person (Woodbine Room)
10 a.m. C3 Kids with Miss Mary and volunteer Sandy Kate Stephens (Woodbine Room)
10 a.m. Gathering, In Person + Livestream on Facebook
C3 Teacher: 

Kent Dobson

Music: 

Hannah Laine

 
Meditation: Nelleke Knarr                                   
11 a.m. Talk Back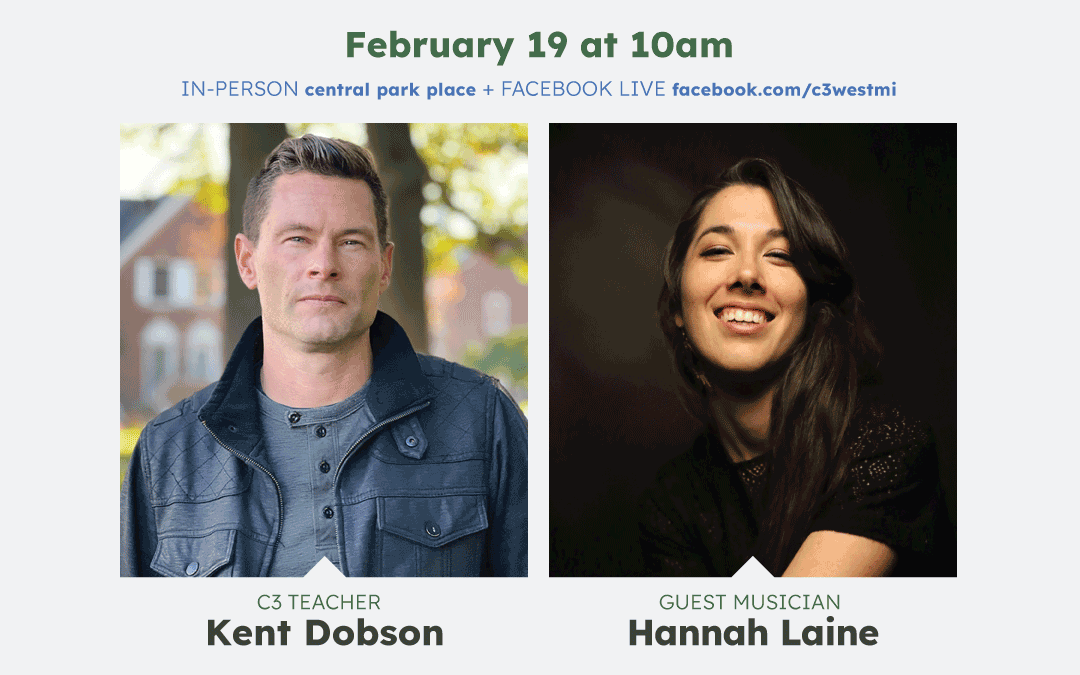 Kent Dobson helps people orient their life to be in deeper relationship with Mystery, the shape of their own soul, and to a meaningful sense of their unique voice in the world. He has been lead teacher at C3 since 2017.
Hannah Laine returns! Hannah is a musician and vocal empowerment coach from Grand Rapids, best known as the vocalist for the Future-Soul band Earth Radio. She began singing and songwriting at a very young age, and has found refuge in music as a way of healing and processing her life experiences. Skilled in piano, vocal improvisation, beat-making, layering effects, and looping, her abilities to create a soundscape or groovy bop are limitless.
Would you take five minutes to help promote C3?
Sign into your Google browser and type "C3 West Michigan" into the search engine to leave us a review! Whether you attend our Gatherings in person or watch online, you can help us spread the word about our community. Reviews can be of any length or simply give us your star rating. Reviews can also be "liked." Our goal is to reach 100 reviews in 2023. Thanks for helping us out. Thank you to Valerie, Rod, Mary Jane, Joyce, Andy, Charity, Daniel, Charmaine, Chrys, Patti, Ryan, Karen, and Annie for your reviews.