C3 inspires spiritual, intellectual, and creative exploration and action, led by the questions, "what are the biggest challenges we face on our shared journey, and how do we respond to those challenges?"
Kent Dobson, very recently returned from a trip to Israel, will speak about Spirituality for the 21st Century: Not Everything is Spiritual. The Rebel Eves take the stage for the first time as musicians here at C3. We will hear a meditation from David Dean.
Please join us this week at Central Park Place. Pre-Talk is at 9 a.m. in the Woodbine Room, the Gathering in the Mackinaw Room begins at 10 a.m., and Talk Back follows the Gathering at 11 a.m. C3 Kids meet at 10 in the Woodbine Room. If you can't join us in person, you can watch online on C3's Facebook page.


🆕  Update about C3 and Central Park Place
If you were at C3 last Sunday, you know that we are facing the challenge of having to vacate Central Park Place by the end of April. (If you weren't there, please follow this link to the announcement.) On Wednesday of this past week, you should have received an email from C3 with updated information about this challenge, which has some ideas about a call to action for C3 members. If you didn't see that email, click here to read it.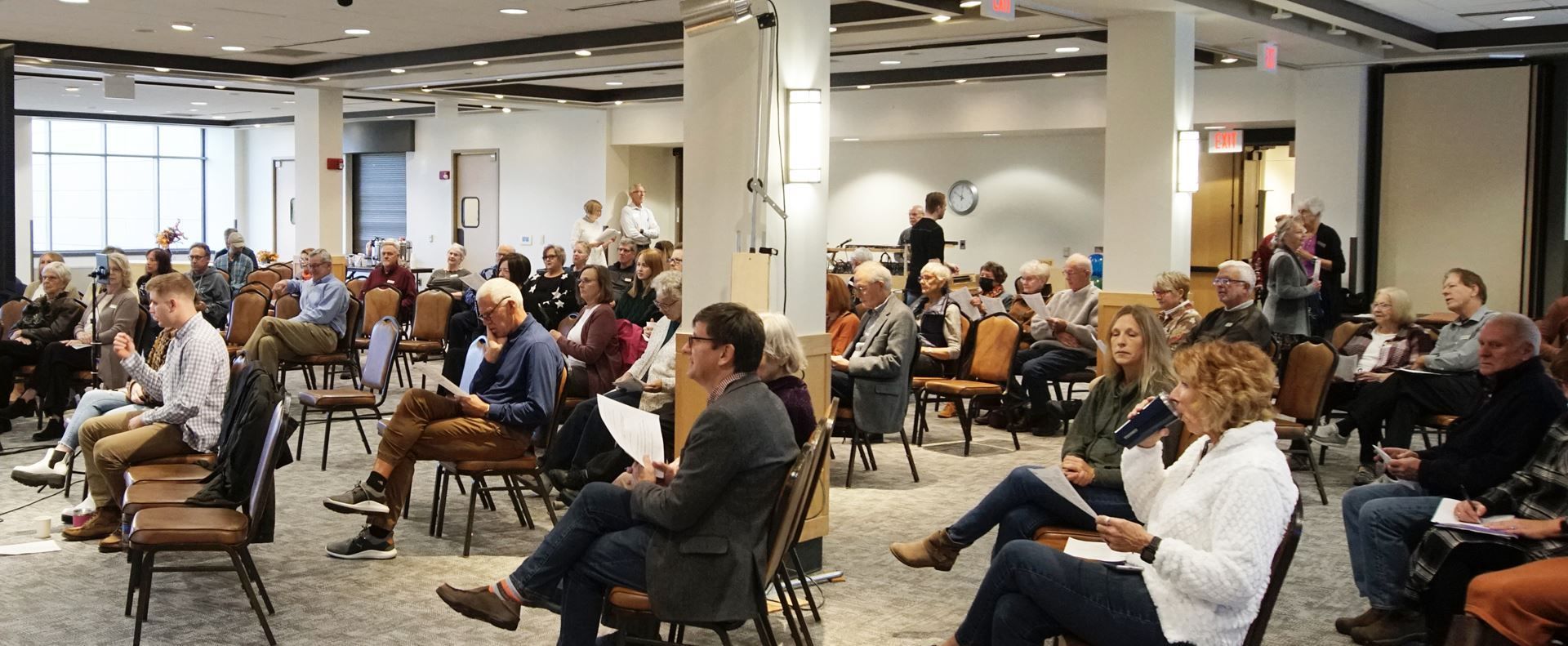 Annual Celebration and Member Meeting Held on February 19
Highlights of the meeting included:
•  Motion passed to approve a change to the bylaws that would allow for using a slate instead of holding an election if the number of Board of Trustee openings equals the number of candidates.
•  Kent Dobson shared that in January the Board decided C3's number one priority in 2023 was to grow. He reminded us that the people of the C3 Community itself are the primary ones who welcome newcomers. 
•  He addressed some of the challenges surrounding where we're going to meet. He asked that anyone with possible gathering sites contact a Board member.
•  Because Teresa Colbry was unable to attend, Board Chair Sally Alderink gave the Community Life Committee report.  
•  Rod Van Abbema gave the Outreach Committee Report.
•  The candidate slate was approved. BOT members elected for 2023-2025 are Beth Buelow, Rod Van Abbema, and Shannon MacMaster.
•  Mark Smith gave the Treasurer's Report and presented the proposed budget of $191,000. The budget was approved.
•  Sally introduced Becky Park as our new office manager and expressed gratitude for the contribution she's already made. 
•  We acknowledged Mark's retirement as a Board member and Treasurer. 
•  The Philip J. Koster Award for Meritorious Service for this year's outstanding volunteer went to Annie Wassmann. Her graphic design expertise is integral to virtually every visual aspect of C3. To read the complete minutes of the meeting, click here.
Sunday Dinner Group
The Sunday Dinner group will gather at The Kirby for supper on Sunday at 5:30 p.m. to enjoy each other's company! Please sign up on the Sunday Dinner Group sign-up sheet at the back of the Mackinaw Room after the Gathering, or if you're not at the Gathering, contact Judy Blinn by 2:30 p.m. on Sunday, so she can make reservations for the group.
Dine with Nine
Dine with Nine will be on Saturday, March 11, at 6 p.m. If you signed up, you should hear from your host in the near future with details. Coordinators of the event are Joyce Cawthon, Kathy Smith, and Mary Ackerson. Contact Joyce Cawthon with questions.
Caring for the members of our C3 Community is a shared communal responsibility, rather than a role reserved for a pastor, priest, or leader. Our C3 Community Care Team encourages members to support each other at time of need with notes, cards, phone calls, visits, meals, and transportation. C3 members are urged to contact the Community Care Team to inform them of life events, illness, or hardships, which can be shared with the C3 Community. To report a need or request help, or to help visit members in hospital, rehab or recovering at home, contact Cheryl Van Abbema: email or Mike and Charlotte Rozich: email.
Chuck Tawney's mother, Phyllis M. Tawney, passed away on Monday, February 13. She was 90 years old. She (and her "comedic prickliness") will be sorely missed by Chuck and his sister. Her obituary can read here. Cards to Chuck can be sent to 3526 Murl Avenue, Muskegon, MI 49442.
🆕  Jeanne Shell, who is in Florida, fell on Wednesday, March 1, and broke her femur. She underwent surgery the next day. Cards may be sent to her at 70 N. McCall Road, Englewood, FL 34223.

Thank You! Your support matters and is greatly appreciated! 
It takes a lot of time, energy, and money to produce all the great things that happen at C3. Whether it is our Sunday Gatherings or working within our West Michigan communities, we strive to make a difference, with compassion. Your financial support allows us to continue to learn, teach and live our values to heal and effect change.
Your ongoing support of C3 is greatly appreciated. Online donations can be made here. Automatic donations can be set up by contacting Carol Takas at Selby Accounting. Checks should be sent to C3 Spiritual Community, P. O. Box 371, Grand Haven, MI 49417. C3 is a 501(c)(3) Tax-Exempt Organization. Our tax ID is 38-1960212.

🆕  Week 3@C3
Our Week 3@C3 project for March is very local. We will be collecting laundry soap, dish soap, canned fruit, and canned pasta (think SpaghettioOs, etc.) for The People Center! Items can be brought to the Week 3@C3 table in the Mackinaw Room the weeks of March 5, 12, and 19.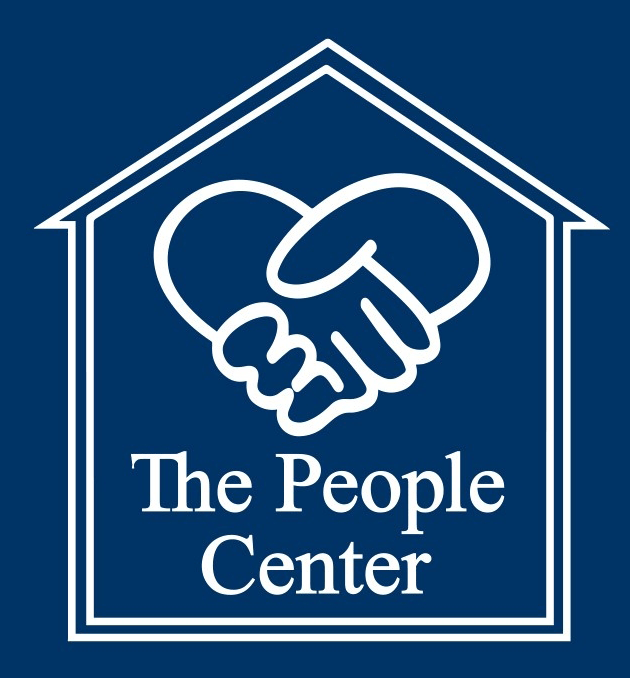 Save These Spring Dates!
With one more month of winter ahead of us, let's think about spring-ier things! At the end of April are two C3 Outreach events that you won't want to miss, so block out some space on your calendar now for our spring Adopt-A-Highway Cleanup on Saturday, April 22, and the Earth Day Fair on Saturday, April 29. More details will follow as those dates approach.


C3 Book Club and Friends
This coming Tuesday, March 7, we will meet at the Bookman to discuss Apeirogon by Colum McCann at 6:30 p.m. See you there!  
April 3: One Long River of Song by Brian Doyle
C3 Men's Group 

The C3 Men's Group meets each Tuesday from 7 to 8:30 p.m. at the American Legion Hall on Harbor Drive in Grand Haven. Questions? Contact Phil Koster.

Black History Event at Frauenthal
One noteworthy event is scheduled at the Frauenthal Center in Muskegon from March 9-11: Detroit '67. Following the performance on Thursday, March 9, audience members are invited to stay for a talkback and panel discussion with Detroit Public Theater and community leaders. Further information and tickets are available at the link. Why not ask a few of your C3 friends to join you?
🆕  News from The Diatribe
Have you been wondering what's going on at The Diatribe in Grand Rapids? They have become a powerful force for the Black, Brown and Queer folks in Grand Rapids. Fable (Marcel Price) and Gleason (now their preferred name) are the primary leaders of the organization; both have filled the role of Teacher at C3 in the past. Learn the latest from their February newsletter and learn more at The Diatribe website.
Momentum Center
🆕  —Mental Health First Aid Training
A three-part series sponsored by Arbor Circle and the Momentum Center is offered beginning March 14. See details and the link to register 

here

.
—
Civil Rights Road Trip
There is still time to register for the second

Civil Rights Road Trip

, scheduled for April 24-27, 2023. If you have questions about it, Ellie Williams, Tom Redick, Betty Porter, Chrys Moelter-Gray, Kathy Humphrey, Jane and Bill Curtis, and Cindy Anderson all made the first trip and can talk with you about the life-changing experience it was for them. Registration deadline is March 15.

Sunday, March 5

Central Park Place (Mackinaw Ballroom, 421 Columbus Ave., GH)
9 a.m. Pre-Talk, in Person (Woodbine Room)
10 a.m. C3 Kids with Miss Mary and volunteer Sandy Kate Stephens (Woodbine Room)
10 a.m. Gathering, In Person + Livestream on Facebook
C3 Teacher: 

Kent Dobson

Music: 

The Rebel Eves

 
Meditation: David Dean                                 
11 a.m. Talk Back
Tuesday, March 7
6:30 p.m. C3 Book Club (The Bookman, 715 Washington Ave., GH)
7 p.m. C3 Men's Group (American Legion, GH)
Wednesday, March 8
6:30 p.m.  Board of Trustees Meeting (C3 Office, 1447 Washington Ave., GH)
Sunday, March 12

Central Park Place (Mackinaw Ballroom, 421 Columbus Ave., GH)
9 a.m. Pre-Talk, in Person (Woodbine Room)
10 a.m. C3 Kids with Miss Mary and volunteer Patti Baldus (Woodbine Room)
10 a.m. Gathering, In Person + Livestream on Facebook
C3 Teacher: 

Kent Dobson

Music: Ruth and Max Bloomquist 
Meditation: Andy Cawthon                                
11 a.m. Talk Back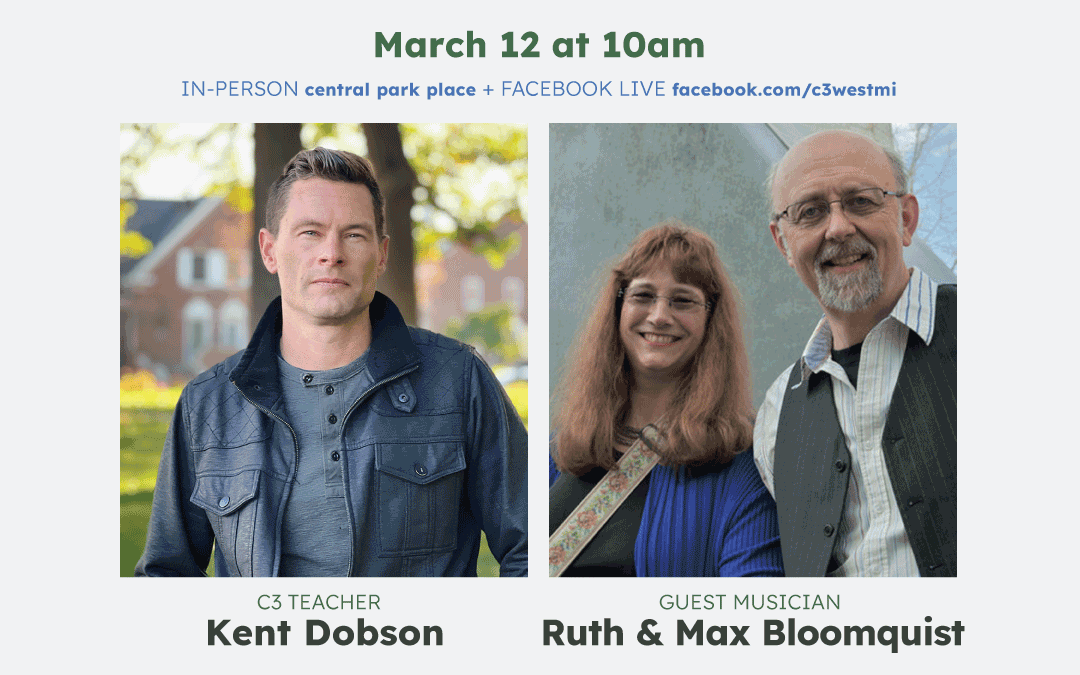 Kent Dobson has been the lead teacher at C3 since 2017. He's also in the guide-in-training program at Animas Valley Institute in Colorado, an organization specializing in wilderness intensives. Kent leads Israel study tours, wilderness retreats, and has his own podcast called Hints and Guesses.
Ruth and Max Bloomquist bring Ruth's award winning abilities as a songwriter and singer and Max's harmony and touch on the upright bass, to share their heart-touching, acoustic Americana that is all their own. Ruth's trademark rich alto is unmistakable, and her songs evoke images and emotions common to us all.

Thank you for supporting C3!
We would really appreciate it if you could take a few minutes to share your experience at C3 by reviewing us on Google. Thank you! And our gratitude to Valerie, Rod, Mary Jane, Joyce, Andy, Charity, Daniel, Charmaine, Chrys, Patti, Ryan, Karen, Sally, and Annie for your reviews!