C3 inspires spiritual, intellectual, and creative exploration and action, led by the questions, "what are the biggest challenges we face on our shared journey, and how do we respond to those challenges?"
C3 Member Cindy Anderson takes on the role of Guest Teacher this week to talk about Lessons and Legacies in the series Spirituality for the 21st Century. Jen Sygit returns to share her musical talents. The meditation will be given by Charity McMaster. It's an all-female cast this week!

All Sunday-morning C3 events take place in the Mackinaw Ballroom at Central Park Place. Please join us for Pre-Talk at 9 a.m. The Gathering begins at 10 a.m.; Small Bites and Talk Back follow the Gathering. C3 Kids meet at 10 in the C3 Kids' area in the Mackinaw Room. If you aren't able to join us in person, you can watch the Gathering online on Facebook page.


Reserve your space now! Limited Seats Available! 
If you weren't able to get tickets at last year's auction for the Twyce the Band concert, here's your chance! On Saturday, April 22, Ira and Valerie Engeltjes are hosting a fundraising house concert for C3! This is one high-energy fun time, complete with beverages and hors d'oeuvres. Donation: $40/person. Event details, here (webpage) and here (flyer). Reserve your space by emailing Valerie.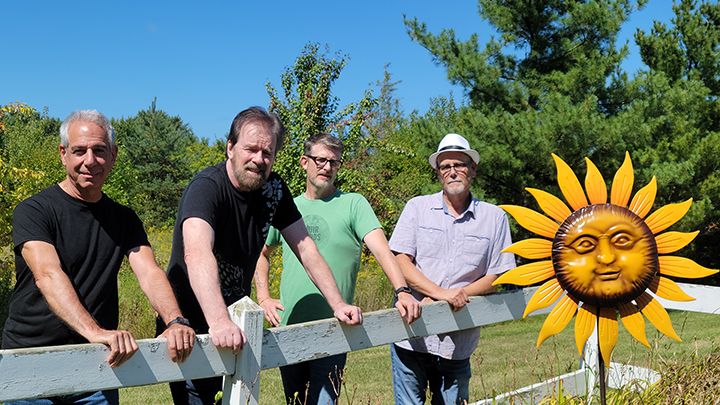 Sunday Dinner Group
We will meet again at The Kirby at 5:30 p.m. Sunday evening. Please add your name and phone number to the list on the table at the back of the Gathering room before you leave on Sunday if you 're planning on coming. Due to our group size, we need to phone in the reservation by 12:30 p.m.
Space for C3 Kids
Part of the Mackinaw Room (our main gathering space) will be sectioned off to create a room for our kids. This area will be walled off floor to ceiling, with two doors and access to the outdoor picnic table area, which could be lots of fun once the weather gets warmer! Once the Gathering has begun, children should enter and exit this room through the storage room into the lobby. Please be aware that sometimes the children's voices will be audible despite the sound barrier. They are our C3 children, and this is their space, too, so let's allow them to be kids!
Creativity and Flexibility Needed!
The situation at Central Park Place is in flux, so let's approach this challenge with creativity and flexibility! All of our Sunday morning activities will now take place in the Mackinaw Ballroom (our Gathering space). The shifting of the C3 Kids to a section of the Mackinaw Ballroom is one example. This necessitates a reconfiguration of the seating for our Gathering, and the tables which are usually at the back of the Gathering space will be shifted to other locations in the room. Pre-Talk and Talk Back will also take place in this room. Space for the Awakenings meditation group is being sought. Please come with an open mind about how this will all work! Note: Due to noise outside the Mackinaw Room, if you must leave during the Gathering, exit through the door to the kitchen, and please refrain from exiting during the Meditation and Moment of Silence. An additional challenge will be that the entry doors at the back of the building (downstairs) may be locked (out of concern for the safety of the children's program), but there will be a host—Life Church or C3, or both—stationed there to let you in. We are aware that this measure could be a cause of consternation for people with mobility limitations who need to use the elevator, but we will do our best to make sure no difficulties arise.
Exploring Our Options

At the March 8 meeting, the Board established a task force to look at possible alternative locations for C3 to meet. While there is no pressure to vacate Central Park Place in the immediate future, this is an opportunity for C3 to explore available sites and consider what our needs are and what would best meet those needs. Task force members are Beth Buelow, Andy Cawthon, David Dean, Wayne Johnson, and Rod Van Abbema. If you have suggestions, please contact Andy. Thank you, in advance, for your help with this project!
Caring for the members of our C3 Community is a shared communal responsibility, rather than a role reserved for a pastor, priest, or leader. Our C3 Community Care Team encourages members to support each other at time of need with notes, cards, phone calls, visits, meals, and transportation. C3 members are urged to contact the Community Care Team to inform them of life events, illness, or hardships, which can be shared with the C3 Community. To report a need or request help, or to help visit members in hospital, rehab or recovering at home, contact Cheryl Van Abbema: email or Mike and Charlotte Rozich: email.
Kathy Klouw will celebrate her birthday on April 7. How about sending her a card? Grand Pines Assisted Living Center, 1410 Ferry Street, Grand Haven, MI 49417.
🆕  Mary VanDeRiet wrote: Thank you for all the wonderful C3 friends who reached out to us after Lowell's passing. We appreciated every card, visit and presence at the memorial service. You are truly living out your values.
Jeanne Shell is still recuperating in Florida from major surgery after breaking her femur. Cards may be sent to 70 N. McCall Road, Englewood, FL 34223.

Your support matters and is greatly appreciated! 
It takes a lot of time, energy, and money to produce all the great things that happen at C3. Whether it is our Sunday Gatherings or working within our West Michigan communities, we strive to make a difference, with compassion. Your financial support allows us to continue to learn, teach and live our values to heal and effect change.
Your ongoing support of C3 is greatly appreciated. Online donations can be made here. Automatic donations can be set up by contacting Carol Takas at Selby Accounting. Checks should be sent to C3 Spiritual Community, P. O. Box 371, Grand Haven, MI 49417. C3 is a 501(c)(3) Tax-Exempt Organization. Our tax ID is 38-1960212.

Week 3@C3
We're cooperating with Mennonite Central Committee (MCC) once again to  furnish items for Hygiene Kits. Collection dates are April 2, 9, and 16. Please limit generosity to the items listed. No toothpaste needed! Collect these items in a brown paper bag and bring to the Week 3@C3 table:
1 adult-size toothbrush (in manufacturer's packaging)




1 large bar bath soap (leave in wrapper)




1 nail clipper (good quality)




1 hand towel (medium weight, dark or bright colors; approx. 16 x 26 in.)




1 wide-toothed comb (6-8in.)
41,700 hygiene kits shipped last year to Burkina Faso, Canada, Cuba, Haiti, Iraq, Jordan, Ukraine, the U.S., and Zambia. Let's join together to help even more people in need of these personal items.

🆕  Adopt-A-Highway Sign Up
Our spring trash pick up will be on Saturday, April 22 (10 a.m.–noon; rain date April 23). We so appreciated everyone's help last October. Can we count on you again? If you have never participated—please do so—it is very gratifying to drive down the highway and see all the trash bags piled up from our effort. Sign up anytime via email (name and phone number please) or at the Outreach table beginning April 2. More information here!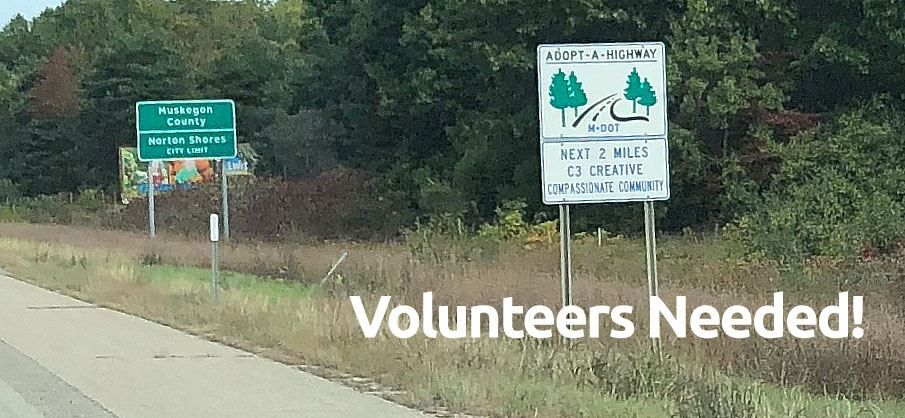 Vigil for Peace and Justice Resumes
Tomorrow, Saturday, April 1, the Vigil for Peace and Justice resumes from noon–1 p.m. along Washington Avenue at Central Park. C3 and Stand for Peace Michigan are identified as co-sponsors of the event, so it's a good way for C3 to be a presence in the community. We don't march or shout, but rather stand or sit quietly, meditating on peace and sending our peaceful intentions into the world. Will you join us? Contact Chrys Moelter-Gray for more information.

C3 Book Club and Friends
Please note this important change! Starting in April, C3 Book Club will meet on the third Tuesday of the month at 6 p.m. The book for our meeting on April 18 is One Long River of Song by Brian Doyle. 🆕 May 16: Virgil Wander by Leif Enger
C3 Men's Group 

The C3 Men's Group meets each Tuesday from 7 to 8:30 p.m. at the American Legion Hall on Harbor Drive in Grand Haven. Questions? Contact Phil Koster.

🆕  Momentum Center: Free Dinner and Movie Night      

On Friday, April 14, join with community members in a stigma-free setting at Momentum Center (714 Columbus Avenue) to enjoy free dinner (pot luck items welcome but not required or expected) and the movie Marcel the Shell with Shoes On (PG), a hilarious and heartwarming film about an adorable shell who gets his big debut finding connections in the smallest corners. Dinner begins at 5 p.m. and the movie at 6 p.m. All are welcome. More info here.
LEDA Workshop

Lakeshore Ethnic Diversity Alliance is pleased to announce its new series, Working Toward Inclusion and Belonging. This two-part series, held at Central Park Place, will address biases and ways to counter them, so participants can begin or continue their journey to a more equitable, diverse, inclusive community where everyone  belongs and has opportunity to participate fully. Each 90-minute session will provide participants with information to better understand how systems of advantage have taken root and grown, and tools to move inclusion and belonging forward at work, home, and in life. The remaining dates are April 6 and 20. Register here.

Sunday, April 2

All events held in the Mackinaw Ballroom in Central Park Place 

(421 Columbus Ave., GH)
9 a.m. Pre-Talk

10 a.m. C3 Kids with Joyce Cawthon and volunteer Margaret Willey 
10 a.m. Gathering, In Person + Livestream on Facebook
Teacher: 

Cindy Anderson

Music: Jen Sygit
Meditation: Charity McMaster                               
11 a.m. Talk Back
Tuesday, April 4
7 p.m. C3 Men's Group (American Legion, GH)

Sunday, April 9

All events held in the Mackinaw Ballroom in Central Park Place 

(421 Columbus Ave., GH)
9 a.m. Pre-Talk

10 a.m. C3 Kids with Miss Mary and volunteer Sandy Kate Stephens.
10 a.m. Gathering, In Person + Livestream on Facebook
Teacher: 

Beth Buelow

Music: Hannah Laine
Meditation: Rod Van Abbema                             
11 a.m. Talk Back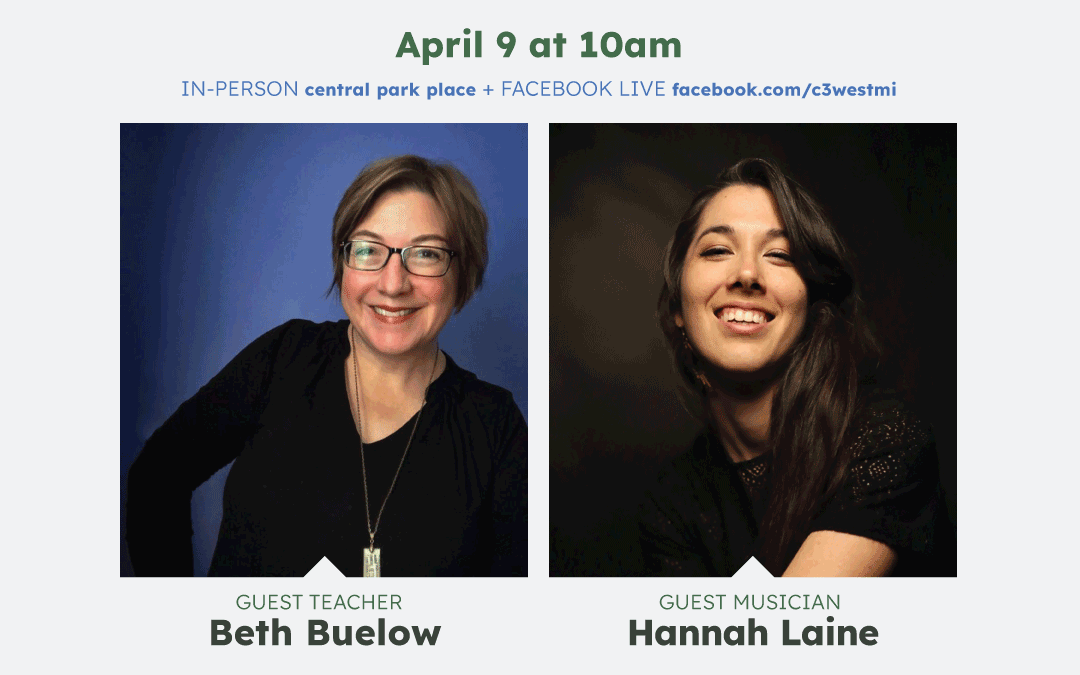 Beth Buelow has been part of the C3 Community since March 2018 and has loved every minute of it. She's a business owner; leadership, team, and mentor coach; author, speaker, and mediator, and she has added photographer to the list of ways she wants to be known in the world.
Hannah Laine is a musician and vocal empowerment coach from Grand Rapids, best known as the vocalist for the Future-Soul band Earth Radio. She began singing and songwriting at a very young age, and has found refuge in music as a way of healing and processing her life experiences. Skilled in piano, vocal improvisation, beat-making, layering effects, and looping, her abilities to create a soundscape or groovy bop are limitless.

Thank you for supporting C3!
We would really appreciate it if you could take a few minutes to share your experience at C3 by reviewing us on Google. Thank you!
Google requires reviewers to have a Google account. If you don't have one you can set one up with your current email address, follow instructions here.

C3 Spiritual Community Office
1447 Washington Ave., Grand Haven, MI  49417
Mailing Address: P.O. Box 371, Grand Haven, MI 49417
Becky Park, Office Manager
Office Hours: Wednesday 12:30–2:30 p.m., Friday 10:30 a.m.–12:30 p.m., or by appointment
Automatic donations are handled by Carol Takas at Selby Accounting.
Please direct any questions to Mark Smith. 
C3 Board of Trustees
Chair: Sally Alderink
Vice-Chair: Teresa Colbry
Secretary: Valerie Engeltjes
Treasurer: Shannon McMaster
Beth Buelow
Andy Cawthon
Kim Crozier
Tom Edwards
Kathy Humphrey
Wayne Johnson
Rod Van Abbema
Newsletter Submissions and Editor: Chrysteen Moelter-Gray

Newsletter Designer: Annie Wassmann
Copyright © 2023 C3 Spiritual Community. All rights reserved.