C3 inspires spiritual, intellectual, and creative exploration and action, led by the questions, "what are the biggest challenges we face on our shared journey, and how do we respond to those challenges?"
Michael DeWilde, one of our frequent and favorite guest teachers, will be with us this Sunday. He will contribute Can Ethics be Taught? to our new series We Have Questions. Annagail returns to share their musical talents and the meditation will be given by Beth Buelow.
All C3 Sunday-morning events take place in the Mackinaw Ballroom at Central Park Place. Pre-Talk and Awakenings start at 9 a.m. The Gathering begins at 10 a.m.; Small Bites and Talk Back follow the Gathering. C3 Kids meet at 10 a.m. in the C3 Kids' area in the Mackinaw Room. If you aren't able to join us in person, you can watch the Gathering online on C3's Facebook page.


Think you might have missed an email? Revisit or catch up on our website > Updates
Need Event Information? Our website has a full event calendar > Upcoming Events
🆕  Last Sunday's Teaching here.  🆕  Last Sunday's Meditation here.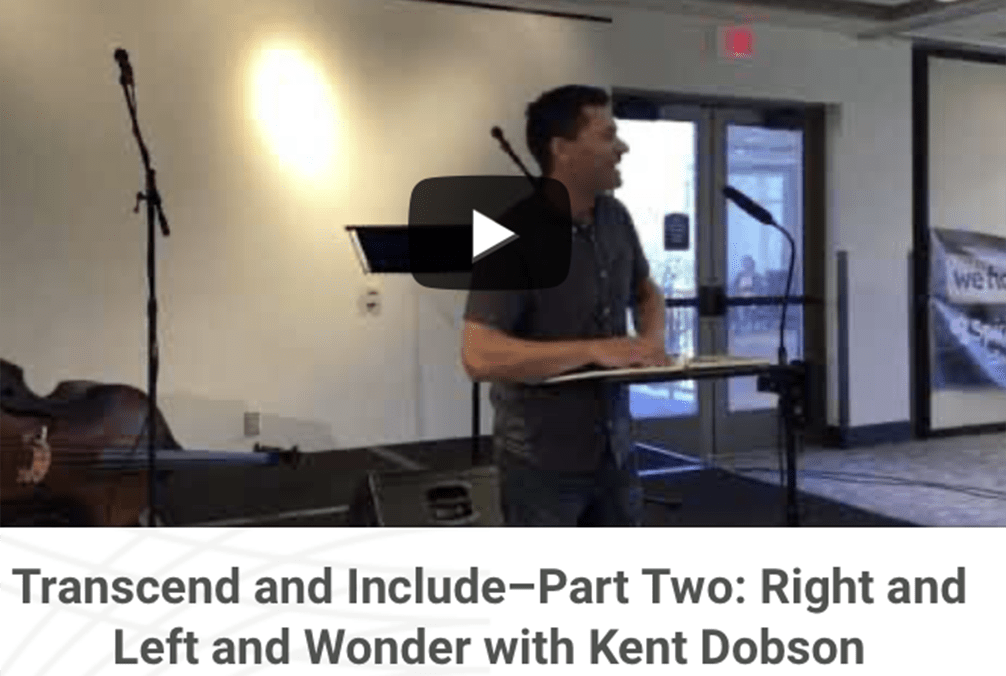 Don't Miss Grand Haven Pride Festival June 10
The GH Pride Fest features shows, food trucks, vendors, and adult beverages at the Waterfront Stadium area. C3 hosts the Kids' Activities near the splash pad from noon to 6 p.m. with bounce house, face painting, crafts, yard games, a bubble machine, and more. Want to help? Signup here. Go to the volunteer section and fill in your information. Choose "other" as your choice and write in C3 Kids' Activities in the comments. Right now, C3 people are exclusively being used as volunteers in that area. It will be opened to everyone to volunteer starting Monday June 5. Contact Sarah Jacobs for more information. It will be lots of fun.
C3 Pride Gathering June 11
Next week's Gathering will highlight Pride, with special guest musician Emilee Petersmark and a teaching from Kent. Let's learn together to both appreciate and transcend our differences as we build an ever more inclusive community.
🆕  Month Long Pride Focus at our Vigil for Peace and Justice
C3 has welcomed and supported the LGBTQ+ community since the 1990's. We want to share that support and welcoming message with the greater community though our Vigil for Peace and Justice during June. Join us each Saturday from noon–1 p.m. along Washington Avenue at Central Park in Grand Haven. Why not let your creative juices flow and make a sign promoting justice and equality for all LGBTQ+ folks (folx) and invite friends and family to join in?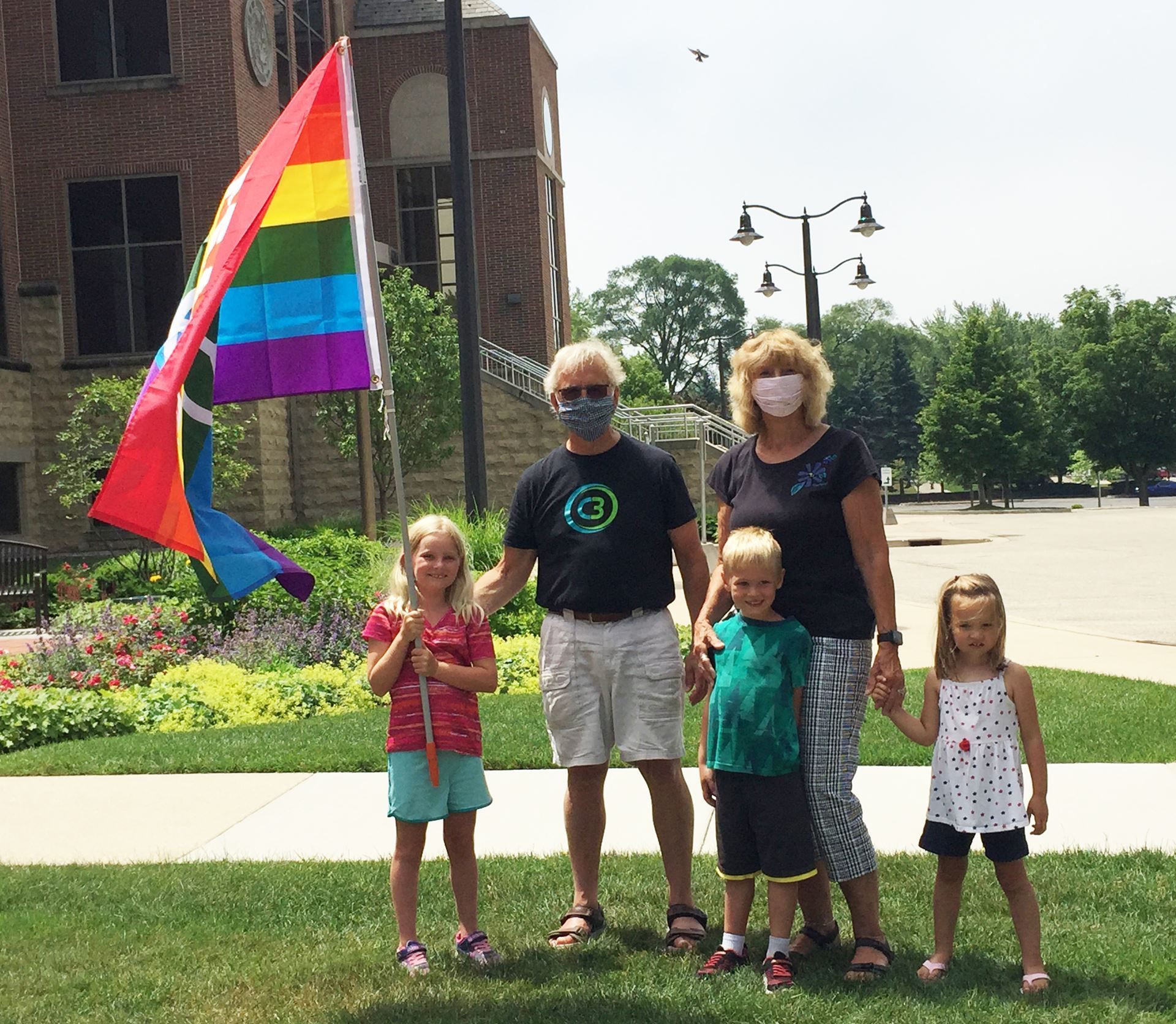 Supporting the Billboard Project
If you have pledged support for the Billboard Project, we thank you for your support. If you have pledged, but have not fulfilled your donation, head to the table at the Gathering, staffed with people who can accept your donation as cash, check, or credit card.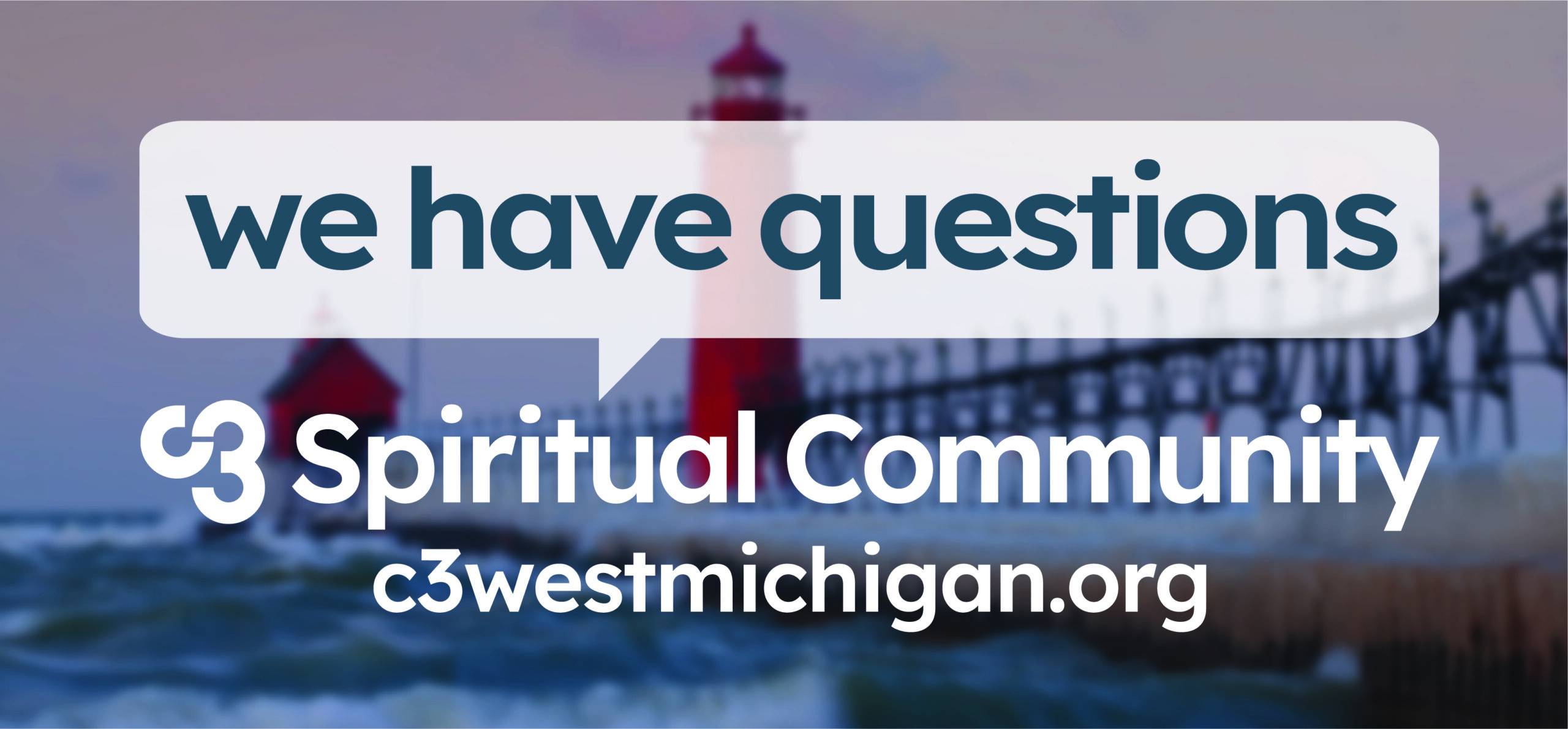 Submitting Information for the C3 Update 
Newsletter submission are normally sent to Chrys Moelter-Gray but for the week of June 11, please send all announcements to Annie Wassmann instead. Thanks!
🆕  Happy Trails!
Andy Cawthon has committed to biking to raise money for C3. He has self-sponsored himself at $1 per mile and hopes to ride 500 miles this summer! He feels it is an easy, low overhead and healthy way of raising some much needed funds for C3. He is encouraging other Community members to make personal pledges or sponsor others to do so. This is a "honor system" fundraiser, so no accounting is required!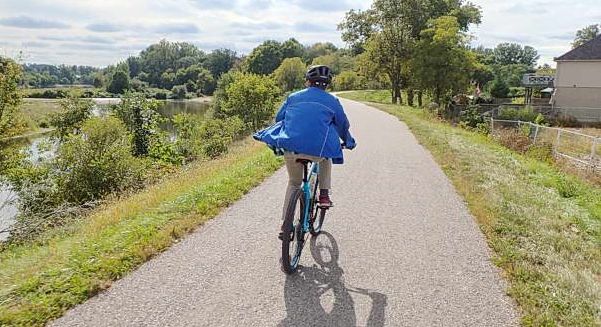 🆕  Thanks to John Soukup!
Jane Curtis and Bill Haug want to thank John Soukup for the excellent golf lessons that they won at the C3 Auction. "We're now ready for the tour! Thanks, John!"
News from the BOT: Team Formed to Fill New Position
At the May 10 Board of Trustees meeting, the Transition Team—Teresa Colbry, Bob Kleinheksel, and Shannon McMaster—presented their recommendations based on answering the question: "What will C3 look like in one year?" The first step they recommend C3 take is to hire an Executive Director.  Read more here.

Week 3@C3 for June: Kids Food Basket–Muskegon
KFB–Muskegon will receive our support in June. Their wish list is here:
fruit cups or pouches
pudding cups
meat sticks (i.e. Slim Jims, approx. .28 oz sticks)
8-pound or extra-large brown lunch bags
bulk items to make KFB Trail Mix—Cheerios, Pretzels, cheese crackers. 
Off-brands are fine! Keep in mind, KFB avoids serving items with peanuts or tree nuts in the ingredient list. Bring items on June 4, 11, and 18.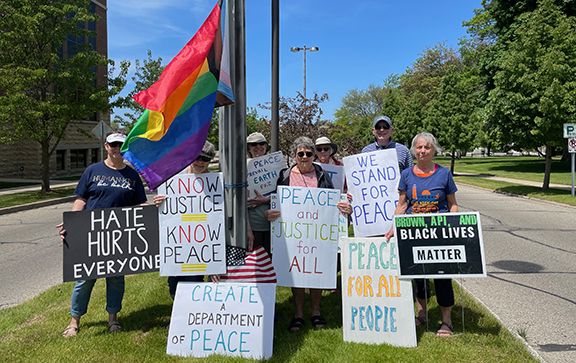 Left to right: Sarah Jacobs, Patti Baldus, Leslie Newman, Betty Porter, Char Zoet, Tom Sobel, Yvonne Olmsted. Not pictured: Jerry Bakke. Photo by Chrys Moetler-Gray.

Sunday Dinner Group at TED's

Those interested in dining out tonight should meet at TED's in Spring Lake at 5:30 p.m. Please sign up at the Membership Table before leaving the Gathering!
C3 Men's Group 

The C3 Men's Group meets each Tuesday from 7 to 8:30 p.m. at the American Legion Hall on Harbor Drive in Grand Haven. Questions? Contact Phil Koster.
Caring for the members of our C3 Community is a shared communal responsibility, rather than a role reserved for a pastor, priest, or leader. Our C3 Community Care Team encourages members to support each other at time of need with notes, cards, phone calls, visits, meals, and transportation. C3 members are urged to contact the Community Care Team to inform them of life events, illness, or hardships, which can be shared with the C3 Community. To report a need or request help, or to help visit members in hospital, rehab or recovering at home, contact Cheryl Van Abbema: email or Mike and Charlotte Rozich: email.
On May 23, C3 member Sandy Huber was posthumously awarded the GW Haworth Strength of the Community Award by United Way at "her" White Pines Intermediate School. A Little Free Library was also dedicated there in her name. Add a couple books to the collection and think of Sandy!   

Your ongoing support of C3 is greatly appreciated. Online donations can be made here. Automatic donations can be set up by contacting Carol Takas at Selby Accounting. Checks should be sent to C3 Spiritual Community, P. O. Box 371, Grand Haven, MI 49417. C3 is a 501(c)(3) Tax-Exempt Organization. Our tax ID is 38-1960212.

LEDA Summit on Race and Inclusion: The Power of Belonging
Lakeshore Ethnic Diversity Alliance (LEDA) presents the 18th Summit on Race and Inclusion: The Power of Belonging! at Hope College on Wednesday, June 7. The 2023 Summit is a hybrid event; you can attend either in-person or virtually. Register here.  
🆕  Momentum Center: Free Dinner and Movie Night
Join the community for free dinner, conversation, and a movie on Friday, June 9, at the Momentum Center in Grand Haven (714 Columbus Avenue). Dinner starts at 5 p.m. (pot luck items or donations welcome, but not required) and the movie begins at 6 p.m. This month's movie is A Man Called Otto, starring Tom Hanks as a man who is experiencing loss and loneliness after his spouse passes away.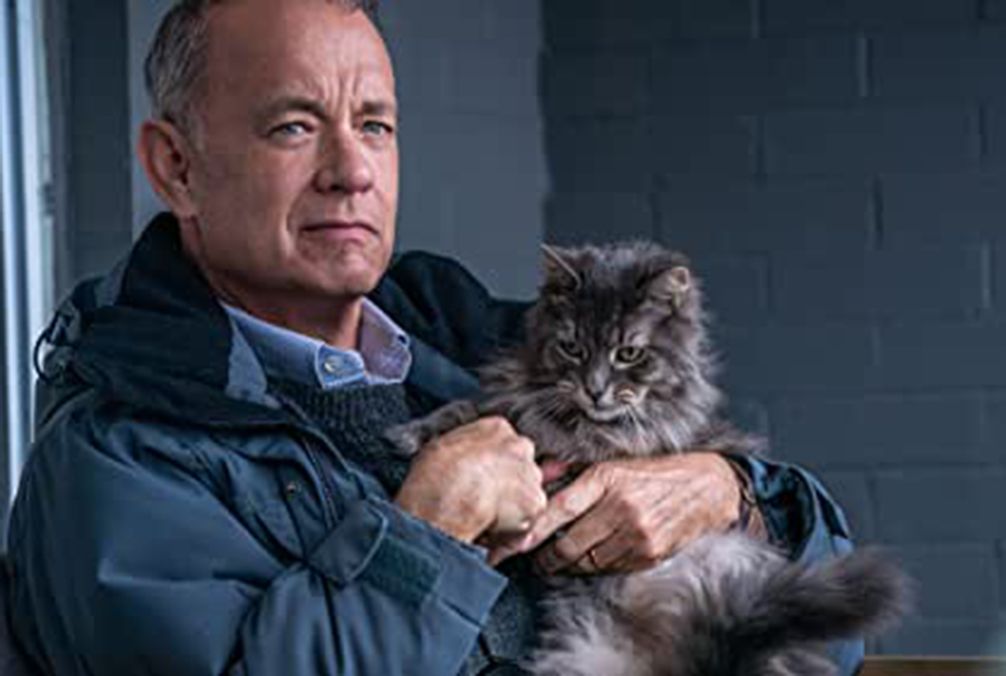 🆕  Free Community Picnic 

This event on Saturday, June 17, from 2 to 5 p.m. benefits the Ric VanWeelden Music Fund, whose goal is to put instruments into kids' hands and provide access to music lessons. Check out the details here.

Saturday, June 3

12 p.m.  Vigil for Peace and Justice (Washington Avenue at Central Park, GH)
Sunday, June 4

All events held in the Mackinaw Ballroom in Central Park Place 

(421 Columbus Ave., GH)
9 a.m. Pre-Talk and Awakenings

10 a.m. C3 Kids with Miss Mary and volunteer Charity McMaster
10 a.m. Gathering, In Person + Livestream on Facebook
Teacher: 

Michael DeWilde

Music: 

Annagail

Meditation: 

Beth Buelow                       
11 a.m. Talk Back
5:30 p.m.  Dinner Group (TED's, 14977 Cleveland St., SL)

Tuesday, June 6
7 p.m. C3 Men's Group (American Legion, GH)
Saturday, June 10

12 p.m.  Vigil for Peace and Justice (Washington Avenue at Central Park, GH)
12 p.m.–9 p.m. Grand Haven Pride Festival (Waterfront Stadium, 1 N Harbor Dr, GH)
Sunday, June 11

All events held in the Mackinaw Ballroom in Central Park Place 

(421 Columbus Ave., GH)
9 a.m. Pre-Talk and Awakenings

10 a.m. C3 Kids with Miss Mary and volunteer Patti Baldus
10 a.m. Gathering, In Person + Livestream on Facebook
Teacher: 

Kent Dobson

Music: 

Emilee Petersmark

Meditation: 

David Dean                           
11 a.m. Talk Back
5:30 p.m.  Dinner Group (TBD)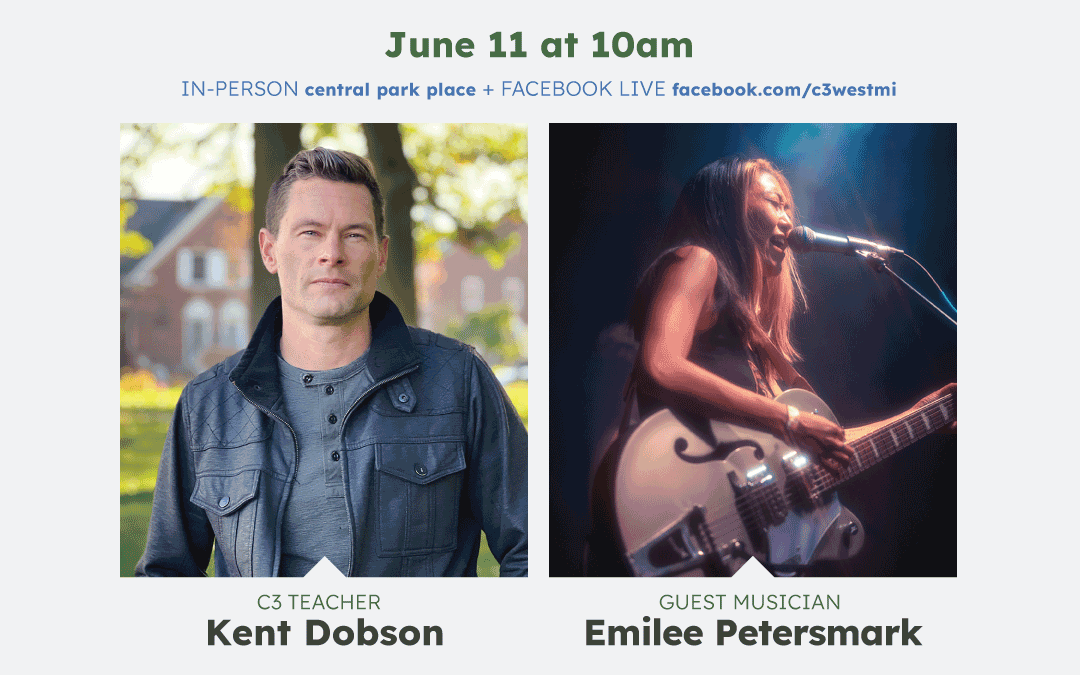 Kent Dobson has been the lead teacher at C3 since 2017. He's also in the guide-in-training program at Animas Valley Institute in Colorado, an organization specializing in wilderness intensives. Kent leads Israel study tours, wilderness retreats, and has his own podcast called Hints and Guesses. He's the author of Bitten by a Camel, a memoir about his time living in Israel and his departure from the Evangelical church he was pastoring.
Emilee Petersmark has a central, semi-secret motivation: she's always angry. That doesn't mean she's not friendly or pleasant; it means she burns with compassion for the wronged and contempt for the wrongers. And she spares no wrath for herself, looking inward with razor sharp clarity, since only by exposing our uglier emotions can we come to terms with them, and move on to a healthier outlook. Though the Crane Wives are still very much a thing, Emilee will be stepping forward soon with a stunning set of solo songs, and this is your chance to hear them before most of the world. Come take a peek into the soul of a fierce and restless heart.

Thank you for supporting C3!
We would really appreciate it if you could take a few minutes to share your experience at C3 by reviewing us on Google. Thank you!
Google requires reviewers to have a Google account. If you don't have one you can set one up with your current email address, follow instructions here.

C3 Spiritual Community Office
1447 Washington Ave., Grand Haven, MI  49417
Mailing Address: P.O. Box 371, Grand Haven, MI 49417
Becky Park, Office Manager
Office Hours: Wednesday 12:30–2:30 p.m., Friday 10:30 a.m.–12:30 p.m., or by appointment
Automatic donations are handled by Carol Takas at Selby Accounting.
Please direct any questions to Shannon McMaster.
C3 Board of Trustees
Chair: Sally Alderink
Vice-Chair: Teresa Colbry
Secretary: Valerie Engeltjes
Treasurer: Shannon McMaster
Beth Buelow
Andy Cawthon
Kim Crozier
Tom Edwards
Kathy Humphrey
Wayne Johnson
Rod Van Abbema
Newsletter Submissions and Editor: Chrysteen Moelter-Gray.

Newsletter Designer: Annie Wassmann 
Copyright © 2023 C3 Spiritual Community. All rights reserved.