C3 inspires spiritual, intellectual, and creative exploration and action, led by the questions, "what are the biggest challenges we face on our shared journey, and how do we respond to those challenges?"
C3 Core Teacher Michael DeWilde contributes another query to our series We Have Questions. He asks, Can We Talk about Desire? — An Inquiry into Sensuality, Spirituality and Some Other Stuff. Sonja de Wilde is our musician, who will be accompanied by her teacher Jess Willyard and her sister Charlotte DeWilde. Charity McMaster will do the meditation.
All C3 Sunday-morning events take place in the Mackinaw Ballroom at Central Park Place. Pre-Talk and Awakenings start at 9 a.m. The Gathering begins at 10 a.m.; Small Bites and Talk Back follow the Gathering. C3 Kids meet at 10 a.m. in the C3 Kids' area in the Mackinaw Room. If you aren't able to join us in person, you can watch the Gathering online on C3's Facebook page.


Think you might have missed an email? Revisit or catch up on our website > Updates
Need Event Information? Our website has a full event calendar > Upcoming Events
Last Sunday's Teaching and Meditation videos have not been posted to our website yet, but the past Gathering can be viewed on our Facebook page.
🆕  Kent referred to The Cloud of Unknowing in his teaching last week.
Dine with Nine-ty on Saturday!
Join us tomorrow evening at 5:30 for a delightful twist on our beloved Dine with Nine event! We are excited to try this new "everyone-is-welcome" community dinner at the picturesque Mulligan's Hollow Lodge in Grand Haven. Remember to bring your own beverage (alcohol is allowed) and place setting, utensils, and cups (we are being friendly to Mother Earth). For drop-off convenience, you may drive up to the lodge, but all event parking is in the YMCA parking lot. Rain or shine, the event will go on, with ample space indoors and outdoors that is ADA accessible.
🆕  The Billboard Project Is Alive and Well 
Phase Two of the billboard project, generously funded by our community members, has just begun. On July 10, new billboards, identical to the one we had on M-104, debuted on US-31 north and south of Grand Haven and will be there for four weeks. Use this opportunity to invite friends and family to one of our community gatherings, and remember to say hello to new faces you encounter on Sunday mornings.
🆕  Board of Trustee Election

The nomination period for Board of Trustee candidates runs from August 1 throughOctober 1. Anyone interested in running for office should contact a current board member. Please encourage other potential candidates to apply.
C3 Booth for Flea on 7th
Click here to learn all about the C3 booth at Flea on 7th, the Coast Guard Festival flea market on Sunday, July 30. Tom Edwards will be accepting donations this Sunday, July 16, and on July 23, at the Gathering, or by special arrangement. We're looking for table-top sized vintage objects in excellent condition. Come shop our booth — we are #74!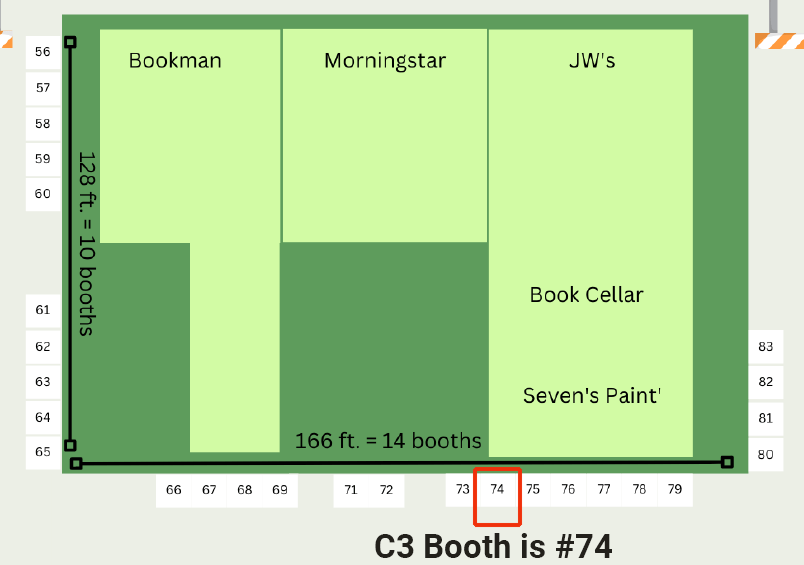 Pedaling/Swimming/Golfing for C3?
Is anyone else pledging to do an activity to earn funds for C3? Join in and contribute to the C3 cause now through September 17! You do an activity and solicit pledges from others, or pledge an amount yourself. Let Andy Cawthon know if you're in on the effort.

🆕  Welcome, New C3 Members!
The following people joined C3 in June. Please welcome these new C3 members:
Cheri Eshenhour — Grand Haven
Ted Larned — Spring Lake
Trystan Lindquist — Grand Rapids
Need a new name tag?
New members or members who have lost a name tag may contact Jeff Crandle (chair of Membership Committee) at 616-638-5266 (text preferred) or email. Please be aware that each name tag costs C3 $10, so consider adding that to your contributions.
Caring for the members of our C3 Community is a shared communal responsibility, rather than a role reserved for a pastor, priest, or leader. Our C3 Community Care Team encourages members to support each other at time of need with notes, cards, phone calls, visits, meals, and transportation. C3 members are urged to contact the Community Care Team to inform them of life events, illness, or hardships, which can be shared with the C3 Community. To report a need or request help, or to help visit members in hospital, rehab or recovering at home, contact Cheryl Van Abbema: email or Mike and Charlotte Rozich: email.
Carolyn DeVries has moved from the rehab facility to an assisted living facility for a couple weeks as she continues her recovery from a fall. She welcomes texts at 616-502-5432.Carolyn DeVries has moved from the rehab facility to an assisted living facility for a couple weeks as she continues her recovery from a fall. She welcomes texts at 616-502-5432.
🆕  A Celebration of Life Memorial honoring Georganna May Klemp (daughter of Karen and Bill Klemp) will be held on Saturday, July 22, 3:30 p.m. at the Klemp home, 15901 Leonard Road, Spring Lake. They will be planting a rose garden in Georganna's memory following the celebration, so you may bring a rose bush to plant if you like.
Phil Koster's younger brother, James Koster (age 78), passed away on Wednesday, July 5, in Kentwood, shortly after entering hospice. Cards may be sent to 3647 Brentwood Street, Norton Shores, MI 49441. The obituary can be seen here. 

Summertime Vigil for Peace and Justice
With an increase in summertime traffic, it's a good time to make a statement for social justice issues! Join us from noon to 1 p.m. along Washington Avenue at Central Park in Grand Haven. Feel free to bring a chair to make yourself more comfortable.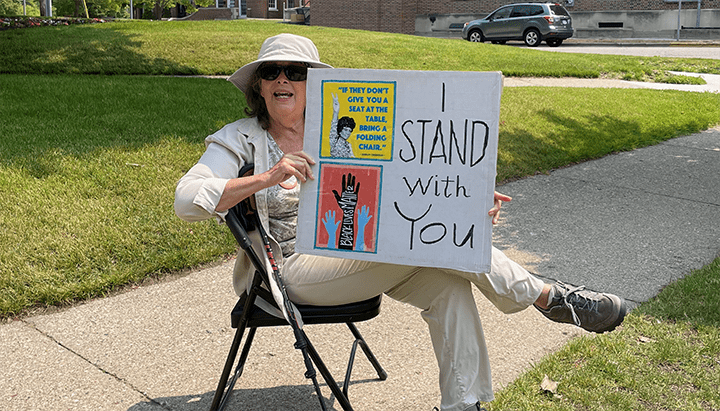 HFP July Newsletter
Click

 

here

 to read the July issue of the Humanity for Prisoners newsletter.
Momentum Center Newsletters

Click here to read recent newsletters from the Momentum Center.

Week 3@C3
We received a big-hearted "thank you" from Kids Food Basket for the outpouring of healthy food for hungry kids. Every Woman's Place also thanked us for responding in a generous way to its urgent request for underwear.
We will be taking a "vacation" from Week 3@C3 in July. Be prepared to collect school supplies in August.

Sunday Dinner Group 
🆕  We will meet at Booyah's (6022 Harvey Street, Muskegon) at 5:30 on Sunday evening. Please sign up at the Membership table at the Gathering on Sunday, or let Chrys Moelter-Gray know before12:30 Sunday afternoon.
C3 Men's Group
The C3 Men's Group meets from 7 to 8:30 p.m. on Tuesdays at the American Legion Hall on Harbor Drive. Contact Phil Koster for more information.

Want to make your life easier and more predictable?
Why not put your donations to C3 on autopilot?

No more having to remember to send a check!

No more trying to remember — did I or didn't I?

It is a secure and easy set up — just call Carol Takas (616-613-3222) at Selby Accounting. Please direct any questions to

Shannon McMaster

.
Your ongoing support of C3 is greatly appreciated. Online donations can be made here. Automatic donations can be set up by contacting Carol Takas at Selby Accounting. Checks should be sent to C3 Spiritual Community, P. O. Box 371, Grand Haven, MI 49417. C3 is a 501(c)(3) Tax-Exempt Organization. Our tax ID is 38-1960212.

Momentum Center
The movie for this evening Friday, July 14, is 

The Mitchells vs the Machines

 (A quirky, dysfunctional family's road trip is upended when they find themselves in the middle of the robot apocalypse and suddenly become humanity's unlikeliest last hope. – IMDb). Sounds like a fun follow-up to Beth's teaching about AI in June, and it's a good opportunity to connect with the Momentum Center and community. Dinner is served at 5 p.m., the movie starts at 6, at 714 Columbus Avenue. Everyone is welcome!
🆕  Planned Controversial Event in GH to be Discussed

Local activist Mac Davis has rented the Escanaba Room (downstairs) in Central Park Place this Sunday, July 16, at  2 p.m. to discuss a fundraising event in GH, featuring Kyle Rittenhouse. Click here to read Mac's email.