C3 inspires spiritual, intellectual, and creative exploration and action, led by the questions, "what are the biggest challenges we face on our shared journey, and how do we respond to those challenges?"
Why Walk This Way? C3 member Mark Smith will be joined by Beth Buelowas "questioner," while Mark shares his experience of walking the Portuguese Camino. This addition to our series We Have Questions is sure to inform and inspire introspection! Musician Beth Bombara makes a return visit, and Markwill also share a meditation.
All C3 Sunday-morning events take place in the Mackinaw Ballroom at Central Park Place. Pre-Talk and Awakenings start at 9 a.m. The Gathering begins at 10 a.m.; Small Bites and Talk Back follow the Gathering. C3 Kids meet at 10 a.m. in the C3 Kids' area in the Mackinaw Room. If you aren't able to join us in person, you can watch the Gathering online on C3's Facebook page.


Think you might have missed an email? Revisit or catch up on our website > Updates
Need Event Information? Our website has a full event calendar > Upcoming Events
🆕  Last Sunday's Teaching here.  🆕  Last Sunday's Meditation here.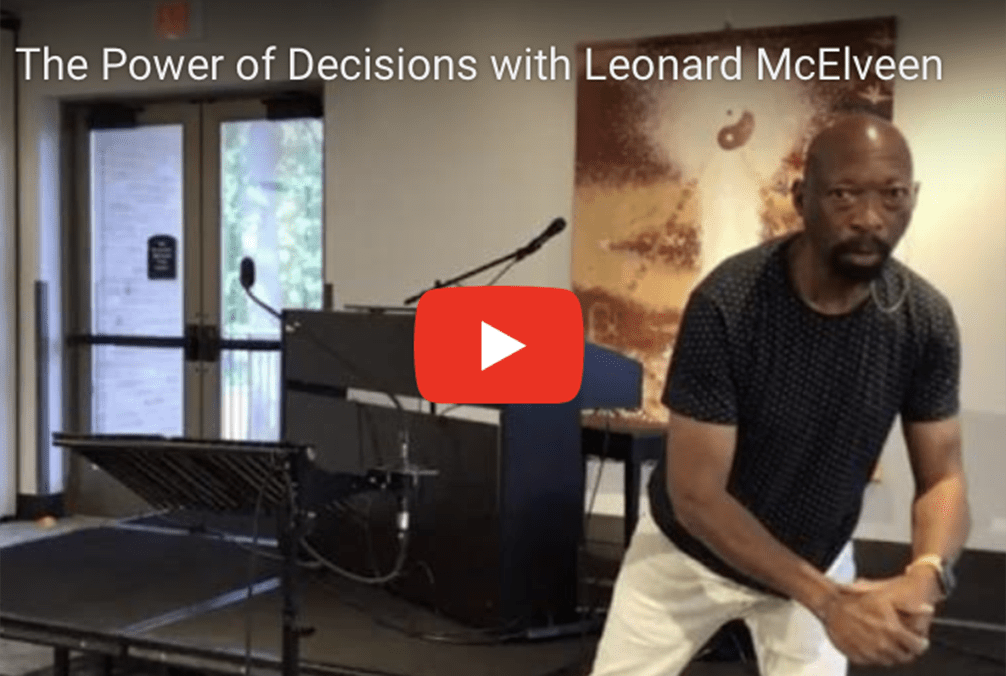 C3 Booth for Flea on 7th is Sunday!
Click here to learn all about the C3 booth at Flea on 7th, the Coast Guard Festival flea market on Sunday, July 30. Flea Market hours are 10 am to 4pm. Head to our booth after the Gathering and support C3, there is something for everyone. Our booth is #74 located behind the Seven's Paint store! 
🆕  Help Needed Sunday after Gathering for Quick Room Reconfiguration
There is another event scheduled in the Mackinaw Room this Sunday at 1 p.m., and the set-up person needs to get the room rearranged quickly after our Gathering. Chuck will need some help with tear-down, so if a few of you are willing and able to help Chuck with the tear-down, that would be most appreciated.
     Also, we thank those who help stack chairs after the Gathering each week. Please continue to do so! All chairs need to be stacked. If there are any board or committee meetings after the Gathering, please remember to add those chairs to a stack before you leave.
🆕  Pedaling Update
Gordy Alderink has completed the Tour de Ottawa County paralleling the stages of the Tour de France for a total of 485 miles! He is looking for sponsors. John Leitner has committed to the Tour de Albania in September for over 400 miles, plus he's got local miles. John is also looking for sponsors. Ira Engeltjes has completed 378 miles. Meisha, their dog, has completed at least as many and may be looking for sponsors! Furiously trying to catch up, Andy Cawthon has pedaled 158 miles. Chrys Moelter-Gray has six "Dips & Kicks in the Big Lake" so far. You are encouraged to sponsor any of these C3ers with a pledge! We will continue pedaling and dipping until Sunday, September 17, and will report totals and dollars shortly after that.
An Oldie but Goodie!
Mark and Kathy Smith came across this article while cleaning! A blast from the not-too-distant past! Revisit the complete article here.
You Can Help Make Our Sunday Gatherings Wonderful
We are always looking for fantastic guest teachers, and the need will be even greater moving forward. That's where you come in! Have you heard someone speak and thought, This person would be perfect to talk at C3! or C3 needs to hear this!  We now have an easy way to pass your suggestions on to the Sunday Gathering Team. Just send an email to GuestTeacherNames [at] c3westmighigan [dot] org with as much information as you can about the person. Thanks for your help, and special thanks to Ryan Cotton who has already responded with several great suggestions.
Billboard Project Is Alive and Well
Our two billboards (same design as first)  are up on US-31, one south of Grand Haven and the other north. They will be up for another two weeks. Use this opportunity to invite friends and family to one of our Gatherings, and remember to say hello to new faces you encounter on Sunday mornings.
Board of Trustee Election

The nomination period for Board of Trustee candidates runs from August 1 throughOctober 1. Anyone interested in running for office should contact a current board member. Please encourage other potential candidates to apply.
Claude Moves on to GVSU

Claude McMaster, who has been our set-up/tear-down person for a number of years, will serve in that roll for the last time on August 27, and then he's off to GVSU. Maybe one of your older kids or grandkids could fill his shoes?
Caring for the members of our C3 Community is a shared communal responsibility, rather than a role reserved for a pastor, priest, or leader. Our C3 Community Care Team encourages members to support each other at time of need with notes, cards, phone calls, visits, meals, and transportation. C3 members are urged to contact the Community Care Team to inform them of life events, illness, or hardships, which can be shared with the C3 Community. To report a need or request help, or to help visit members in hospital, rehab or recovering at home, contact Cheryl Van Abbema: email or Mike and Charlotte Rozich: email.
🆕  Cyndi Casemier's mother Carolyn Casemier-Rotz, passed away on July 23. The obituary may be read here. A Celebration of Life will be held September 2, 4 to 7 p.m. at Klaasen's Funeral Home. Cards may be sent to Cyndi at 13489 Redbird Lane, Grand Haven, MI 49417.
Carolyn DeVries is back at home! She welcomes texts.
We have missed seeing Jerry & Barbara VanLeeuwen for the past two months. At the end of May, Barb was diagnosed with a rare oral cancer. On June 16, she had oral reconstructive surgery at U of M Hospital, to be followed by radiation and chemotherapy. As Barb shared, "This is not a picnic."  You may send a note to Barb via text or email or at home 2669 Weatherby Hills Drive SE, Grand Rapids 49546.

Vigil for Peace and Justice
Join us from noon to 1 p.m. along Washington Avenue at Central Park in Grand Haven this Saturday to stand or sit for peace! Please note that due to the Coast Guard Parade next week, there will be no Vigil for Peace and Justice on August 5.

CCD Participates in the Muskegon Heights Festival in the Park
The Coalition for Community Development will participate in the Muskegon Heights Festival Parade tomorrow, July 29, at 11:00 a.m. If you are a CCD volunteer, you're welcome to join the parade! (Line up at the corner of Broadway and Waalkes around 10:45). See the whole lineup of events for the festival here and here.)

🆕  Week 3@C3 in August

We're collecting Back-to-School items based on teachers' stated needs within the Muskegon Heights Public School Academy system. The items will be distributed by the teachers themselves, based on needs of individual classrooms and teachers. See the printable list of possible donations here. You may bring items from the list below to C3 on August 6, 13 or 20.
Copy paper: 8 1/2″  x 11″ white; by case or ream; lots

Standard, spiral-bound notebooks – wide ruled (important!); dozens

Pocket folders – hundreds; colorful

Pencils – #2 Ticonderoga brand (specifically for testing); many packages

Crayola wax crayons: 24-ct boxes; individual boxes or packs of six or more

Colored pencils – for students (not adult type); many boxes

Scotch tape – replacement rolls for dispensers or regular filled plastic dispensers

Sanitizer wipes – Clorox brand suggested; dozens of containers

Kleenex or other similar brand tissues; multiple boxes

Please note specifics, as other item types may not be useful in the classroom. These are very basic school supplies. Let's be generous and see to what degree we can relieve the teachers at MLK from having to spend their own money to achieve success in their classrooms. You may also consider sending a check made out to "C3–Back to School Project."  Mail to Week 3 @ C3, P.O. Box 371, Grand Haven, MI 49417, and we will shop for you.
🆕  Travel-size Items
Every Woman's Place takes contributions of travel size toiletry items—shampoo, conditioner, wrapped soap, lotions, nail files, floss. If you have any of these to contribute, bring them any Sunday to the Week 3@C3 table.

🆕  Sunday Dinner Group
We're meeting again at William Ferry Park in Ferrysburg (110 Pine Street) at 5:30 on Sunday evening, repeating our "Bring Your Own Picnic" (or grab some take-out food on the way)!
🆕  C3 Men's Group Temporary Location Change
Due to the Coast Guard Festival, C3 Men's Group will meet at 7 p.m. at the home of Ted Larned on August 1. Contact  Phil Koster for more details.

Your ongoing support of C3 is greatly appreciated. Online donations can be made here. Automatic donations can be set up by contacting Carol Takas at Selby Accounting. Checks should be sent to C3 Spiritual Community, P. O. Box 371, Grand Haven, MI 49417. C3 is a 501(c)(3) Tax-Exempt Organization. Our tax ID is 38-1960212.

Welcome, New C3 Members!
The following people joined C3 in June. Please welcome these new C3 members:
Cheri Eshenhour — Grand Haven
Ted Larned — Spring Lake
Trystan Lindquist — Grand Rapids
Need a new name tag?
New members or members who have lost a name tag may contact Jeff Crandle (chair of Membership Committee)  (text preferred) or email. Please be aware that each name tag costs C3 $10, so consider adding that to your contributions.

🆕  Summer Theater!

C3 member Julie Bratton  and C3 Friends Joe and Natalie Carmolli are appearing in The Book of Will, part of the Playhouse at White Lake's Summer Theater Festival. Based on a true story—it's 1619, William Shakespeare has been dead for three years and the members of his acting troupe are starting to pass away too. The remaining members realize…nothing is written down!  Shakespeare only gave each actor the words he was to say. What happens to the plays when no one is alive to remember them? A meditation on life, loss, love, Shakespeare, theater, and the quietly steadfast leadership of women.  Performances August 11-13. Get your tickets here.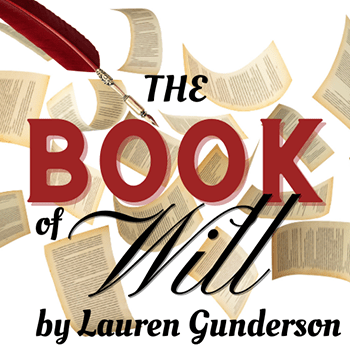 Momentum Center
Town Hall Meeting. The first post-pandemic in-person town hall meeting is scheduled for Monday, August 14, at the new Momentum Center location (401 N. 7th Street, Grand Haven). The topic is COVID: Effects on Mental Illness and Substance Abuse. Details on Momentum Center website.
🆕  Faith and Politics in Ottawa City County

A panel discussion on this topic takes place on Thursday, August 17, 6 to 7:30 p.m. at Central Park Place, Grand Haven, put on by The Ottawa Coalition of the Unifying Congregations. Further information is available on the Unifying Coalition website.

Saturday, July 29
12 p.m.  Vigil for Peace and Justice (Washington Ave. at Central Park, GH)
Sunday, July 30
All events held in the Mackinaw Ballroom in Central Park Place (421 Columbus Ave., GH)
9 a.m. Pre-Talk & Awakenings
10 a.m. C3 Kids with Joyce Cawthon and volunteer Margaret Willey
10 a.m. Gathering, In Person + Livestream on Facebook
   • Teacher: Mark Smith
   • Music: Beth Bombara
   • Meditation: Mark Smith                
11 a.m. Talk Back
5:30 p.m.  Dinner Group (BYO Picnic, William Ferry Park, SL)
Tuesday, August 1
7 p.m.  C3 Men's Group (Ted Larned's home)
Saturday, August 5
12 p.m.  NO Vigil for Peace and Justice (Washington Ave. at Central Park, GH)
Sunday, August 6
All events held in the Mackinaw Ballroom in Central Park Place (421 Columbus Ave., GH)
9 a.m. Pre-Talk & Awakenings
10 a.m. C3 Kids with Miss Mary and volunteer Eleanor Hills
10 a.m. Gathering, In Person + Livestream on Facebook
   • C3 Teacher: Kent Dobson
   • Music: Thrown Out Bones 
   • Meditation: Margaret Willey                 
11 a.m. Talk Back
5:30 p.m.  Dinner Group (Location TBD)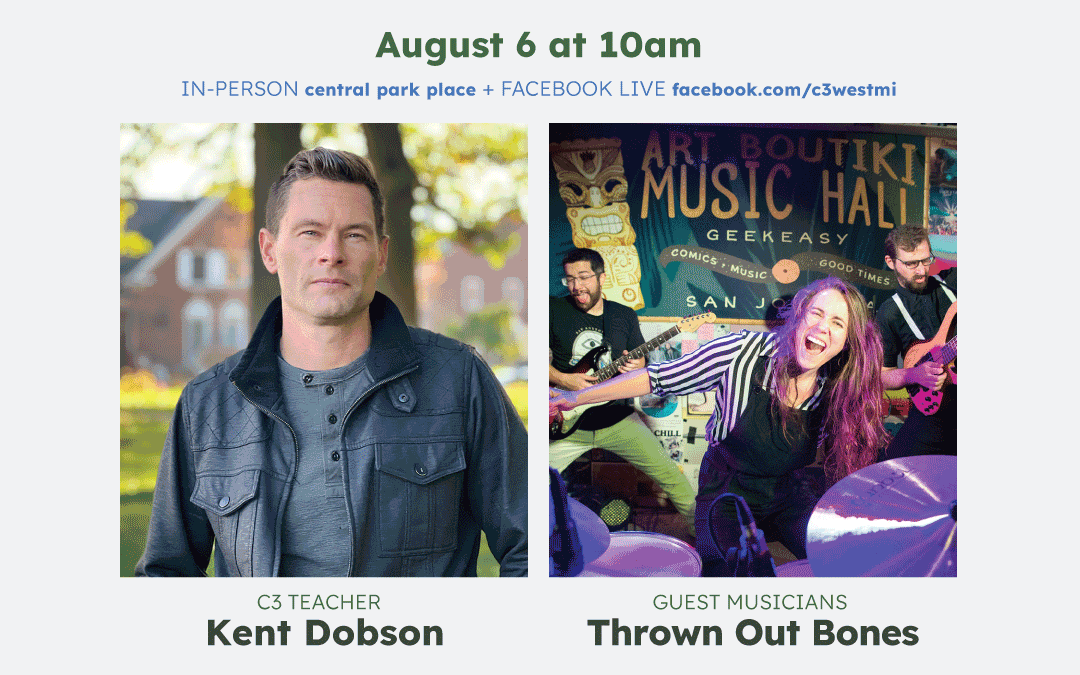 Kent Dobson has been the lead teacher at C3 since 2017. He's also in the guide-in-training program at Animas Valley Institute in Colorado, an organization specializing in wilderness intensives. Kent leads Israel study tours, wilderness retreats, and has his own podcast called Hints and Guesses. He's the author of Bitten by a Camel, a memoir about his time living in Israel and his departure from the evangelical church he was pastoring.
Thrown Out Bones is a San Francisco-based high-energy swanky rock group known for their experimental approach to genre and performance. With 10+ years of playing together, this power trio has developed a unique sound that blurs the lines between funk, jazz, classic rock, and deep, contemplative jams. They may play explosive originals or covers, from classics like Queen and Johnny Cash to modern hits like Green Day and Amy Winehouse.

Thank you for supporting C3!
We would really appreciate it if you could take a few minutes to share your experience at C3 by reviewing us on Google. Thank you!
Google requires reviewers to have a Google account. If you don't have one you can set one up with your current email address, follow instructions here.
Lead Teacher Kent Dobson
There is a lot more to discover and learn from Kent Dobson on his website, and by listening to his podcast Hints and Guesses. Sign up here for updates about his programs, events, podcasts, teachings, and more. 
🆕  Kent's next program is Wilderness Within Intensive, Mt. Baker-Snoqualmie National Forest, Washington on September 14-17, 2023. "This program is designed to facilitate a deeper conversation between who you are, the wild world, and your deepest longing. Kent Dobson and Ryan Meeks will be co-guiding this intensive. There will be rich conversation, practices, ceremonies, and wanders. Anyone is welcome, with or without outdoor experience." 


C3 Spiritual Community Office
1447 Washington Ave., Grand Haven, MI  49417
Mailing Address: P.O. Box 371, Grand Haven, MI 49417
Becky Park, Office Manager
Office Hours: Wednesday 12:30–2:30 p.m., Friday 10:30 a.m.–12:30 p.m., or by appointment
Automatic donations are handled by Carol Takas at Selby Accounting.
Please direct any questions to Shannon McMaster.
C3 Board of Trustees
Chair: Sally Alderink
Vice-Chair: Teresa Colbry
Secretary: Valerie Engeltjes
Treasurer: Shannon McMaster
Beth Buelow
Andy Cawthon
Kim Crozier
Tom Edwards
Kathy Humphrey
Wayne Johnson
Rod Van Abbema
Newsletter Submissions and Editor: Chrysteen Moelter-Gray.

Newsletter Designer: Annie Wassmann 
Copyright © 2023 C3 Spiritual Community. All rights reserved.