C3 inspires spiritual, intellectual, and creative exploration and action, led by the questions, "what are the biggest challenges we face on our shared journey, and how do we respond to those challenges?"
We welcome another first-time Guest Teacher this week, Brie Stoner, who addresses Letting Go: The Autumnal Invitation of the Creative Cycle, Part One. She asks, What if heartbreak and letting go aren't the sign of something going wrong, but rather a sign of something going very right?
Brie will be with us again in October, as both teacher and musician. Our musicians this week are Genna and Jesse, who visit us for the second time while on the US portion of their international touring schedule. Leslie Newman will give the meditation. It looks like another great Gathering coming up!


Our weekly Gathering takes place in the Mackinaw Ballroom at Central Park Place every Sunday at 10 a.m. Pre-Talk and Awakenings (meditation) precede the Gathering at 9 a.m. After the Gathering, enjoy a Small Bite and join Talk Back. Our C3 Kids meet at 10 a.m. in the C3 Kids' area of the Mackinaw Room. The Gathering is live-streamed on C3's Facebook page.
Missed an email? Revisit or catch up on our website > 

Updates

Need Event Information? Our website has a full event calendar > 

Upcoming Events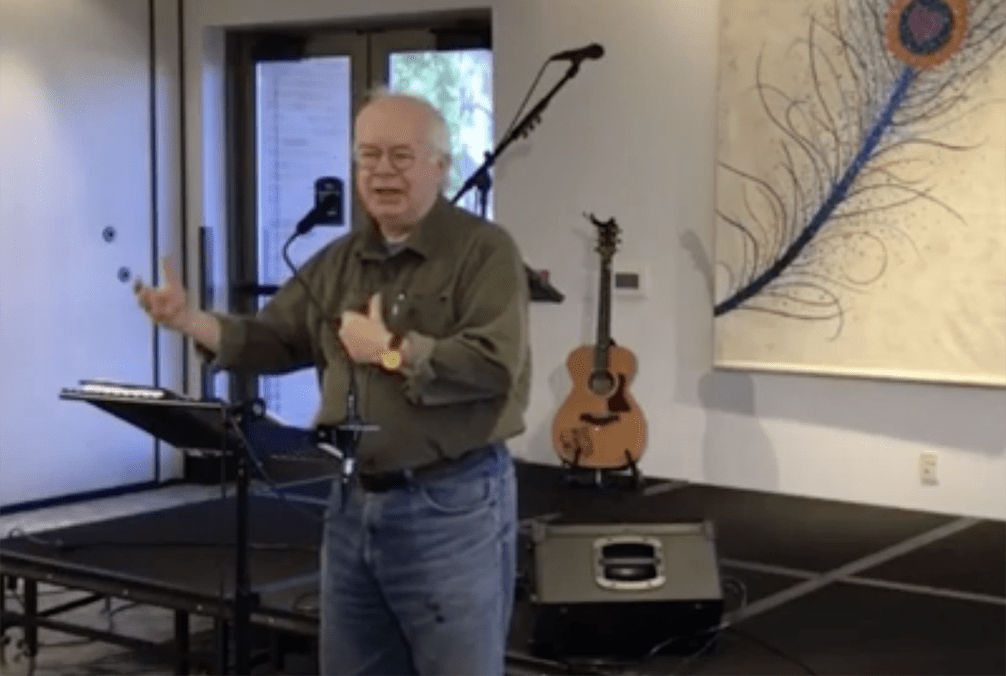 🆕  Your Input Needed
The Lead Teacher Search Committee wants your input! They have compiled a list of best qualities for a Lead Teacher but they want to know which are the most important to you. Please fill out the survey or see Charity on Sunday, August 20, to fill one out in person. If you prefer to print your own copy to give to Charity at the Gathering click here for a blank pdf.
Board of Trustees Election Nomination Period
The nomination period for Board of Trustee candidates is now open and runs through October 1. Anyone interested in running for office should contact a current board member. Please encourage other potential candidates to apply.
New C3 Logo T-Shirts
After the Gatherings, Teresa Colbry will be taking orders for new C3 logo t-shirts! We've mocked up the shirts in two colors — Indigo Blue and Prairie Dust Brown. The cost of the shirts is $15, payable when the shirt is ordered by cash (exact change if possible) or check. We need 25 pre-paid orders of a single color to move forward. We may have to gang orders into one color. T-Shirt Specs: Gildan Ultra 100% Cotton, Short Sleeve; Crew neck (No V necks at this time); Unisex sizing (S, M, L, XL; XXL—add $2); Logo will be screen printed in white ink. 🆕  If you are planning to wear the new t-shirt for the Heritage Fiesta you will need to order your t-shirt ASAP.
🆕  Checks Written to C3
Thank you for your donations to our fundraising projects and Week 3@C3 activities. Please make checks out to C3, and if you're supporting a project with that check, please note that in the memo field.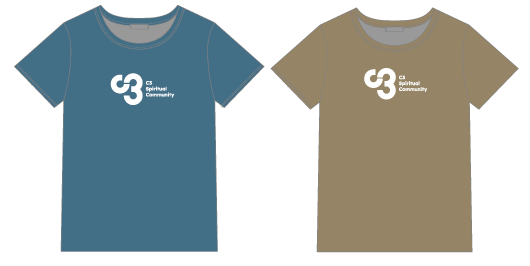 Claude's Farewell
The Board of Trustees and the C3 Kids Committee would like to acknowledge Claude McMasters' graduation and express our appreciation of his contributions, which include helping with C3 Kids and three years of setup and take down for our Sunday Gatherings. Claude will attend Grand Valley in the fall. If you have not already made a contribution to Claude's graduation, and would like to do so at C3, look for a decorated box with Claude's name on it at the sound table. The box will be there for the next two Sundays! Good luck, Claude! 
C3 Summer Fundraiser

Gordy Alderink, John Leitner, Ira Engeltjes, and Andy Cawthon have been pedaling to up the ante, while Chrys Moelter-Gray has added a few more swims in Lake MIchigan, all to raise funds for C3. You are encouraged to sponsor any of these C3ers with a pledge! They will continue pedaling and dipping until Sunday, September 17, and will report totals and dollars shortly after that.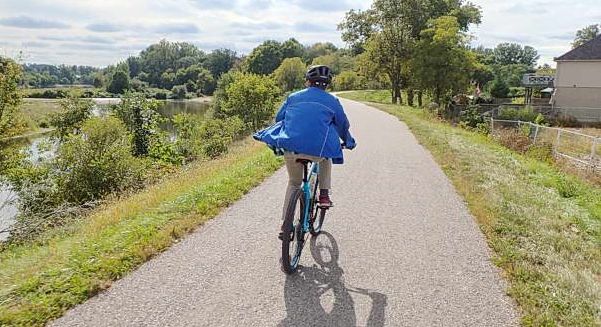 Wild Apricot for Members App

Wild Apricot helps members to stay in touch with this handy app. Easily find other members of C3 and contact them. To download the app, navigate to your app store and search for "Wild Apricot for Members". Download and open the app and log in with your member user name and password. (Note: If you have forgotten your log in credentials you will need to navigate to the C3 Wild Apricot Member Directory Webpage and click on "log in". At the next prompt click on "forgot password" and follow instructions.) 

Grand Haven Hispanic Heritage Fiesta
Mark Saturday, September 16, 11 a.m. to 10:30 p.m. on your calendar as the date for this year's Hispanic Heritage Fiesta! C3 is a sponsor and on the planning team. This event honors our Hispanic community with music, dance, a Mercado (marketplace), kids' activities, food, and more. We will have a C3 Booth, and we need a canopy for the day. Please contact Rod Van Abbema if you have one to loan.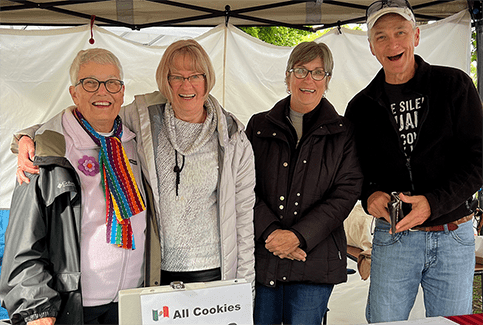 Vigil for Peace and Justice
The Vigil for Peace and Justice takes place every Saturday from noon to 1 p.m. along Washington Avenue at Central Park in Grand Haven.
Fall Adopt-A-Highway Date
Another important date to set aside is the morning of September 30. Our fall Adopt-A-Highway cleanup has been scheduled for that Saturday. Rain date is Sunday, October 1, after the Gathering.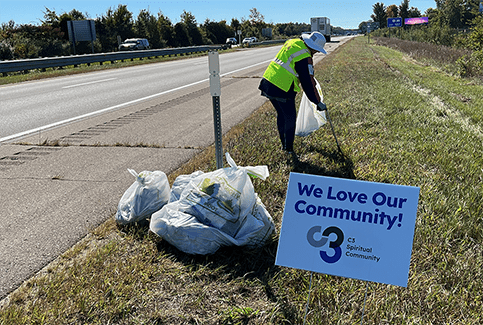 Humanity for Prisoners August Newsletter
Click here to read the latest HFP Communicator for August.

🆕  Sign Up for Sunday Dinner Group
We will meet at 5:30 p.m. today at Don Luis Mexican Bar and Grill (442 Beacon Blvd., GH). Please be sure to sign up at the Membership Table before you leave today, so we can make an accurate reservation.
C3 Book Club and Friends
Last Tuesday we had a great discussion on Being Mortal. But recognizing we are mortal, we have to switch the next two books around to fit vacation schedules. So for September 19, we are reading The One in a Million Boy by Monica Wood. For October 17, it will be The Sun Does Shine by Anthony Hinton.
C3 Men's Group
The C3 Men's Group meets from 7 to 8:30 p.m. on Tuesdays at the American Legion Hall on Harbor Drive. Contact Phil Koster for more information.
Caring for the members of our C3 Community is a shared communal responsibility, rather than a role reserved for a pastor, priest, or leader. Our C3 Community Care Team encourages members to support each other at time of need with notes, cards, phone calls, visits, meals, and transportation. C3 members are urged to contact the Community Care Team to inform them of life events, illness, or hardships, which can be shared with the C3 Community. To report a need or request help, or to help visit members in hospital, rehab or recovering at home, contact Cheryl Van Abbema: email or Mike and Charlotte Rozich: email.
Congratulations to Sally Hipp, who married Nick Cavarocchi on August 12. They will continue to spend summers in Grand Haven. No name changes! 
Hank & Karen Nash have moved to Washington state, north of Seattle, to live closer to family. Karen reports "a plethora of liberal churches out here." They have asked to share their new contact information with C3 friends. Address: 15932 Village Green Drive, Unit D, Mill Creek, WA 98012.

Last Week for Week 3@C3 in August
This Sunday is the last day to bring Back-to-School items for our Week 3@C3 campaign. The items will be distributed by the Muskegon Heights teachers themselves, based on needs of individual classrooms. See the printable list of possible donations here. You may bring items from the list below to C3 this Sunday, August 20.
Copy paper – 8 1/2″  x 11″ white; by case or ream; lots
Sanitizer wipes – Clorox brand suggested; dozens of containers
Kleenex or other similar brand tissues; multiple boxes

Standard, spiral-bound notebooks – wide ruled (important!); dozens

Pocket folders – hundreds; colorful

Pencils – #2 Ticonderoga brand (specifically for testing); many packages

Pink Pearl erasers

Crayola wax crayons: 24-ct boxes; individual boxes or packs of six or more

Colored pencils – for students (not adult type); many boxes

Scotch tape – replacement rolls for dispensers or regular filled plastic dispensers

Lysol scented sprays

Please note specifics, as other item types may not be useful in the classroom. These are very basic school supplies. Let's be generous and see to what degree we can relieve the teachers at MLK from having to spend their own money to achieve success in their classrooms. You may also consider sending a check made out to C3, with "Back to School Project" in the memo line. Mail to Week 3 @ C3, P.O. Box 371, Grand Haven, MI 49417, and we will shop for you.
Travel-size Items
Every Woman's Place takes contributions of travel size toiletry items—shampoo, conditioner, wrapped soap, lotions, nail files, floss. If you have any of these to contribute, bring them any Sunday to the Week 3@C3 table.

Want to make your life easier and more predictable?
• Why not put your donations to C3 on autopilot?
• No more having to remember to send a check!
• No more trying to remember — did I or didn't I?
• It is a secure and easy set up — just call Carol Takas at Selby Accounting. Please direct any questions to Shannon McMaster.
Your ongoing support of C3 is greatly appreciated. Online donations can be made here. Automatic donations can be set up by contacting Carol Takas at Selby Accounting. Checks should be sent to C3 Spiritual Community, P. O. Box 371, Grand Haven, MI 49417. C3 is a 501(c)(3) Tax-Exempt Organization. Our tax ID is 38-1960212.

Save Your C3 Bulletin for Half-Off Baseball Seats
🆕  September 5 is the last Tuesday Bulletin Night for Whitecap Baseball season. Get half-off all bowl seats, including premium seats, when you show a worship or community bulletin. Limit 8 tickets per bulletin.
Libraries are for Everyone!

Check out the websites of our area libraries! There's always something interesting going on, and so many good reads! Several have newsletters to which you can subscribe.

Saturday, August 19
12 p.m.  Vigil for Peace and Justice (Washington Ave. at Central Park, GH)
Sunday, August 20
All events held in the Mackinaw Ballroom in Central Park Place (421 Columbus Ave., GH)
9 a.m. Pre-Talk & Awakenings
10 a.m. C3 Kids with Miss Mary and volunteer Sally Alderink
10 a.m. Gathering, In Person + Livestream on Facebook
   • Guest Teacher: Brie Stoner
   • Music: Genna & Jesse 
   • Meditation: Leslie Newman                 
11 a.m. Talk Back
5:30 p.m. Dinner Group (Don Luis Mexican Grill, 442 Beacon, GH)

Tuesday, August 22

7 p.m. C3 Men's Group (American Legion, GH)

Saturday, August 25
12 p.m.  Vigil for Peace and Justice (Washington Ave. at Central Park, GH)
Sunday, August 27
All events held in the Mackinaw Ballroom in Central Park Place (421 Columbus Ave., GH)
9 a.m. Pre-Talk & Awakenings
10 a.m. C3 Kids with Miss Mary and volunteer Char Kole
10 a.m. Gathering, In Person + Livestream on Facebook
   • Guest Teacher: Ruth Zwald
   • Music: Hannah Laine 
   • Meditation: Bob Kleinhecksel                 
11 a.m. Talk Back
Ruth Zwald, retired social worker/minister, makes her home on a farm, starting every dawn with good coffee and the crow of the rooster. Loving the cycles of the seasons, Ruth watches the moon and never misses a solstice or equinox turning. She is a Mesa Carrier on the Peruvian Medicine Path, which involves personal healing, transformational healing for others, and creating ceremony and ritual for ourselves and for the earth.
Hanna Laine is a musician and vocal empowerment coach from Grand Rapids, best known as the vocalist for the Future-Soul band Earth Radio. She began singing and songwriting at a very young age, and has found refuge in music as a way of healing and processing her life experiences. Skilled in piano, vocal improvisation, beat-making, layering effects, and looping, her abilities to create a soundscape or groovy bop are limitless.

Thank you for supporting C3!
We would really appreciate it if you could take a few minutes to share your experience at C3 by reviewing us on Google. Thank you!
Google requires reviewers to have a Google account. If you don't have one you can set one up with your current email address, follow instructions here.

C3 Spiritual Community Office
1447 Washington Ave., Grand Haven, MI  49417
Mailing Address: P.O. Box 371, Grand Haven, MI 49417
Becky Park, Office Manager
Office Hours: Wednesday 12:30–2:30 p.m., Friday 10:30 a.m.–12:30 p.m., or by appointment
Automatic donations are handled by Carol Takas at Selby Accounting.
Please direct any questions to Shannon McMaster.
C3 Board of Trustees
Chair: Sally Alderink
Vice-Chair: Teresa Colbry
Secretary: Valerie Engeltjes
Treasurer: Shannon McMaster
Beth Buelow
Andy Cawthon
Kim Crozier
Tom Edwards
Kathy Humphrey
Wayne Johnson
Rod Van Abbema
Newsletter Submissions and Editor: Chrysteen Moelter-Gray.

Newsletter Designer: Annie Wassmann 
Copyright © 2023 C3 Spiritual Community. All rights reserved.