C3 inspires spiritual, intellectual, and creative exploration and action, led by the questions, "what are the biggest challenges we face on our shared journey, and how do we respond to those challenges?"
One of our previous Guest Teachers returns this week: Ruth Zwald joins her voice to our series We Have Questions with How Do We Find Hope? It will be good to welcome Ruth again. Also returning is musician Hannah Laine, whose piano and voice have graced our Gatherings a few times already. Cindy Anderson brings her always-perceptive perspective to the meditation.


Our weekly Gathering takes place in the Mackinaw Ballroom at Central Park Place every Sunday at 10 a.m. Pre-Talk and Awakenings (meditation) precede the Gathering at 9 a.m. After the Gathering, enjoy a Small Bite and join Talk Back. Our C3 Kids meet at 10 a.m. in the C3 Kids' area of the Mackinaw Room. The Gathering is live-streamed on C3's Facebook page.
Missed an email? Revisit or catch up on our website > 

Updates

Need Event Information? Our website has a full event calendar > 

Upcoming Events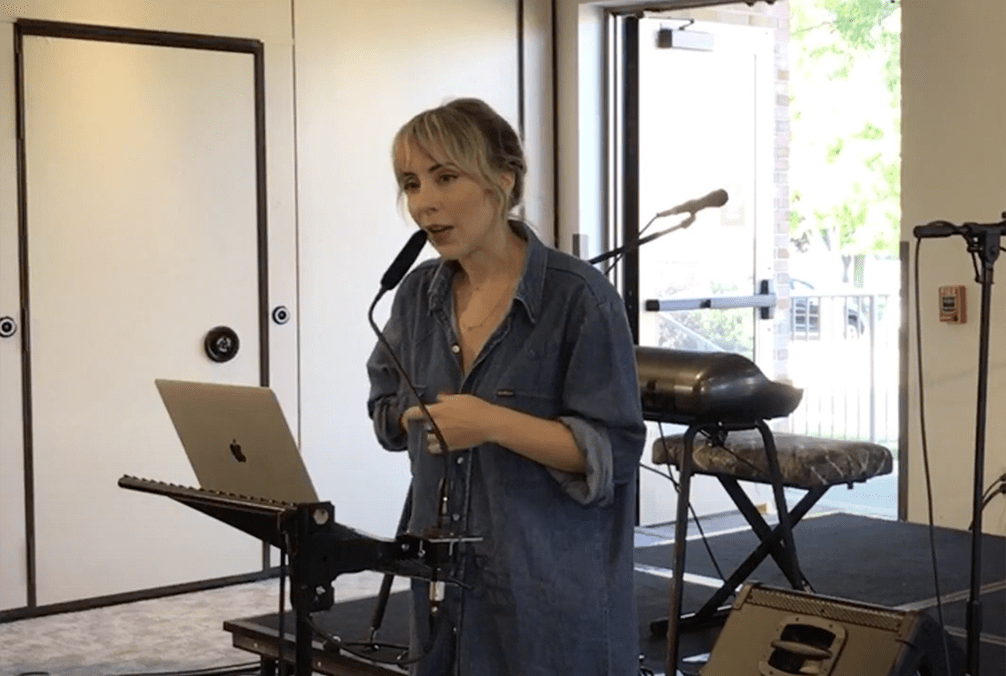 Your Input Needed
Thanks to everyone who participated in the Lead Teacher Survey already. If you haven't yet, you still can, through Sunday morning. After that, the results will be tabulated and shared with the C3 Community. If you prefer to print your own copy to give to Charity at the Gathering click here for a blank pdf.
🆕  Hearing Assist Technologies
Chuck Tawney is looking into hearing assist technologies that could improve the Gathering experience for our members who use hearing assist devices. There is a t-loop system at Central Park Place, but newer hearing aids may not be able to use that technology. A bluetooth transmitter could be a help to our members. Chuck asks that people who use hearing aids provide him with the make and model they use, so he can look into what would work. (No names needed; just note the make and model you use on one of the index cards provided and leave at the sound table on Sunday).
C3 Logo T-Shirts
🆕  Thank you to everyone who ordered a new C3 t-shirt! We have placed the order and suspended sales for now. If you missed ordering a t-shirt during the past month, add your name to the sign up sheet on the Outreach table or send Tom Edwards an email. Once we have 25 names, we will take pre-orders again.
Claude's Farewell
The Board of Trustees and the C3 Kids Committee would like to acknowledge Claude McMasters' graduation and express our appreciation of his contributions, which include helping with C3 Kids and three years of setup and take down for our Sunday Gatherings. If you have not already made a contribution to Claude's graduation, and would like to do so at C3, look for a decorated box with Claude's name on it at the sound table. This will be the last Sunday the box will be there. Good luck, Claude!
1700 Miles! 13 Dips!
It's not too late to sponsor Gordy Alderink, John Leitner, Ira Engeltjes, Andy Cawthon or Chrys Moelter-Gray in their fundraising efforts for C3. The riders have exceeded 1700 miles! Chrys has dipped 13 times with 11 swims. They'll ride and dip until Sunday, September 17, and will report totals and dollars shortly after that.
Checks Written to C3
Thank you for your donations to our fundraising projects and Week 3@C3 activities. Please make checks out to C3, and if you're supporting a project with that check, please note that in the memo field.
Board of Trustees Election Nomination Period
The nomination period for Board of Trustee candidates is now open and runs through October 1. Anyone interested in running for office should contact a current board member. Please encourage other potential candidates to apply.

🆕  Volunteers Needed for GH Hispanic Heritage Fiesta
How about bringing some cookies for the C3 booth at the Fiesta? Or be there to help sell them? Just connect with Patti Baldus or see her at the Sunday Gathering. Want to help out and meet some new people? Sign up to volunteer for one of the many exciting aspects of the event like the Mercado. Just go to the volunteer signup, or contact Rod Van Abbema at the Gathering.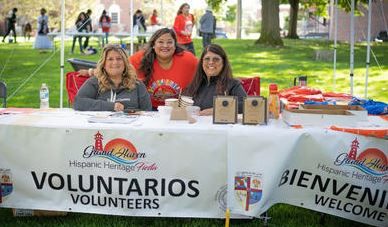 Fall Adopt-A-Highway
Save the date Saturday, September 30 for our fall Adopt-A-Highway cleanup. The clean up is from 10am to 12 noon. (If necessary, the rain date is Sunday, October 1, after the Gathering). Sign up anytime via email (name and phone number please) or at the Outreach table beginning September 3. More information here! 
Vigil for Peace and Justice
The Vigil for Peace and Justice takes place every Saturday from noon to 1 p.m. along Washington Avenue at Central Park in Grand Haven.
Humanity for Prisoners August Newsletter
Click here to read the latest HFP Communicator for August.
🆕  Momentum Center August Newsletter
Click here to read the latest Gaining Momentum – Just News for August.

🆕  Sign Up for Sunday Dinner Group
We will meet at 5:30 p.m. on Sunday evening at Don Luis Mexican Grill (442 Beacon Blvd., GH). Please be sure to sign up at the Membership Table before you leave today, so we can make an accurate reservation. The menu is extensive. Some non-Mexican style dishes are available—check the link above (it takes a while for the menu to load).
C3 Men's Group
The C3 Men's Group meets from 7 to 8:30 p.m. on Tuesdays at the American Legion Hall on Harbor Drive. Contact Phil Koster for more information.
Caring for the members of our C3 Community is a shared communal responsibility, rather than a role reserved for a pastor, priest, or leader. Our C3 Community Care Team encourages members to support each other at time of need with notes, cards, phone calls, visits, meals, and transportation. C3 members are urged to contact the Community Care Team to inform them of life events, illness, or hardships, which can be shared with the C3 Community. To report a need or request help, or to help visit members in hospital, rehab or recovering at home, contact Cheryl Van Abbema: email or Mike and Charlotte Rozich: email.
Congratulations to Sally Hipp, who married Nick Cavarocchi on August 12. They will continue to spend summers in Grand Haven. No name changes! 
🆕  Barb Van Leeuwen is undergoing the toughest part of her treatment for oral cancer now. She is grateful for the kind words received from C3 folks, letting her know that people are pulling for her. Cards or notes may be sent to Barb via text or email or at home: 2669 Weatherby Hills Drive SE, Grand Rapids 49546.

🆕  Week 3@C3 for September
Community enCompass – Sacred Suds is a newly-renovated community center in the McLaughlin Neighborhood in Muskegon that offers beautiful laundry facilities, along with many other services. We will collect laundry items and socks for them on September 3, 10, and 17. Needed are:
laundry detergent/soap

bleach or other cleaning boosters

dryer sheets

and

 

especially 

socks,

 

for men, women, and children, any type, any size. The need is great!
Travel-size Items
Every Woman's Place takes contributions of travel size toiletry items—shampoo, conditioner, wrapped soap, lotions, nail files, floss. If you have any of these to contribute, bring them any Sunday to the Week 3@C3 table.

Donations of Stocks, Bonds or Mutual Funds
Did you know that we are now able to accept donations of stocks, bonds, or mutual funds? When you donate stock to charity, you'll generally take a tax deduction for the full fair market value. Because you are donating stock, your contribution and tax deduction may instantly increase over 20% or more, depending on your tax situation and any gains in the value of the stock. If this sounds like an option for you, please talk to your financial services representative, and if you have any questions re: process, please contact Shannon McMaster, Treasurer 
Your ongoing support of C3 is greatly appreciated. Online donations can be made here. Automatic donations can be set up by contacting Carol Takas at Selby Accounting. Checks should be sent to C3 Spiritual Community, P. O. Box 371, Grand Haven, MI 49417. C3 is a 501(c)(3) Tax-Exempt Organization. Our tax ID is 38-1960212.

🆕  Silence the Violence with a Song
Join a jam session on the front porch of St. John's Episcopal Church in Grand Haven this Saturday morning, August 26, from 10 a.m. to noon. Note—this is just before our Vigil for Peace and Justice begins at noon.  Maybe participate in both events? A mixture of protest songs and hymns will be featured (lyrics provided).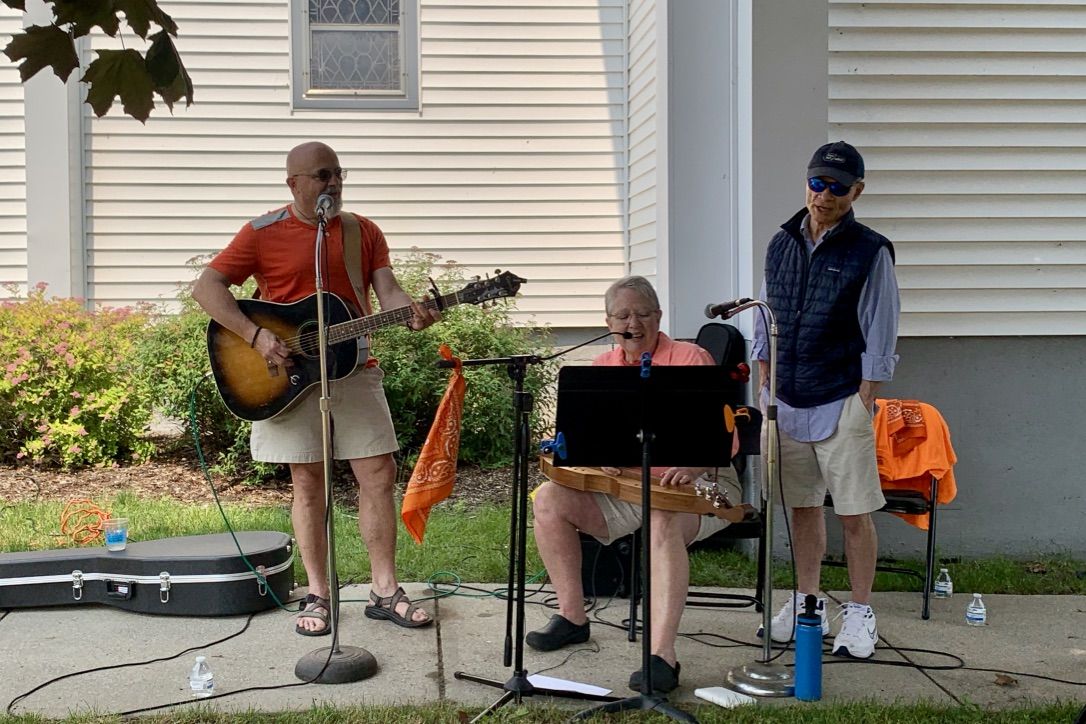 🆕  Instruments Needed
The band director at Pentwater Public Schools is looking for donations of instruments to enhance the musical opportunities for his students. He is looking for quality instruments for upper level students and beginner instruments for the littles. If you have the following: Flute, Oboe, Bassoon, Clarinet, Soprano Saxophone, Alto Saxophone, Tenor Saxophone, Baritone Saxophone, Trumpet/Cornet, Trombone, Baritone, please consider donating! To donate, you can pm Mr. Rodriguez on Messenger or email him.
🆕  Frauenthal Presenting Season
The Frauenthal Presenting Season includes four series: Performance Series, Spotlight Series, Free Family Movie Day Series, and Alley Door Club Music Series. The Frauenthal 2023-2024 Presenting Season features productions and events that reflect their mission to engage the region through a diverse range of arts and entertainment. Experience it all! Why not invite a few C3 Friends to attend an event or two?
🆕  Momentum Center: September is Suicide Awareness Month
Two events at the Momentum Center focus on suicide prevention in September.
Dinner and Movie Night on Friday, September 8, features the movie It's Kind of a Funny Story (PG-13). Community Dinner at 5 p.m., movie starts at 6. All are invited and welcome.
QPR Training: QPR stands for Question, Persuade, and Refer, three simple steps that anyone can learn to help save a life from suicide. The next session is on Thursday, September 14, 9:30 – 11 a.m. at the Grand Haven Momentum Center (401 N. 7th Street). Click on the title to register.

Saturday, August 26
12 p.m.  Vigil for Peace and Justice (Washington Ave. at Central Park, GH)
Sunday, August 27
All events held in the Mackinaw Ballroom in Central Park Place (421 Columbus Ave., GH)
9 a.m. Pre-Talk & Awakenings
10 a.m. C3 Kids with Miss Mary and volunteer Char Kole
10 a.m. Gathering, In Person + Livestream on Facebook
   • Guest Teacher: Ruth Zwald
   • Music: Hannah Laine 
   • Meditation: Cindy Anderson                 
11 a.m. Talk Back
5:30 p.m. Dinner Group (Don Luis Mexican Grill, 442 Beacon, GH)

Tuesday, August 29

7 p.m. C3 Men's Group (American Legion, GH)

Saturday, September 2
12 p.m.  Vigil for Peace and Justice (Washington Ave. at Central Park, GH)
Sunday, September 3
All events held in the Mackinaw Ballroom in Central Park Place (421 Columbus Ave., GH)
9 a.m. Pre-Talk & Awakenings
10 a.m. C3 Kids with Miss Mary and volunteer Margaret Willey
10 a.m. Gathering, In Person + Livestream on Facebook
   •C3 Teacher: Kent Dobson
   • Music: Ruth & Max Bloomquist 
   • Meditation: Bob Kleinheksel                 
11 a.m. Talk Back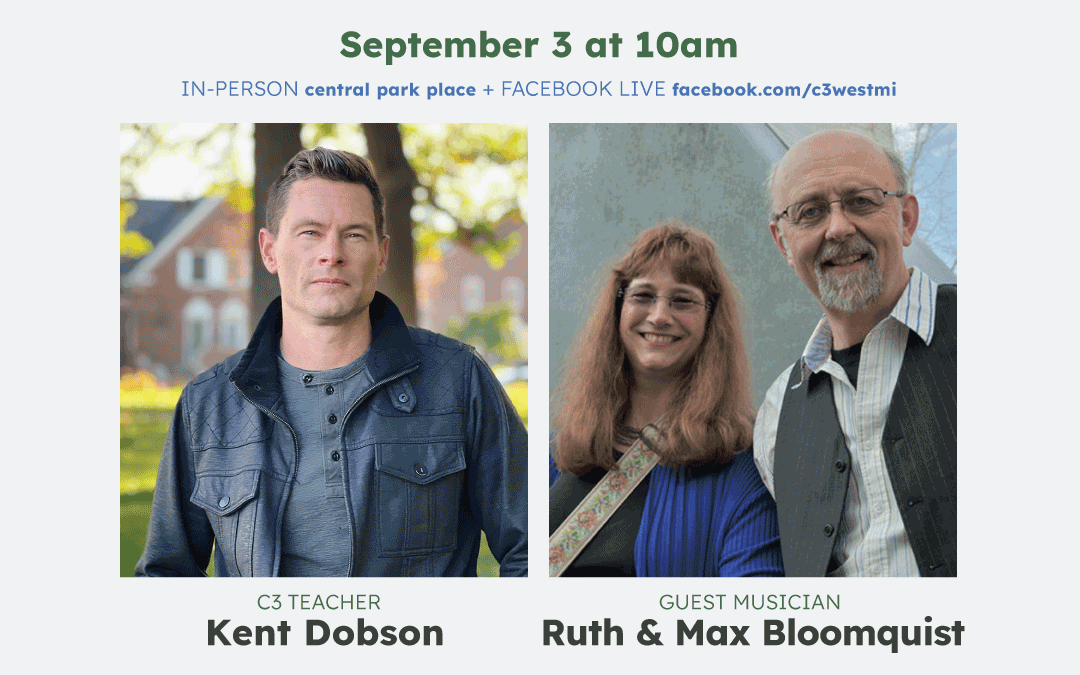 Kent Dobson has been the lead teacher at C3 since 2017. He 's also in the guide-in-training program at Animas Valley Institute in Colorado, an organization specializing in wilderness intensives. Kent leads Israel study tours, wilderness retreats, and has his own podcast called Hints and Guesses.
Ruth and Max Bloomquist bring Ruth's award winning abilities as a songwriter and singer and Max's harmony and touch on the upright bass, to share their heart-touching, acoustic Americana that is all their own. Ruth's trademark rich alto is unmistakable, and her songs evoke images and emotions common to us all.

Thank you for supporting C3!
We would really appreciate it if you could take a few minutes to share your experience at C3 by reviewing us on Google. Thank you!
Google requires reviewers to have a Google account. If you don't have one you can set one up with your current email address, follow instructions here.

C3 Spiritual Community Office
1447 Washington Ave., Grand Haven, MI  49417
Mailing Address: P.O. Box 371, Grand Haven, MI 49417
Becky Park, Office Manager
Office Hours: Wednesday 12:30–2:30 p.m., Friday 10:30 a.m.–12:30 p.m., or by appointment
Automatic donations are handled by Carol Takas at Selby Accounting.
Please direct any questions to Shannon McMaster.
C3 Board of Trustees
Chair: Sally Alderink
Vice-Chair: Teresa Colbry
Secretary: Valerie Engeltjes
Treasurer: Shannon McMaster
Beth Buelow
Andy Cawthon
Kim Crozier
Tom Edwards
Kathy Humphrey
Wayne Johnson
Rod Van Abbema
Newsletter Submissions and Editor: Chrysteen Moelter-Gray.

Newsletter Designer: Annie Wassmann 
Copyright © 2023 C3 Spiritual Community. All rights reserved.