C3 inspires spiritual, intellectual, and creative exploration and action, led by the questions, "what are the biggest challenges we face on our shared journey, and how do we respond to those challenges?"
It's great to see C3 Teacher Kent Dobson back on Sunday to continue our series We Have Questions with the query: Does Beauty Matter? We will savor each of his remaining teachings—just like we savor every visit by Ruth and Max Bloomquist, who will play for us this week. Bob Kleinheksel will offer the meditation.


Our weekly Gathering takes place in the Mackinaw Ballroom at Central Park Place every Sunday at 10 a.m. Pre-Talk and Awakenings (meditation) precede the Gathering at 9 a.m. After the Gathering, enjoy a Small Bite and join Talk Back. Our C3 Kids meet at 10 a.m. in the C3 Kids' area of the Mackinaw Room. The Gathering is live-streamed on C3's Facebook page.
Missed an email? Revisit or catch up on our website > 

Updates

Need Event Information? Our website has a full event calendar > 

Upcoming Events



Mark This Date for Fall Fun
Another C3 evening get-together at Mulligan's Hollow is being planned for Sunday, September 24, to observe the autumn equinox, celebrate the change of seasons, and enjoy each other's company! A pot luck, fun and games, and a bonfire! Details will follow.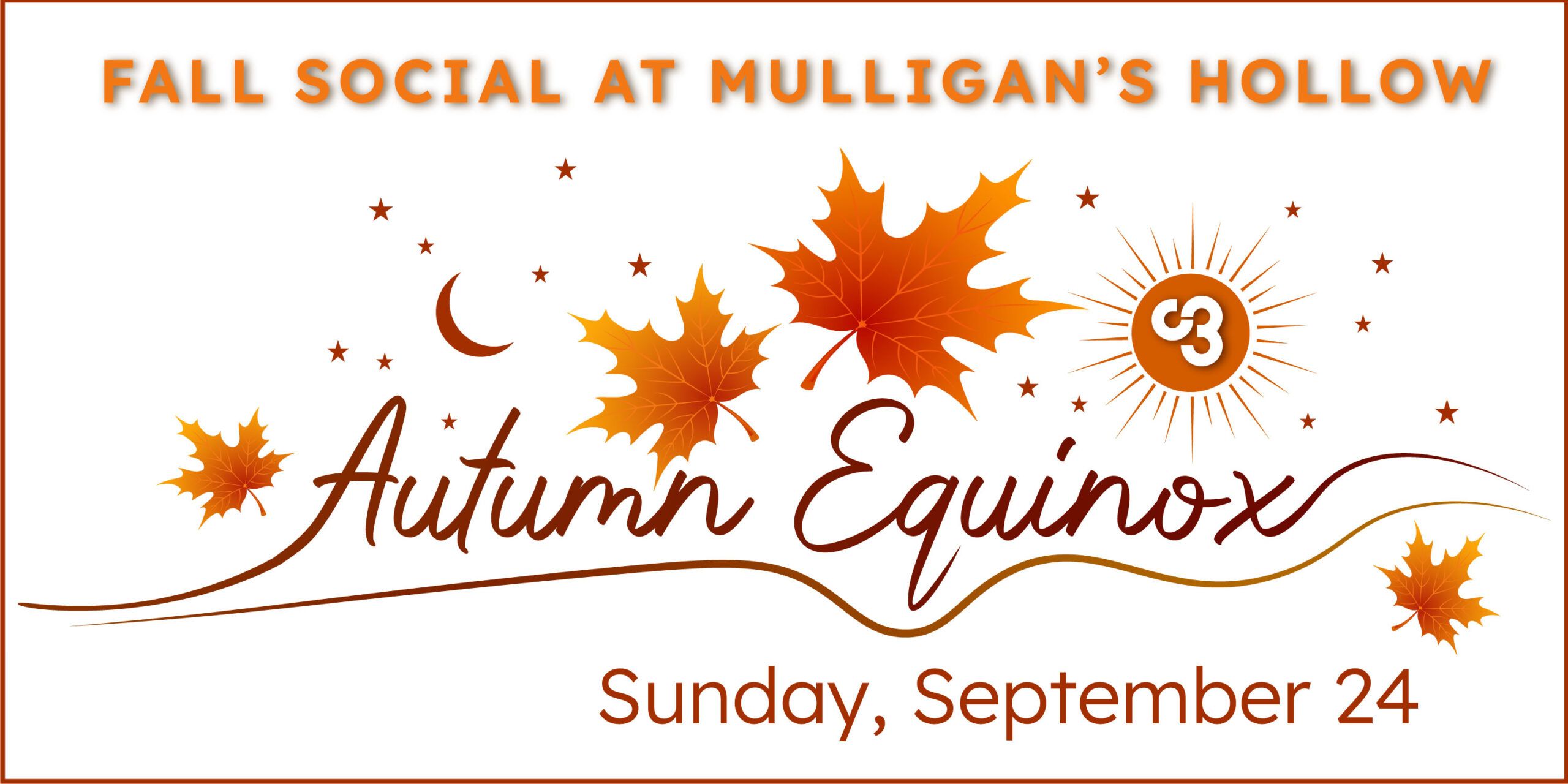 Board of Trustees Election Nomination Period
The nomination period for Board of Trustee candidates is now open and runs through October 1. Anyone interested in running for office should contact a current board member. Please encourage other potential candidates to apply.
Hearing Assist Technologies
Chuck Tawney is looking into hearing assist technologies that could improve the Gathering experience for our members who use hearing assist devices. There is a t-loop system at Central Park Place, but newer hearing aids may not be able to use that technology. A bluetooth transmitter could be a help to our members. Chuck asks that people who use hearing aids provide him with the make and model they use, so he can look into what would work. (No names needed; just note the make and model you use on one of the index cards provided and leave at the sound table on Sunday).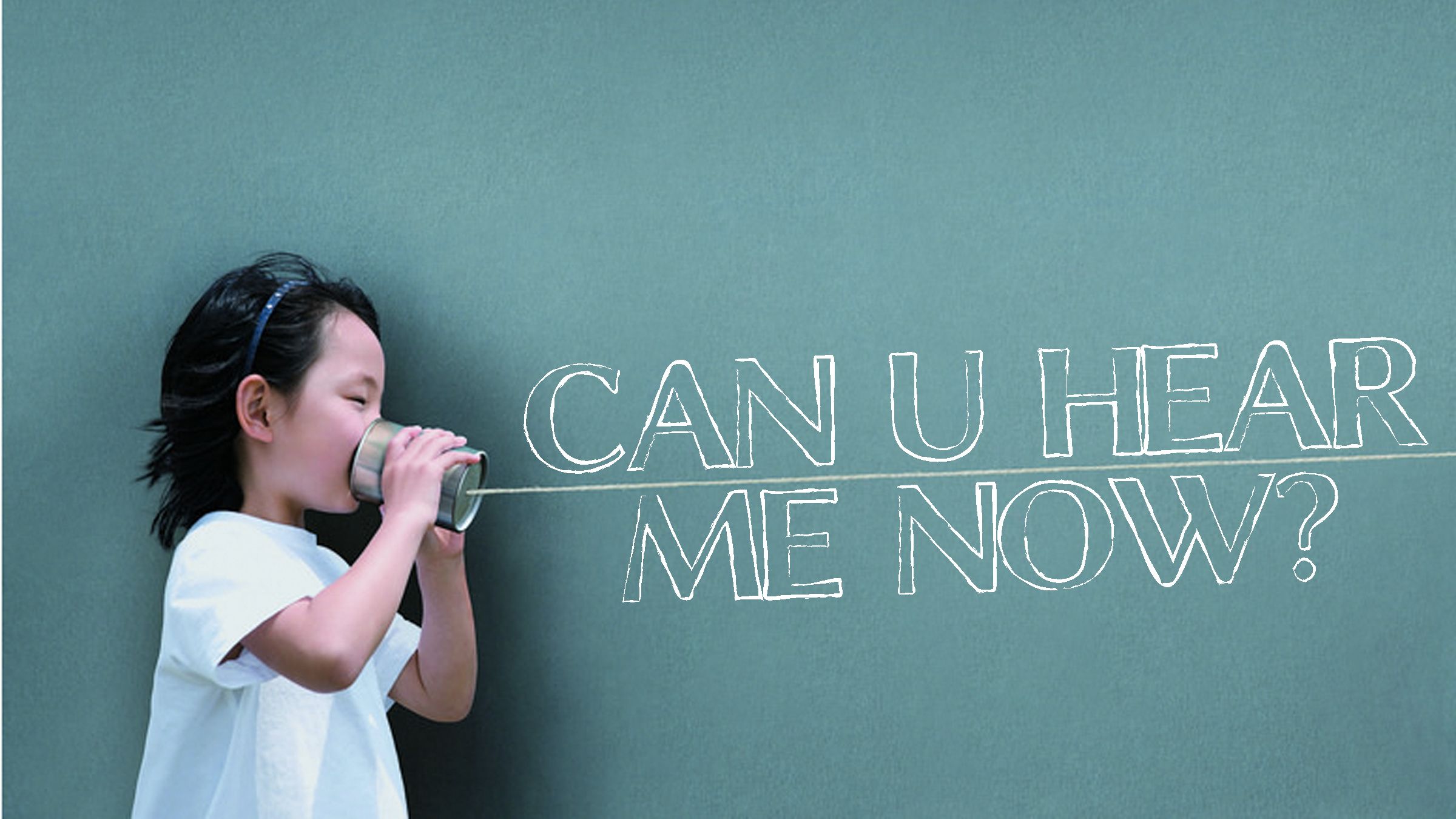 C3 Logo T-Shirts
Thank you to everyone who ordered a new C3 t-shirt!  🆕  The shirts are being printed and can be picked up at the Gathering beginning September 10. If you missed ordering a t-shirt during the past month, add your name to the sign up sheet on the Outreach table or send Tom Edwards an email. Once we have 25 names, we will take pre-orders again. 
C3 Summer Fundraiser—the Latest Numbers
Gordy Alderink, John Leitner, Ira Engeltjes, and Andy Cawthon have logged 2822.9 miles on their bikes; Chrys Moelter-Gray has 14 beach days with 12 swims. As of Sunday, there are 14 days to go!
Checks Written to C3
Thank you for your donations to our fundraising projects and Week 3@C3 activities. Please make checks out to C3, and if you're supporting a project with that check, please note that in the memo field.

Volunteers Needed for GH Hispanic Heritage Fiesta
How about bringing some cookies for the C3 booth at the Fiesta? Or be there to help sell them? Just connect with Patti Baldus or see her at the Sunday Gathering. Want to help out and meet some new people? Sign up to volunteer for one of the many exciting aspects of the event like the Mercado. Just go to the volunteer signup, or contact Rod Van Abbema at the Gathering.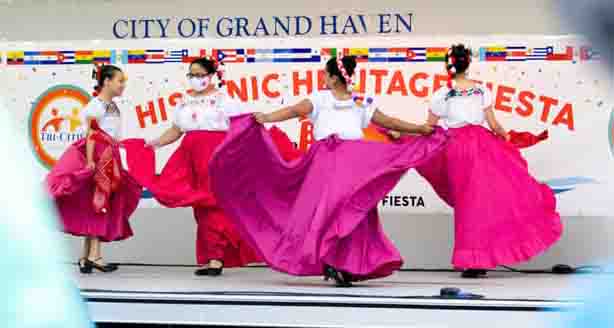 Fall Adopt-A-Highway
Our fall Adopt-A-Highway cleanup is Saturday, September 30 for our fall Adopt-A-Highway cleanup. The clean up is from 10 a.m. to noon and the more volunteers we have the faster we finish! (If necessary, the rain date is Sunday, October 1, after the Gathering). Sign up anytime via email (name and phone number please) or at the Outreach table beginning September 3. More information and safety video here!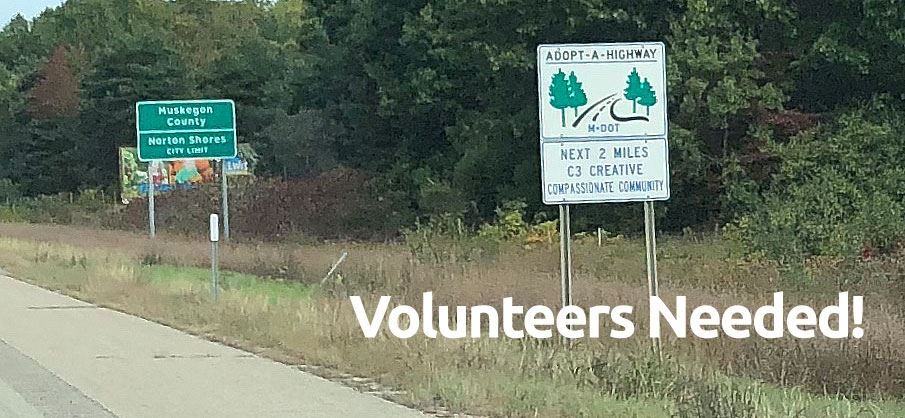 Vigil for Peace and Justice
The Vigil for Peace and Justice takes place every Saturday from noon to 1 p.m. along Washington Avenue at Central Park in Grand Haven.
Caring for the members of our C3 Community is a shared communal responsibility, rather than a role reserved for a pastor, priest, or leader. Our C3 Community Care Team encourages members to support each other at time of need with notes, cards, phone calls, visits, meals, and transportation. C3 members are urged to contact the Community Care Team to inform them of life events, illness, or hardships, which can be shared with the C3 Community. To report a need or request help, or to help visit members in hospital, rehab or recovering at home, contact Cheryl Van Abbema: email or Mike and Charlotte Rozich: email.
Congratulations to Sally Hipp, who married Nick Cavarocchi on August 12. They will continue to spend summers in Grand Haven. No name changes! 
Sarah Jacobs' mother, Marie (Helmers) Bahlke, passed away peacefully on August 24, at 103, after a decades-long sparring match with old age. Marie became a published author at age 85 with her book of poetry, One Oar: A Journey with Alzheimer's.  A Celebration of Her Life will be September 23, 3 to 5 p.m. at Betzler Life Story in Kalamazoo. Cards to Sarah may be sent to 7091 Juniper Court, Norton Shores, MI 49009.
Barb Van Leeuwen is undergoing the toughest part of her treatment for oral cancer now. She is grateful for the kind words received from C3 folks, letting her know that people are pulling for her. Cards or notes may be sent to Barb via text or email or at home: 2669 Weatherby Hills Drive SE, Grand Rapids 49546.

🆕  Week 3@C3 for September
Community enCompass – Sacred Suds is a newly-renovated community center in the McLaughlin Neighborhood in Muskegon that offers beautiful laundry facilities, along with many other services. We will collect laundry items and socks for them on September 3, 10, and 17. Needed are:
laundry detergent/soap

bleach or other cleaning boosters

dryer sheets

and

 

especially 

socks,

 

for men, women, and children, any type, any size. The need is great!
Travel-size Items
Every Woman's Place takes contributions of travel size toiletry items—shampoo, conditioner, wrapped soap, lotions, nail files, floss. If you have any of these to contribute, bring them any Sunday to the Week 3@C3 table.

🆕 Let's Picnic, Sunday Dinner Group!
We will meet at 5:30 p.m. today for a bring-your-own picnic at Grand Haven's East Grand River Park (1601 Franklin Ave., GH; enter from Eastern Street).
C3 Men's Group
The C3 Men's Group meets from 7 to 8:30 p.m. on Tuesdays at the American Legion Hall on Harbor Drive. Contact Phil Koster for more information.

THANK YOU! Your support matters and is greatly appreciated!
It takes a lot of time, energy, and money to produce all the great things that happen at C3. Whether it is our Sunday Gatherings or working within our West Michigan communities, we strive to make a difference, with compassion. Your financial support allows us to continue to learn, teach and live our values to heal and effect change.
Your ongoing support of C3 is greatly appreciated. Online donations can be made here. Automatic donations can be set up by contacting Carol Takas at Selby Accounting. Checks should be sent to C3 Spiritual Community, P. O. Box 371, Grand Haven, MI 49417. C3 is a 501(c)(3) Tax-Exempt Organization. Our tax ID is 38-1960212.

🆕  Public Heart for Public Health Rally
The Ottawa County Department of Public Health was instructed by the County Commissioners and Administrator to submit a plan for a 63% reduction in their funding. There will be a rally on Wednesday, September 6, 4:30–6:30 p.m. at the Ottawa County Department of Public Health (12251 James Street, Holland), to protest these cuts and show support for the work of the Ottawa County Department of Public Health. Click herefor more information. Dr. Julia Davey (C3 member) and Dr. Rob Davidson (frequent C3 Guest Teacher) will both be speaking at the rally.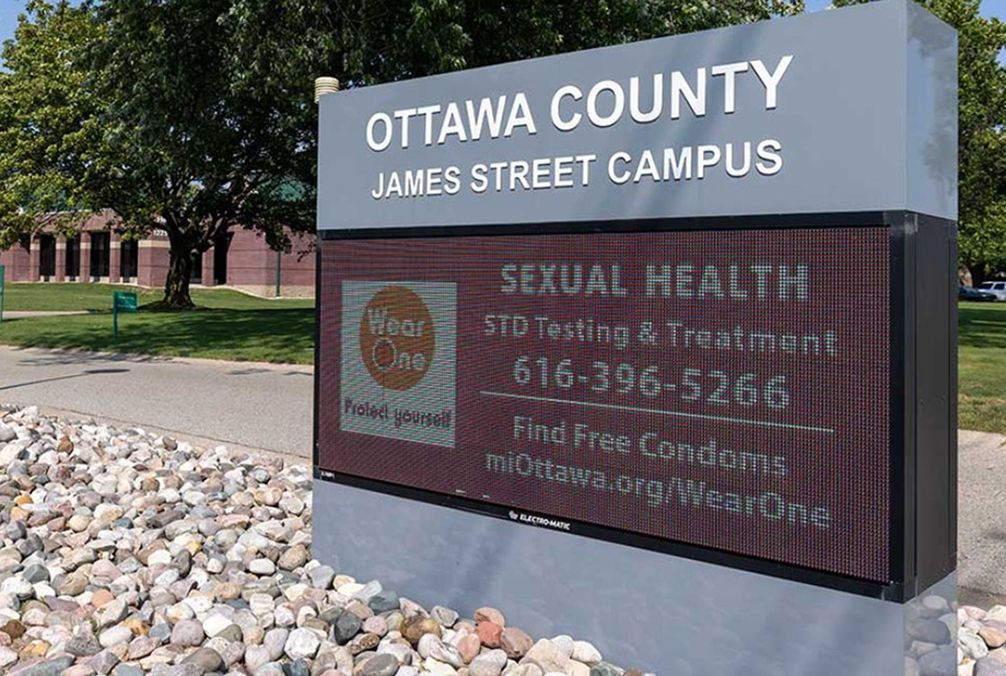 Instruments Needed
The band director at Pentwater Public Schools is looking for donations of instruments to enhance the musical opportunities for his students. He is looking for quality instruments for upper level students and beginner instruments for the littles. If you have the following: Flute, Oboe, Bassoon, Clarinet, Soprano Saxophone, Alto Saxophone, Tenor Saxophone, Baritone Saxophone, Trumpet/Cornet, Trombone, Baritone, please consider donating! To donate, you can pm Mr. Rodriguez on Messenger or email him.
Frauenthal Presenting Season
The Frauenthal Presenting Season includes four series: Performance Series, Spotlight Series, Free Family Movie Day Series, and Alley Door Club Music Series. The Frauenthal 2023-2024 Presenting Season features productions and events that reflect their mission to engage the region through a diverse range of arts and entertainment. Experience it all! Why not invite a few C3 Friends to attend an event or two?
Momentum Center: September is Suicide Awareness Month
Two events at the Momentum Center focus on suicide prevention in September.
Dinner and Movie Night on Friday, September 8, features the movie It's Kind of a Funny Story (PG-13). Community Dinner at 5 p.m., movie starts at 6. All are invited and welcome.
QPR Training: QPR stands for Question, Persuade, and Refer, three simple steps that anyone can learn to help save a life from suicide. The next session is on Thursday, September 14, 9:30 – 11 a.m. at the Grand Haven Momentum Center (401 N. 7th Street). Click on the title to register.

Saturday, September 2
12 p.m.  Vigil for Peace and Justice (Washington Ave. at Central Park, GH)
Sunday, September 3
All events held in the Mackinaw Ballroom in Central Park Place (421 Columbus Ave., GH)
9 a.m. Pre-Talk & Awakenings
10 a.m. C3 Kids with Miss Mary and volunteer Margaret Willey
10 a.m. Gathering, In Person + Livestream on Facebook
   • Lead Teacher: Kent Dobson
   • Music: Ruth & Max Bloomquist 
   • Meditation: Bob Kleinheksel                 
11 a.m. Talk Back
5:30 p.m. Dinner Group Picnic (East Grand River Park, GH)
Tuesday, September 5

7 p.m. C3 Men's Group (American Legion, GH)

Saturday, September 9
12 p.m.  Vigil for Peace and Justice (Washington Ave. at Central Park, GH)
Sunday, September 10
All events held in the Mackinaw Ballroom in Central Park Place (421 Columbus Ave., GH)
9 a.m. Pre-Talk & Awakenings
10 a.m. C3 Kids with Miss Mary and volunteer Patti Baldus
10 a.m. Gathering, In Person + Livestream on Facebook
   • Lead Teacher: Kent Dobson
   • Music: Hannah Rose Graves
   • Meditation: David Dean                
11 a.m. Talk Back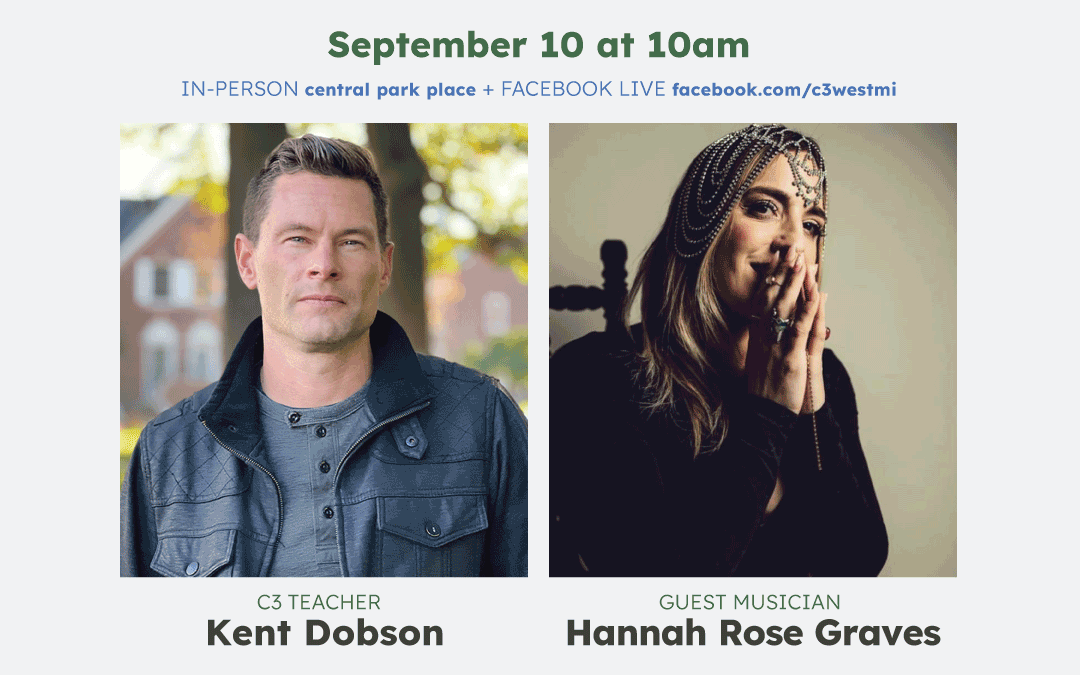 Kent Dobson has been the lead teacher at C3 since 2017. He 's also in the guide-in-training program at Animas Valley Institute in Colorado, an organization specializing in wilderness intensives. Kent leads Israel study tours, wilderness retreats, and has his own podcast called Hints and Guesses.
Hannah Rose Graves, singer-songwriter and storyteller born and raised in Grand Rapids, creates an atmosphere of healing and joy with her soulful, smokey, warm sound. She tells stories of loved ones and people living and gone, weaving their lives and legacies into songs with her bandmates. She has been busy in the studio and performs with her all-star band or on her own every week. She will move to Austin, TX in October to expand her career.

Thank you for supporting C3!
We would really appreciate it if you could take a few minutes to share your experience at C3 by reviewing us on Google. Thank you!
Google requires reviewers to have a Google account. If you don't have one you can set one up with your current email address, follow instructions here.

C3 Spiritual Community Office
1447 Washington Ave., Grand Haven, MI  49417
Mailing Address: P.O. Box 371, Grand Haven, MI 49417
Becky Park, Office Manager
Office Hours: Wednesday 12:30–2:30 p.m., Friday 10:30 a.m.–12:30 p.m., or by appointment
Automatic donations are handled by Carol Takas at Selby Accounting.
Please direct any questions to Shannon McMaster.
C3 Board of Trustees
Chair: Sally Alderink
Vice-Chair: Teresa Colbry
Secretary: Valerie Engeltjes
Treasurer: Shannon McMaster
Beth Buelow
Andy Cawthon
Kim Crozier
Tom Edwards
Kathy Humphrey
Wayne Johnson
Rod Van Abbema
Newsletter Submissions and Editor: Chrysteen Moelter-Gray.

Newsletter Designer: Annie Wassmann 
Copyright © 2023 C3 Spiritual Community. All rights reserved.