C3 inspires spiritual, intellectual, and creative exploration and action, led by the questions, "what are the biggest challenges we face on our shared journey, and how do we respond to those challenges?"
On Sunday, C3 Teacher Kent Dobson asks Do We Really Need the Soul Anymore? as our series We Have Questions continues.  We will savor each of Kent's remaining teachings. It's been quite a while since Hannah Rose Graves has sung for us, but she joins us this week. David Dean will provide the mediation.


Our weekly Gathering takes place in the Mackinaw Ballroom at Central Park Place every Sunday at 10 a.m. Pre-Talk and Awakenings (meditation) precede the Gathering at 9 a.m. After the Gathering, enjoy a Small Bite and join Talk Back. Our C3 Kids meet at 10 a.m. in the C3 Kids' area of the Mackinaw Room. The Gathering is live-streamed on C3's Facebook page.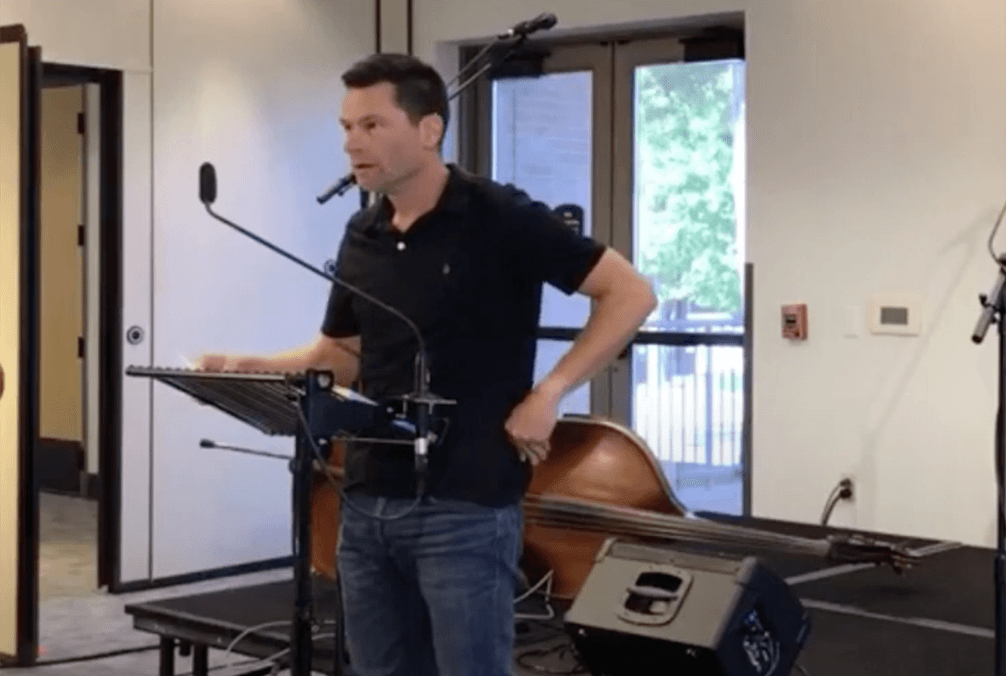 Kickoff to Autumn Bonfire and Social at Mulligan's Hollow
Dress for an evening outside on Sunday, September 24, 6 p.m. at Mulligan's Hollow Ski Lodge—right next to the Tri-Cities YMCA off Harbor Drive.
Please sign up specifically for what food you are bringing at the Outreach Table on Sunday morning!

BYOBeverage—alcohol is allowed.

Please bring your place setting, utensils and cups (we're being good to Mother Earth).

You can drive up to the lodge to drop off but all parking is in the YMCA parking lot.

Rain or Shine! We have plenty of room inside and out, and it's ADA accessible.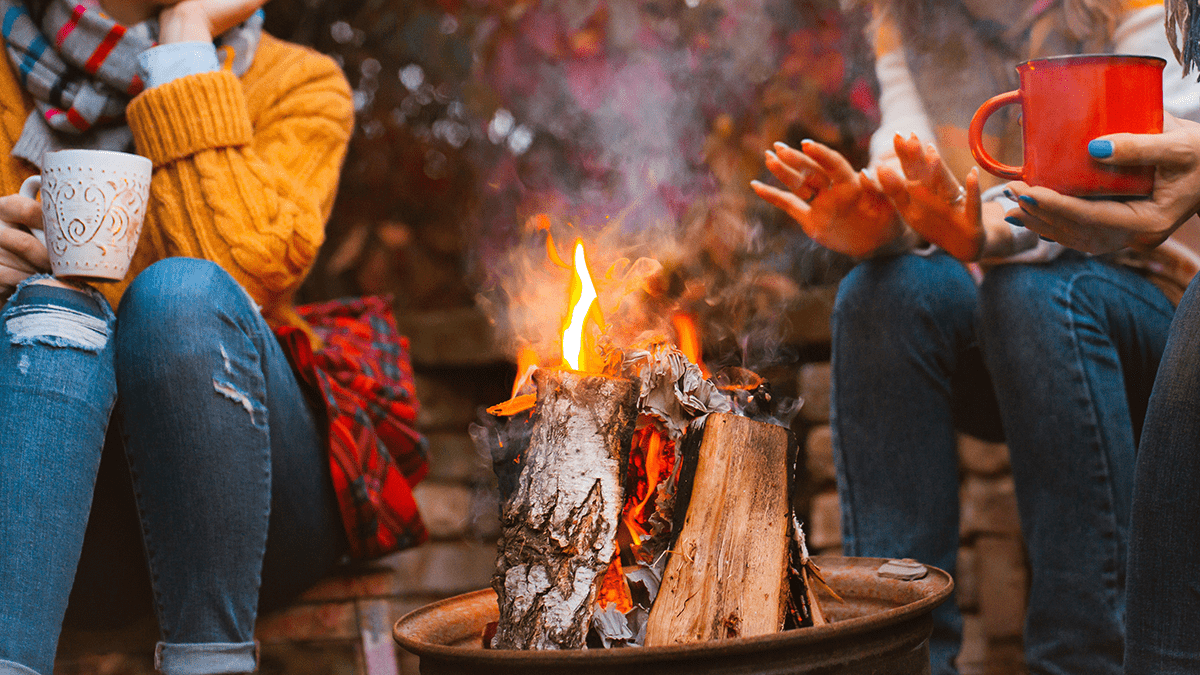 🆕  Welcome, Eli!
Welcome to Eli Colbry (son of Teresa), who has taken Claude's place as our set-up and tear-down person! Eli is a busy young man—he works at Morningstar Café, is taking classes at GRCC in Computer Science/Networking, and now will be here at C3 each Sunday morning. Eli has low vision, so if he doesn't recognize you right away, he's not ignoring you!
C3 Logo T-Shirts are ready for pick up!
🆕  If you ordered a new C3 logo t-shirt, please pick it up at the Outreach table at the Gathering on Sunday, September 10. If you missed ordering a t-shirt, add your name to the sign up sheet or send Tom Edwards an email. Once we have 25 names, we will take pre-orders again.
🆕  Visitors Next Week
Next Sunday September 17, a group of ten visitors will join us at C3 for the whole morning (Pre-Talk, the Gathering, Talk-Back). These folks are participants from Muskegon in the Across the Bridge cultural immersion trip. Please extend a warm C3 welcome!
Board of Trustees Election Nomination Period
The nomination period for Board of Trustee candidates is now open and runs through October 1. Anyone interested in running for office should contact a current board member. Please encourage other potential candidates to apply.
C3 Summer Fundraiser–One Week Left!
Gordy Alderink, John Leitner, Ira Engeltjes, and Andy Cawthon have logged at least 2822.9 miles on their bikes; Chrys has had 17 beach days/14 swims. As of today, there are 9 days to go! When your efforts are finished, pledgees, please make contact with those who pledged to let them know your results. Checks should be made out to C3 West Michigan, with Biking (or Swimming) for C3 in the memo line.

Have Fun at the Fiesta! General Volunteers Still Needed!

Sign up to help with one of the many aspects of Fiesta: kid's activities, beer tent, clean up, people control and more. Just go to the Fiesta volunteer sign up or contact Rod Van Abbema.To bring cookies for the C3 booth or to help staff it, email Patti Baldus  or see her at the Sunday Gathering.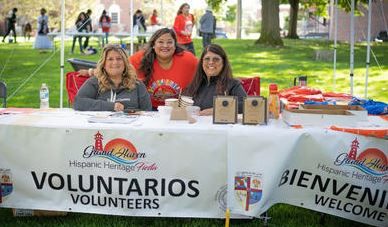 Adopt-A-Highway
Our fall Adopt-A-Highway cleanup is Saturday, September 30. The clean up is from 10 a.m. to noon, and we need lots of volunteers! (If necessary, the rain date is Sunday, October 1, after the Gathering). Sign up anytime via email (name and phone number please) or at the Outreach table. More information and safety video here!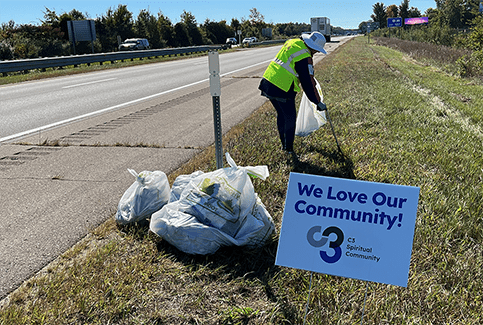 🆕  Vigil for Paz y Justicia
Next Saturday's Vigil will happen concurrently with the Fiesta, from noon to 1 p.m. along Washington Avenue at Central Park. There will be some signs to hold written in Spanish! Join us!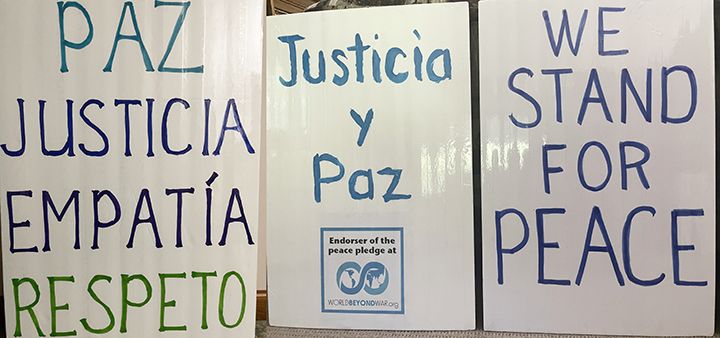 Momentum Center September Newsletter
Click here to read September's Gaining Momentum.
Caring for the members of our C3 Community is a shared communal responsibility, rather than a role reserved for a pastor, priest, or leader. Our C3 Community Care Team encourages members to support each other at time of need with notes, cards, phone calls, visits, meals, and transportation. C3 members are urged to contact the Community Care Team to inform them of life events, illness, or hardships, which can be shared with the C3 Community. To report a need or request help, or to help visit members in hospital, rehab or recovering at home, contact Cheryl Van Abbema: email or Mike and Charlotte Rozich: email.
Sarah Jacobs' mother, Marie (Helmers) Bahlke, passed away peacefully on August 24, at 103, after a decades-long sparring match with old age. Marie became a published author at age 85 with her book of poetry, One Oar: A Journey with Alzheimer's.  A Celebration of Her Life will be September 23, 3 to 5 p.m. at Betzler Life Story in Kalamazoo. Cards to Sarah may be sent to 7091 Juniper Court, Norton Shores, MI 49009.
Barb Van Leeuwen is undergoing the toughest part of her treatment for oral cancer now. She is grateful for the kind words received from C3 folks, letting her know that people are pulling for her. Cards or notes may be sent to Barb via text or email or at home: 2669 Weatherby Hills Drive SE, Grand Rapids 49546.

🆕  Week 3@C3 for September
Community enCompass – Sacred Suds is a newly-renovated community center in the McLaughlin Neighborhood in Muskegon that offers beautiful laundry facilities, along with many other services. We will collect laundry items and socks for them on September 10 and 17. Needed are:
laundry detergent/soap

bleach or other cleaning boosters

dryer sheets

and

 

especially 

socks,

 

for men, women, and children, any type, any size. The need is great!
Travel-size Items
Every Woman's Place takes contributions of travel size toiletry items—shampoo, conditioner, wrapped soap, lotions, nail files, floss. If you have any of these to contribute, bring them any Sunday to the Week 3@C3 table.

Let's Picnic, Sunday Dinner Group!
We will meet at 5:30 p.m. today for a bring-your-own picnic at Grand Haven's East Grand River Park (1601 Franklin Ave., GH; enter from Eastern Street).
C3 Men's Group
The C3 Men's Group meets from 7 to 8:30 p.m. on Tuesdays at the American Legion Hall on Harbor Drive. Contact Phil Koster for more information.

Use your IRA and/or Required Minimum Distribution (RMD) to support C3
Would you like to save money on your taxes and support C3 at the same time? You can use money in your IRA to contribute directly to a charitable organization like C3, without it being considered a taxable distribution. The same applies if you are required to take an RMD. Be certain to consult with your tax advisor or financial representative as it is important to understand the process and follow the appropriate guidelines.
Your ongoing support of C3 is greatly appreciated. Online donations can be made here. Automatic donations can be set up by contacting Carol Takas at Selby Accounting. Checks should be sent to C3 Spiritual Community, P. O. Box 371, Grand Haven, MI 49417. C3 is a 501(c)(3) Tax-Exempt Organization. Our tax ID is 38-1960212.

🆕  C3ers at Public Heart for Public Health Rally
C3 was well-represented at the rally in support of the Ottawa County Public Health Department on Wednesday afternoon. C3 member Dr. Julia Davey and Dr. Rob Davidson (C3 Guest Teacher) both spoke at the rally, where the following C3 members were in attendance: Cindy Abraham, Patti Baldus, Judy Blinn, Bob Burleigh andJenny Roberts, Andy Cawthon, Cathy and Warren Feyt, Chrys Moelter-Gray, Leslie Newman, Yvonne Olmsted. (Here's hoping we didn't miss anyone)! Way to show up, C3!

Momentum Center: September is Suicide Awareness Month
Two events at the Momentum Center focus on suicide prevention in September.
Dinner and Movie Night tonight, Friday, September 8, features the movie It's Kind of a Funny Story (PG-13). Community Dinner at 5 p.m., movie starts at 6. All are invited and welcome.
QPR Training: QPR stands for Question, Persuade, and Refer, three simple steps that anyone can learn to help save a life from suicide. The next session is on Thursday, September 14, 9:30 – 11 a.m. at the Grand Haven Momentum Center (401 N. 7th Street). Click on the title to register.

Saturday, September 9
12 p.m.  Vigil for Peace and Justice (Washington Ave. at Central Park, GH)
Sunday, September 10
All events held in the Mackinaw Ballroom in Central Park Place (421 Columbus Ave., GH)
9 a.m. Pre-Talk & Awakenings
10 a.m. C3 Kids with Miss Mary and volunteer Patti Baldus
10 a.m. Gathering, In Person + Livestream on Facebook
   • Lead Teacher: Kent Dobson
   • Music: Hannah Rose Graves
   • Meditation: David Dean                
11 a.m. Talk Back
5:30 p.m. Dinner Group Picnic (East Grand River Park, GH)
Tuesday, September 12

6:30 p.m. Board of Trustees Meeting (C3 Office, 1447 Washington Ave., GH)

7 p.m. C3 Men's Group (American Legion, GH)

Saturday, September 16
12 p.m. Vigil for Paz y Justicia (Washington Ave. at Central Park, GH)
11 a.m.–6 p.m. Grand Haven Hispanic Heritage Fiesta (Central Park, GH)
Sunday, September 17
All events held in the Mackinaw Ballroom in Central Park Place (421 Columbus Ave., GH)
9 a.m. Pre-Talk & Awakenings
10 a.m. C3 Kids with Miss Mary and volunteer Eleanor Hills
10 a.m. Gathering, In Person + Livestream on Facebook
   • Guest Teacher & Musician: Brie Stoner
   • Meditation: Charity McMaster                
11 a.m. Talk Back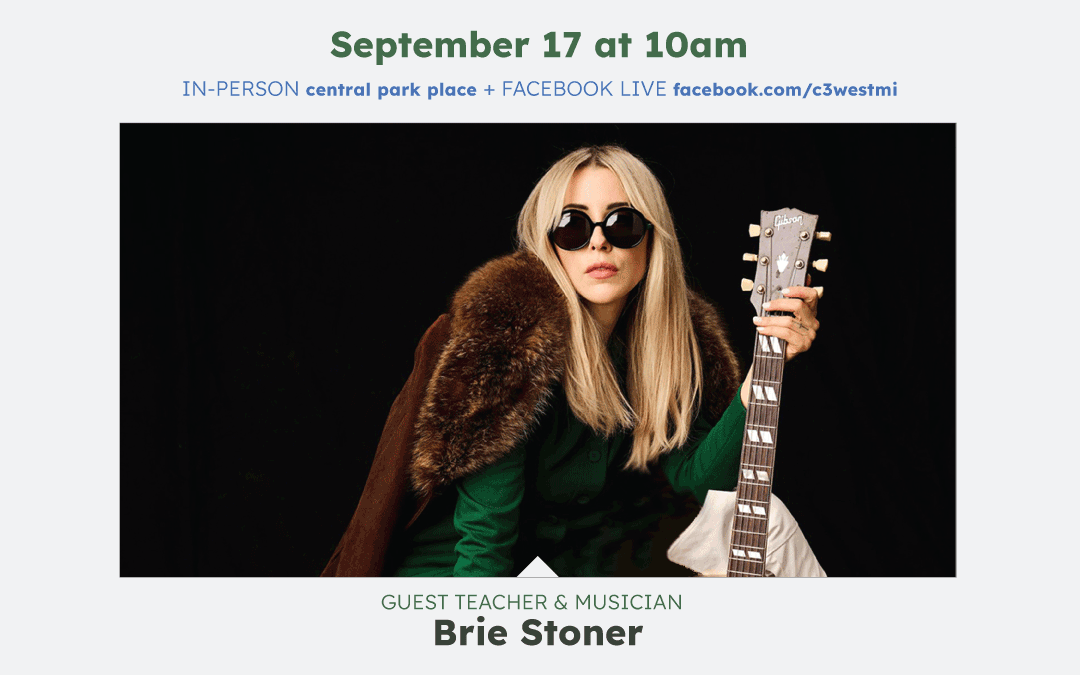 Brie Stoner is a writer, musician, and songwriter who grew up in Spain, but now lives in Grand Rapids. Her writing has been featured in The Call To Unite: Voices of Hope and Awakening, a book featuring inspirational voices such as Oprah, Tim Shriver, and Elizabeth Gilbert. Brie launched her podcast Unknowing in 2021, exploring the spiritual path of creative possibilities with various authors, activists and artists. As a musician, Stoner has worked with producers Jay Bennett (Wilco) and most recently David Vandervelde, who produced her new album. Her sound is freshly her own, but takes inspiration from Neil Young, Fleetwood Mac and Mazzy Star. Stoner 's music has also been featured in many international TV and film campaigns.

Thank you for supporting C3!
We would really appreciate it if you could take a few minutes to share your experience at C3 by reviewing us on Google. Thank you!
Google requires reviewers to have a Google account. If you don't have one you can set one up with your current email address, follow instructions here.

C3 Spiritual Community Office
1447 Washington Ave., Grand Haven, MI  49417
Mailing Address: P.O. Box 371, Grand Haven, MI 49417
Becky Park, Office Manager
Office Hours: Wednesday 12:30–2:30 p.m., Friday 10:30 a.m.–12:30 p.m., or by appointment
Automatic donations are handled by Carol Takas at Selby Accounting.
Please direct any questions to Shannon McMaster.
C3 Board of Trustees
Chair: Sally Alderink
Vice-Chair: Teresa Colbry
Secretary: Valerie Engeltjes
Treasurer: Shannon McMaster
Beth Buelow
Andy Cawthon
Kim Crozier
Tom Edwards
Kathy Humphrey
Wayne Johnson
Rod Van Abbema
Newsletter Submissions and Editor: Chrysteen Moelter-Gray.

Newsletter Designer: Annie Wassmann 
Copyright © 2023 C3 Spiritual Community. All rights reserved.