C3 inspires spiritual, intellectual, and creative exploration and action, led by the questions, "what are the biggest challenges we face on our shared journey, and how do we respond to those challenges?"
Breaking up is hard to do. Kent Dobson is spending his last Sunday Gathering with us as Lead Teacher, the position he has held since September 10, 2017. His teaching title that morning was A Thing Ripened, and he offered us the words of Rilke, advising us to wait like a thing ripened until it's real. We have wrestled and ripened over these six years as we enjoyed and learned from Kent's teachings. This week he will offer A Few Parting Thoughts, before we thank him and wish him well as he and the family take up residence in Georgia.

Grace Theisen visits for the first time as musician, and David Dean will give the meditation.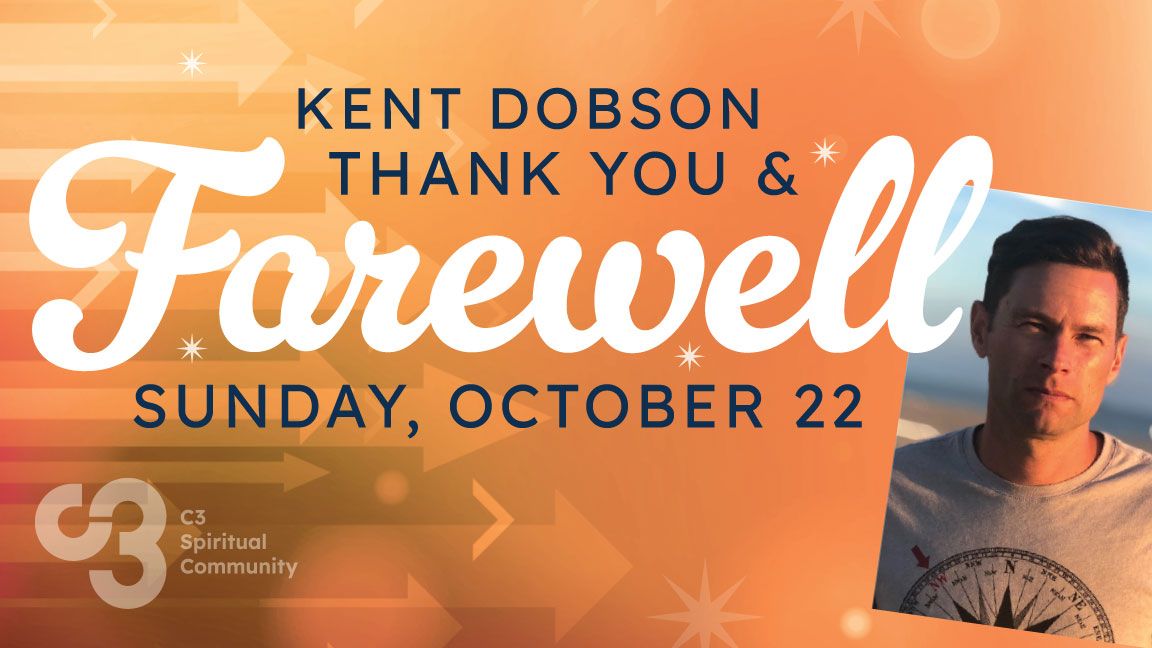 Our weekly Gathering takes place in the Mackinaw Ballroom at Central Park Place every Sunday at 10 a.m. Pre-Talk and Awakenings (meditation) precede the Gathering at 9 a.m. After the Gathering, enjoy a Small Bite and join Talk Back. Our C3 Kids meet at 10 a.m. in the C3 Kids' area of the Mackinaw Room. The Gathering is live-streamed on C3's Facebook page.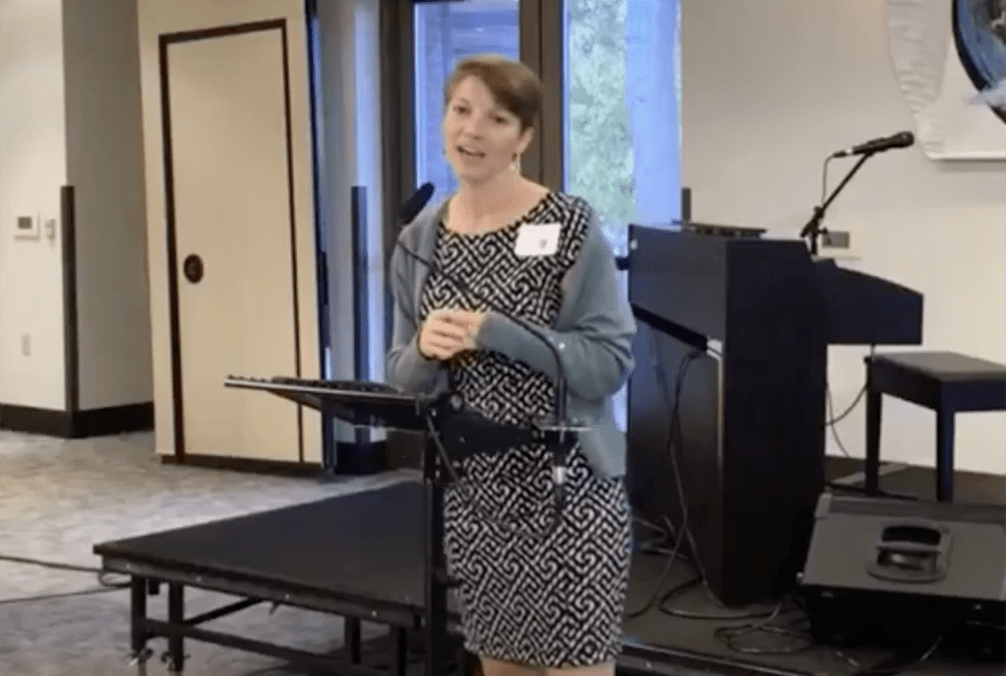 Celebration of Gratitude and Farewell

This Sunday is Kent's last day as our Lead Teacher. Let's let him know how much we have appreciated his six years with us! 
We're having a short program and a finger food potluck after the Gathering. If your last name begins with A–M, please bring a savory finger food. If your last name begins with N–Z, please bring a sweet finger food.
For all the details, please follow this link. We'll see you there!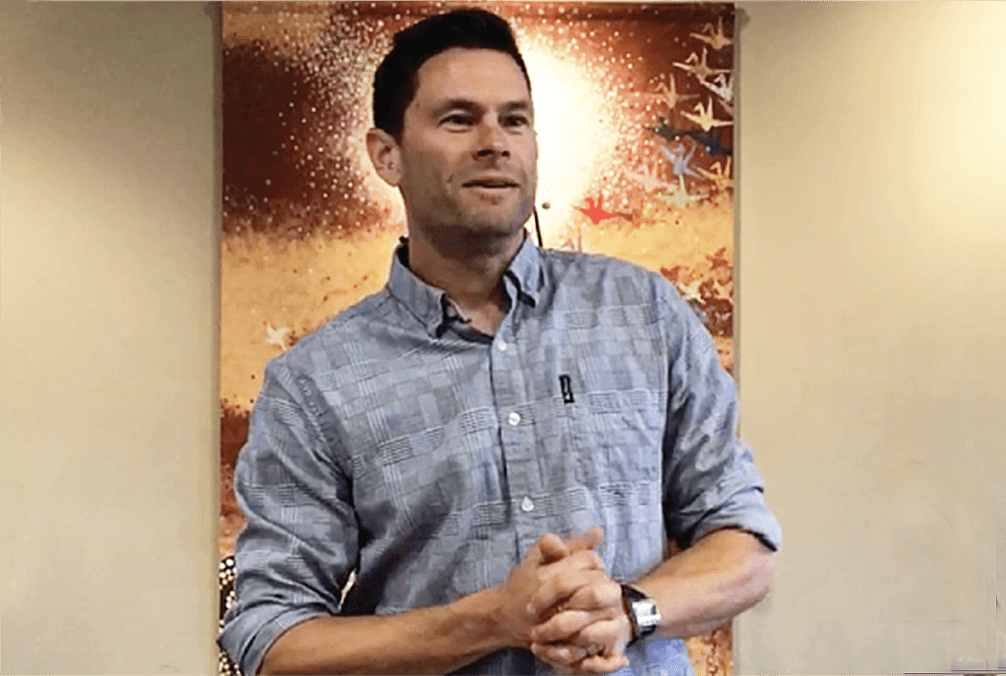 🆕  Patience, Please
We will need a short time at the end of the Gathering to move chairs, set up tables, move walls, and get organized for the program and finger-food pot luck. If you are able to help with any of the set up, please do so. Follow Chuck Tawney's directions. We also need to "tear down" at the end of our celebration with Kent, and vacate the Mackinaw Ballroom before a scheduled event at 1 p.m. Many hands will make light work!
Usher Openings Now
Wanted: C3 members for simple, fun, 15-minute job once every five Sundays

Requirements: ability to smile, greet, and hand out bulletins

Pay: personal satisfaction from meeting nice people and serving C3

Inquiries: 

Rod Van Abbema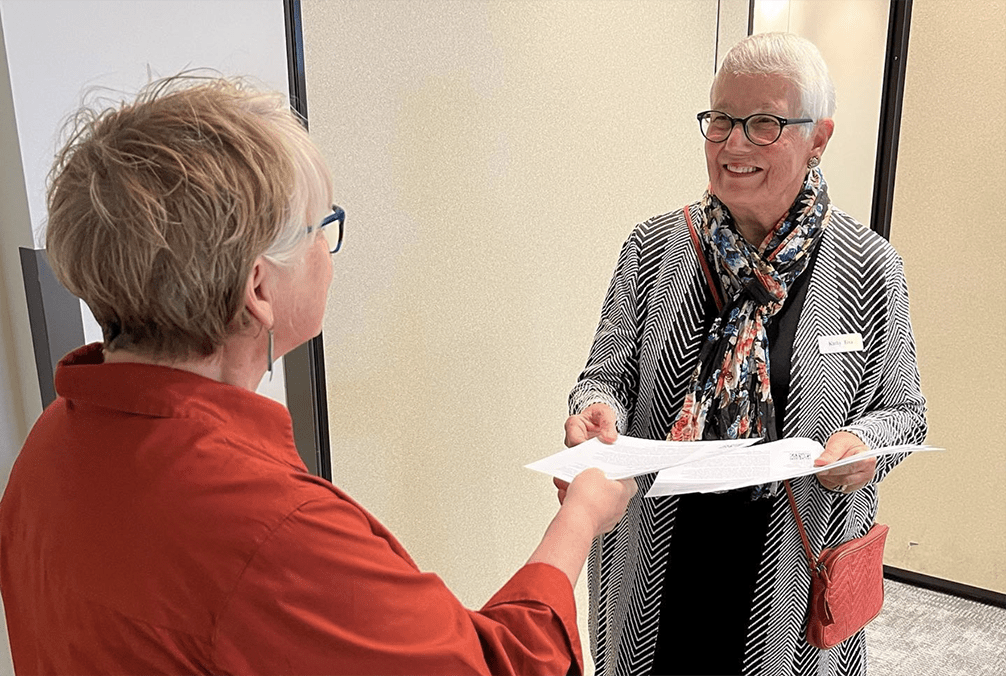 C3 Community Annual Meeting

As you know, our annual meeting will be the first Sunday in November this year. It 's an important time for our community to conduct business such as approving bylaw changes, electing new Board of Trustee members, and honoring one of our members with the Philip J. Koster Award for Meritorious Service. 🆕 We have a slate of three candidates for the Board, whose bios can be seen here. Please thank retiring Board of Trustees members Sally Alderink, Valerie Engeltjes, and Tom Edwards for their time and effort in service to the C3 community. 
     This year, especially, it's vital that we all stay informed about the many changes going on and how C3 continues to make its unique contribution to the greater community. Be sure to be there!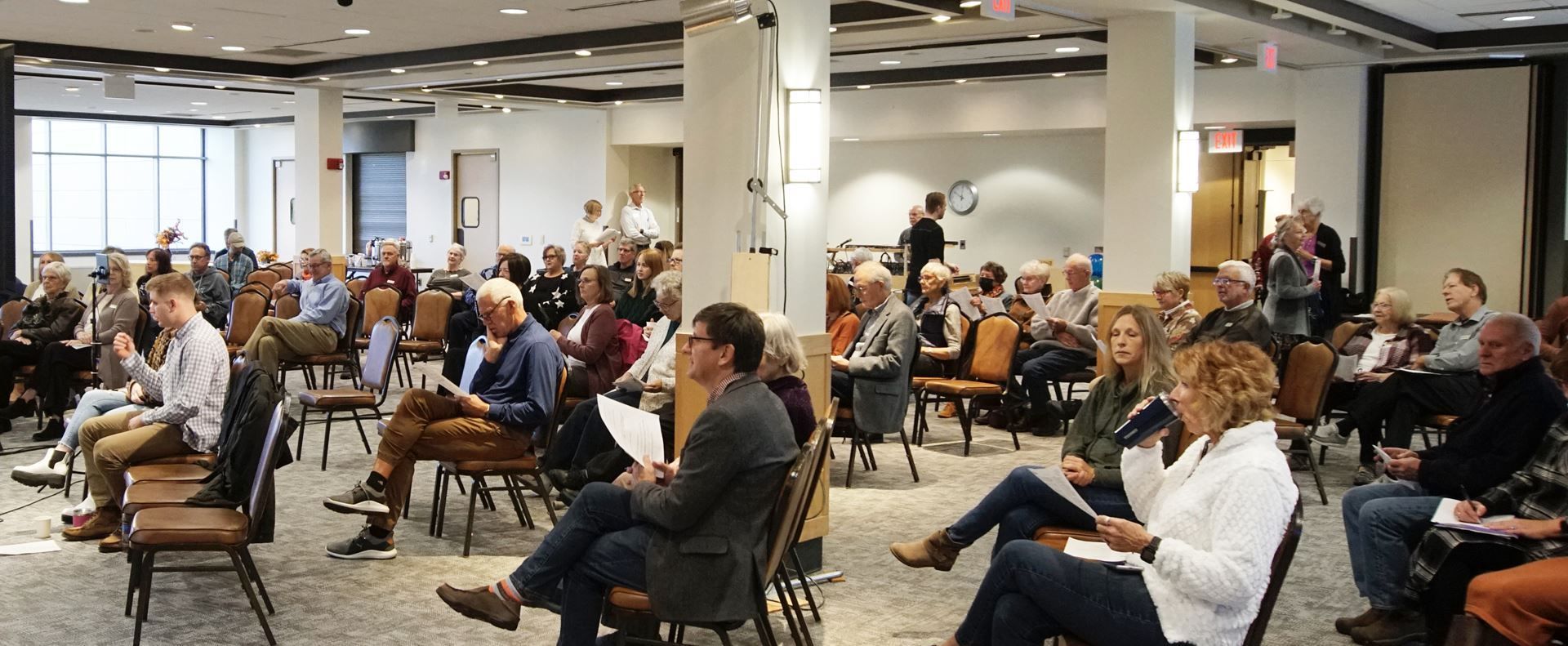 An Exciting Opportunity at C3
In the coming months, we will be hiring an Executive Director to join the C3 leadership team. Duties for the Executive Director will include everyday operational and administrative responsibilities as well as long-term and special activities that support our mission. They will actively support our robust volunteer teams, Board of Trustees, and Lead Teacher in reaching our goals and serving our C3 and greater West Michigan communities. Please forward this link, c3westmichigan.org/employment, to anyone you see as a possible candidate or who might know someone who'd be interested. The posting closes on October 31; the Executive Director Search Team plans to have it filled by year's end.

HFP Presents The Voices of Humanity October 27

C3 has supported Humanity for Prisoners for years. Theirs is a work of compassionate action for the incarcerated. Their annual Fall Speaker Event has a new look this year, their first film festival, featuring Behind our Walls, Friday, October 27, 7p.m. at Central Park Place in Grand Haven. Buy tickets or donate here, and see all the details here.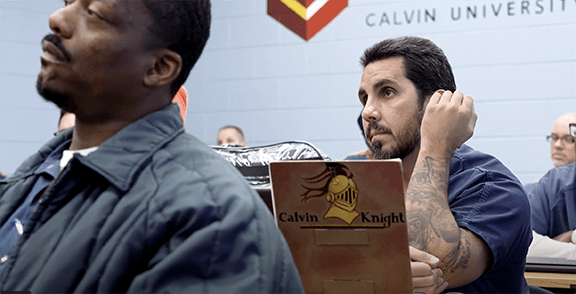 HFP Communicator
Click here to read the Humanity for Prisoners newsletter for October.
Vigil for Peace and Justice
We will stand for badly needed peace this Saturday from noon to 1 p.m. along Washington Avenue at Central Park. New folks are always welcome to join.
Caring for the members of our C3 Community is a shared communal responsibility, rather than a role reserved for a pastor, priest, or leader. Our C3 Community Care Team encourages members to support each other at time of need with notes, cards, phone calls, visits, meals, and transportation. C3 members are urged to contact the Community Care Team to inform them of life events, illness, or hardships, which can be shared with the C3 Community. To report a need or request help, or to help visit members in hospital, rehab or recovering at home, contact Cheryl Van Abbema: email or Mike and Charlotte Rozich: email.
🆕  Lynne Deur's surgery for her cochlear implant is scheduled for November 28, with the "connection" after Christmas. She will keep us informed about the procedure.
Patricia Johnson had knee-replacement surgery last week. 🆕  She is recovering at home and doing physical therapy. Card and well-wishes can be sent to 220 Sherman Avenue, Grand Haven, MI 49417, or by email.  
🆕  Jean Regester has moved to Mary Free Bed for stroke recovery therapy. Her address is Room 3327, Mary Free Bed Rehabilitation Hospital, 2235 Wealthy Street SE, Grand Rapids, MI 49503-5299.

🆕  No Sunday Dinner Group This Week
There will be no Sunday Dinner Group this evening. Enjoy time with your C3 friends at the Celebration of Gratitude and Farewell for Kent.
Women's Journey Returns

Would you enjoy getting together on a monthly basis to share stories, laughter, and build friendships with C3 women? Join us for an organizational meeting on Monday, October 23, at 6:30 p.m. at The Bookman (715 Washington Ave., GH). We will make a plan for Women's Journey 2024! Contact Becky Park with questions.
C3 Men's Group  
The C3 Men's Group will continue to meet at the home of Ted Larned from 7 to 8:30 p.m. on Tuesday evenings.
C3 Book Club and Friends
At our next meeting, 6:30 p.m. at The Bookman, on Tuesday, November 21, we will discuss The Henna Artist by Alka Joshi. Keep thinking of three books to suggest for 2024, when we meet for our holiday party and book selection process in December.

Travel-size Items
Every Woman's Place takes contributions of travel size toiletry items—shampoo, conditioner, wrapped soap, lotions, nail files, floss. If you have any of these to contribute, bring them any Sunday to the Week 3@C3 table.

Donations of Stocks, Bonds or Mutual Funds
Did you know that we are now able to accept donations of stocks, bonds, or mutual funds? When you donate stock to charity, you'll generally take a tax deduction for the full fair market value. Because you are donating stock, your contribution and tax deduction may instantly increase over 20% or more, depending on your tax situation and any gains in the value of the stock. If this sounds like an option for you, please talk to your financial services representative, and if you have any questions re: process, please contact Shannon McMaster, Treasurer  
Your ongoing support of C3 is greatly appreciated. Online donations can be made here. Automatic donations can be set up by contacting Carol Takas at Selby Accounting. Checks should be sent to C3 Spiritual Community, P. O. Box 371, Grand Haven, MI 49417. C3 is a 501(c)(3) Tax-Exempt Organization. Our tax ID is 38-1960212.

🆕  Ottawa County Board & Commission Postings

There are several open seats in eleven of the Ottawa County Boards and Commissions. Take a look and see if you might be the perfect candidate for filling one of these positions to represent your fellow Ottawa County citizens. Act quickly; the application deadline is the near the end of the month for most positions.
Series on Climate Change and Faith
A four-part series on Climate Change and Faith is being held at First Presbyterian Church in Grand Haven on October 8, 15, 22, and 29. Click here for more information.
Series on Racial Reconciliation

On September 25, St. John's Episcopal Church in Grand Haven offered the first in an 11-part series, Sacred Ground, a film-based dialogue on racial reconciliation. The second part of the series is on Monday, October 23. A schedule of classes and a registration page can be found online.
🆕  Civil Rights Road Trip 2024

The next Civil Rights Road Trip is scheduled for next April 22–25. This is the same journey that several C3 members have already made and highly recommend. There is a limit of 25 participants.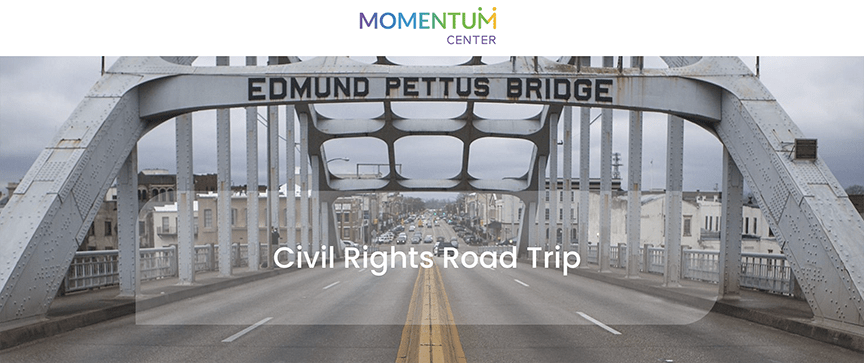 Congratulations to C3 member Pete Bennett, who recently received recognition from the North Country Trail Association for his 1,000 hours of volunteer work helping to maintain 80 miles of the Spirit of the Woods chapter's section of the North Country Trail. Pete and Julie adopted a four-mile section of the North Country Trail in 2014 near Big Star Lake to maintain. The North Country National Scenic Trail is a National Park that is 4800 miles long and goes from Vermont to North Dakota. 

Saturday, October 21
12 p.m.  Vigil for Peace and Justice (Washington Ave. at Central Park, GH)
Sunday, October 22
All events held in the Mackinaw Ballroom in Central Park Place (421 Columbus Ave., GH)
9 a.m. Pre-Talk & Awakenings
10 a.m. C3 Kids with Miss Mary and volunteer Sally Alderink
10 a.m. Gathering, In Person + Livestream on Facebook
   • C3 Teacher: Kent Dobson
   • Musician: Grace Theisen
   • Meditation: David Dean               
11 a.m. Thank You and Farewell to Kent Dobson
Monday, October 23
6:30 p.m. Women's Journey Organizational Meeting The Bookman (715 Washington Ave., GH)

Tuesday, October 24

7 p.m. C3 Men's Group (17420 W. Spring Lake Rd., SL)
Saturday, October 28
12 p.m. Vigil for Peace and Justice (Washington Ave. at Central Park, GH)
Sunday, October 29
All events held in the Mackinaw Ballroom in Central Park Place (421 Columbus Ave., GH)
9 a.m. Pre-Talk & Awakenings
10 a.m. C3 Kids with Miss Mary and volunteer Sandy Kate Stephens
10 a.m. Gathering, In Person + Livestream on Facebook
   • Guest Teacher: Ruth Zwald
   • Musician: Folias Duo
   • Meditation: Charlotte Rozich             
11 a.m. Talk Back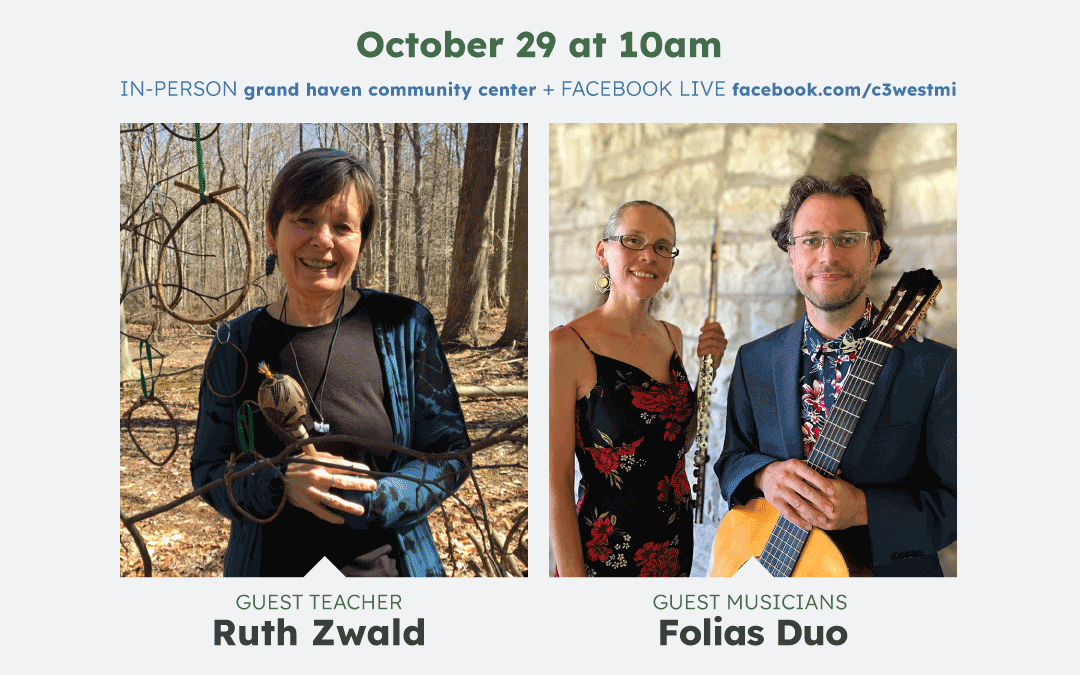 Ruth Zwald, retired social worker/minister, makes her home on a farm, starting every dawn with good coffee and the crow of the rooster. Loving the cycles of the seasons, Ruth watches the moon and never misses a solstice or equinox turning. She is a Mesa Carrier on the Peruvian Medicine Path, which involves personal healing, transformational healing for others, and creating ceremony and ritual for ourselves and for the earth.
Folias Duo, flutist Carmen Maret and guitarist Andrew Bergeron, are a married couple whose unique interpersonal performer-composer collaboration of twenty years breathes new life into classical music. Their music melds characteristics of European classical music with jazz, world music, and the art of improvisation.

Thank you for supporting C3!
We would really appreciate it if you could take a few minutes to share your experience at C3 by reviewing us on Google. Thank you!
Google requires reviewers to have a Google account. If you don't have one you can set one up with your current email address, follow instructions here.

C3 Spiritual Community Office
1447 Washington Ave., Grand Haven, MI  49417
Mailing Address: P.O. Box 371, Grand Haven, MI 49417
Becky Park, Office Manager
Office Hours: Wednesday 12:30–2:30 p.m., Friday 10:30 a.m.–12:30 p.m., or by appointment
Automatic donations are handled by Carol Takas at Selby Accounting.
Please direct any questions to Shannon McMaster.
C3 Board of Trustees
Chair: Sally Alderink
Vice-Chair: Teresa Colbry
Secretary: Valerie Engeltjes
Treasurer: Shannon McMaster
Beth Buelow
Andy Cawthon
Kim Crozier
Tom Edwards
Kathy Humphrey
Wayne Johnson
Rod Van Abbema
Newsletter Submissions and Editor: Chrysteen Moelter-Gray.

Newsletter Designer: Annie Wassmann 
Copyright © 2023 C3 Spiritual Community. All rights reserved.