C3 inspires spiritual, intellectual, and creative exploration and action, led by the questions, "what are the biggest challenges we face on our shared journey, and how do we respond to those challenges?"
Our first Gathering in November features C3 Teacher Kent Dobson, Guest Musician Molly, and a meditation by Nelleke Knarr. The question this week in our series of The Great Questions is Do we need the Masculine and Feminine anymore? 
Don't forget to turn your clocks back this weekend! Please join us for the morning's events: Pre-Talk at 9 a.m., the Gathering at 10, and Talk Back at 11. And a special Think Hike at Hemlock Crossing Park at 12:30 p.m.!

🆕  From the BOT: Being a Good Neighbor
We've been sharing space with our neighbors, Life Church, since September. Overall, it's going well. We had a meeting recently where we—and they—had the opportunity to voice some petty annoyances. This ability to discuss issues is an important part of having a healthy relationship.
We're asking the C3 Community to be as kind as possible. One of our values is inclusivity, and Life Church hasn't always felt welcome. (Maybe some of us can say the same thing…)
We want to be as welcoming, gracious, and inclusive of our neighbors as possible. A few steps you can take:
Learn some names. We 've reached the stage where you 'll start to recognize the same people, so be sure to greet them.

Practice hallway etiquette. We're sharing the hallway space, which can offer some challenges. Because they meet in a room with tiered theater seating, they—unlike we—have no place to stand around, so are more likely to do so in the hallway.
You may purchase their coffee. Remember that we offer free coffee in the Mackinaw Room.

If you have any questions or concerns, you can talk to Kim Crozier or Teresa Colbry. They 're serving as C3's liaisons. They'll be in close contact with the Life Church liaisons so we can easily work through any issues, which will enhance Sunday mornings for both communities.

Let's Take a Think Hike!

Will you join David Dean after the Gathering this Sunday (November 6) as C3 members take a Think Hike at Hemlock Crossing Park (8115 West Olive Road, West Olive, MI 49460). The plan is to meet there at 12:30 p.m., where we will gather in the parking lot and head out on a hike. We will discuss the Gathering theme as we take in the natural beauty of the park and enjoy each other's company. We can carpool from the Community Center, if you'd like. Plan for about an hour-long hike. If the weather is poor, we will reschedule for another Sunday. Questions? Contact David at 616-843-1979. Event website page here.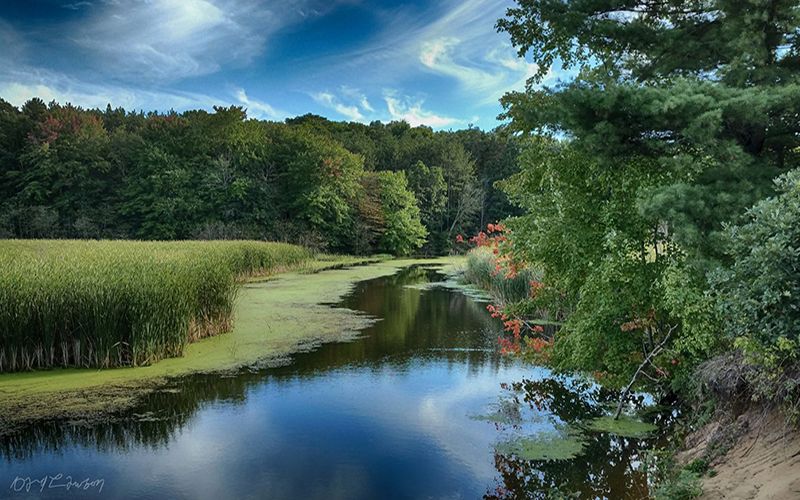 Venue Name Change

The City of Grand Haven has given Grand Haven Community Center a new name—Central Park Place! This will take some getting used to, but in our publications, we will try to make the change wherever needed. Just know that C3 hasn't moved—just the name of the place we meet has been changed.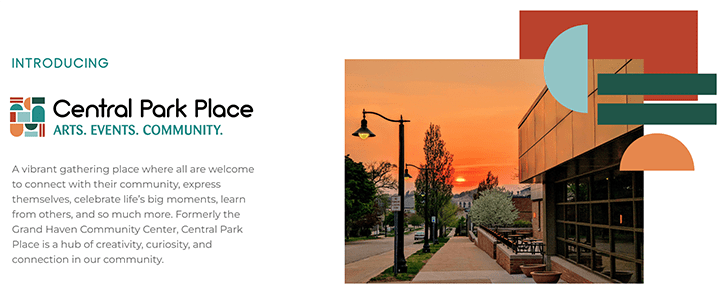 Caring for the members of our C3 Community is a shared communal responsibility, rather than a role reserved for a pastor, priest, or leader. Our C3 Community Care Team encourages members to support each other at time of need with notes, cards, phone calls, visits, meals, and transportation. C3 members are urged to contact the Community Care Team to inform them of life events, illness, or hardships, which can be shared with the C3 Community. To report a need or request help, or to help visit members in hospital, rehab or recovering at home, contact Cheryl Van Abbema: email or Mike and Charlotte Rozich: email.
Joann Martin, long-time C3 member, died on October 1, 2022. She and husband Roger (who died in April) often attended both the Pre-Talk and Gathering, but they hadn't been able to in the past couple years. Joann's obituary can be read here.

Week 3@C3 for November: Greater Ottawa County United for Warmth Campaign
Help keep families in Ottawa and Allegan counties warm during the cold weather, by providing the items suggested  below. Please note that United Way requests new or unused items. Bring the items to the Gathering on November 6, 13, or 20. 
For men, women, and children: coats and heavy sweatshirts; flannel shirts, sweaters, and vests for layering; hats, mittens, gloves, scarves.


For indoors: blankets, fleece throws, warm quilts or comforters.

Update on Dignity Kits
Congratulations on the excellent response to the call for Dignity Kits! The folks at Mennonite Central Committee (MCC) were pleased with our contribution of 57 kits, which had a cash value of $1,995. Our kits will be going to school girls in South Sudan.

Your support matters and is greatly appreciated! 

It takes a lot of time, energy, and money to produce all the great things that happen at C3. Whether it is our Sunday Gatherings or working within our West Michigan communities, we strive to make a difference, with compassion. Your financial support allows us to continue to learn, teach and live our values to heal and affect change.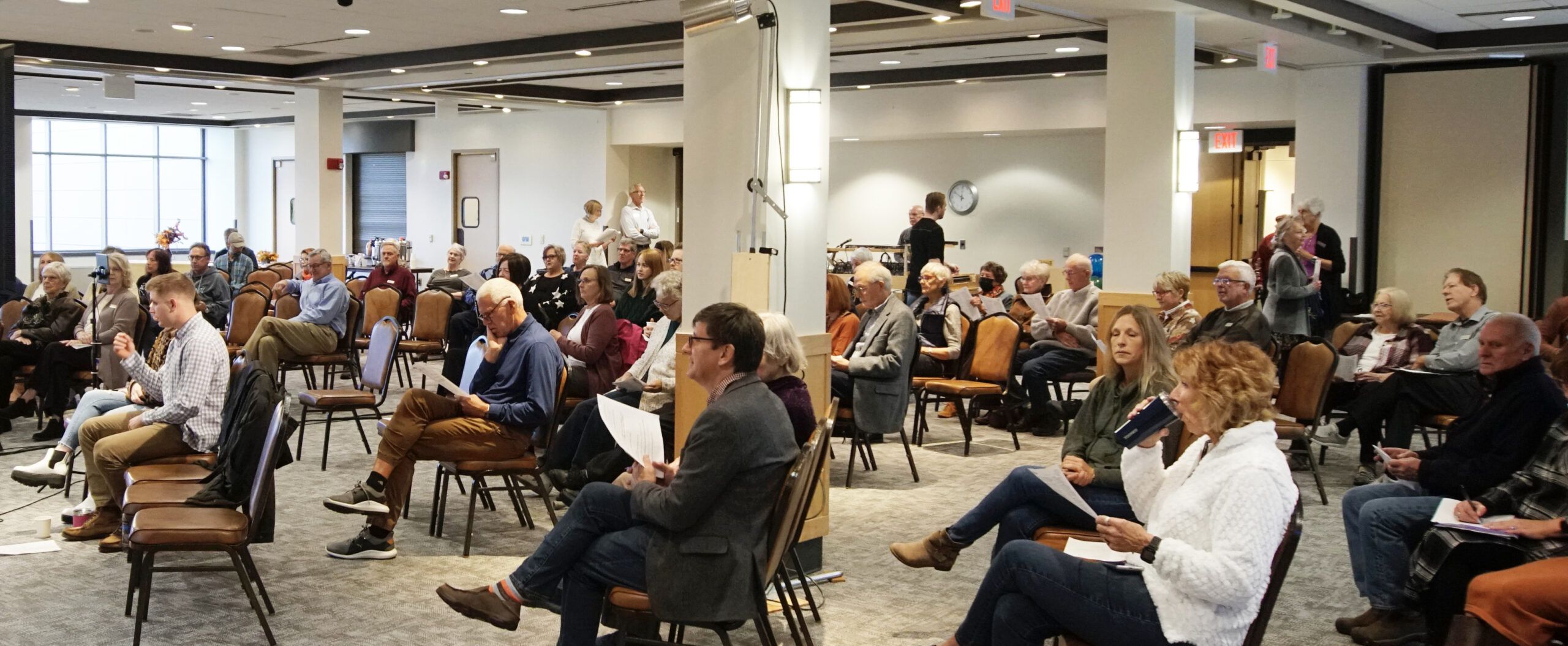 Honor and Memorial Giving Program
The Finance Committee has created a new program for Honor and Memorial giving to support C3. Look for the cards at the Gathering. The gifts, with permission, will be listed in the newsletter (names only, no dollar amounts). As always, your donations are invaluable to us, thank you! As Veteran's Day nears, might this be a small but significant way to remember someone who served?
Your ongoing support of C3 is greatly appreciated. Online donations can be made here. Automatic donations can be set up by contacting Carol Takas at Selby Accounting. Checks should be sent to C3 Spiritual Community, P. O. Box 371, Grand Haven, MI 49417. C3 is a 501(c)(3) Tax-Exempt Organization. Our tax ID is 38-1960212.

Vigil for Peace and Justice
Dress for the weather and join our Vigil for Peace and Justice this Saturday from noon–1 p.m. along Washington Avenue at Central Park. We're hoping for a warm November! We have signs! Bring a chair if sitting is more comfortable for you. Event webpage here.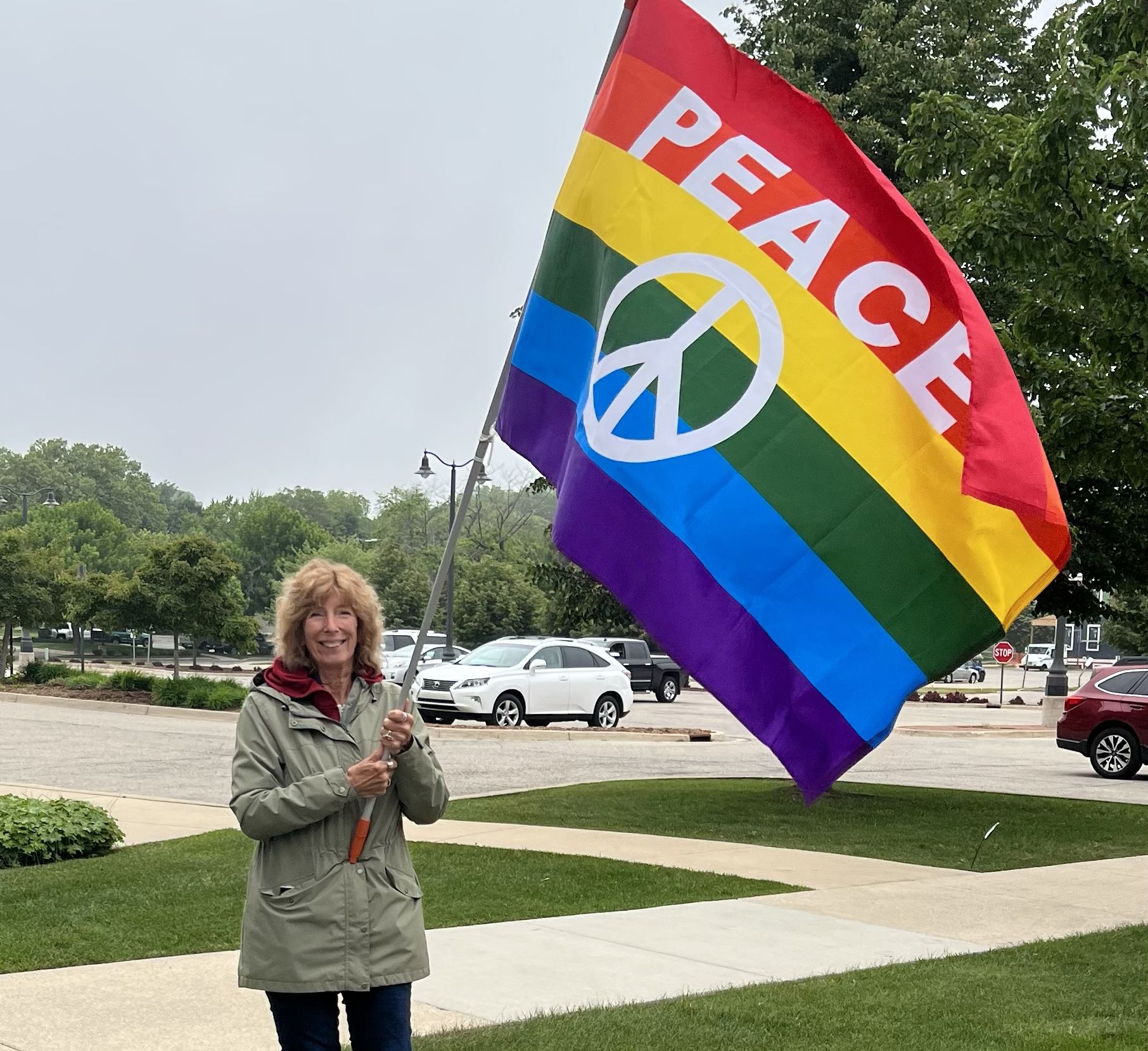 C3 Men's Group 

The C3 Men's Group meets each Tuesday from 7 to 8:30 p.m. at the American Legion Hall on Harbor Drive in Grand Haven. Questions? Contact Phil Koster at 616-402-1751. Event webpage here.
C3 Book Club and Friends

C3 Book Club is having a Holiday Party on December 6, 6:30 p.m. at the Bookman!  Please bring a hearty appetizer, a gift of an unwrapped used book that you love, and maybe a beverage? Any questions email Joyce Cawthon. Event website here.
January 3: Cloud Cuckoo Land by Anthony Doerr

🆕  Dinner and Movie Night
To enhance the observation of Native American Heritage Month in November, the movie The Canary Effect will be shown at the Momentum Center's Dinner and Movie Night on Friday, November 11. Dinner at 5 p.m. (pot luck items welcome), movie at 6 p.m.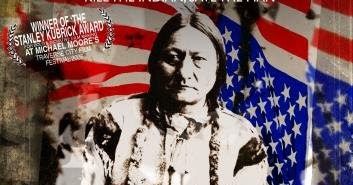 Oppose Book Ban in SLPS
Charity and Shannon McMaster have filed a complaint with the ACLU of Michigan about the removal of the book Gender Queer from the Spring Lake High School library. They encourage other community members concerned about this book ban to do the same. See details here about how to take action. A complaint can also be filed with the National Coalition Against Censorship here.
Thanksgiving  Community Feast
After 29 years, the Community Thanksgiving Feast will no longer be held. It started at Christ Community Church, then moved to St. Mary's when C3 sold our building on Exchange Street. Thanks to Dan Steigenga for his years of service, and to all the community members (including C3ers) who have helped out over the years.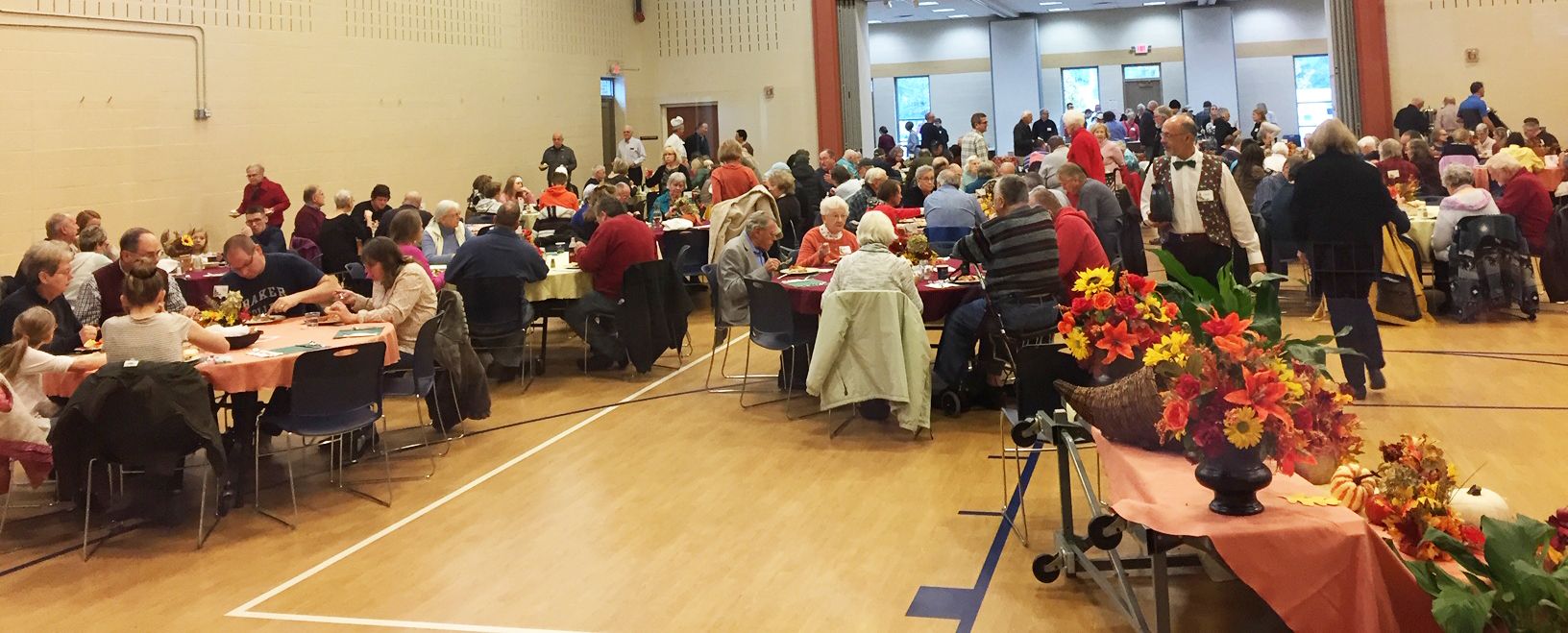 Saturday, November 5
Noon Vigil for Peace and Justice (Central Park, GH)
Sunday, November 6  Daylight Savings Time — Turn Clocks Back!
Central Park Place (Mackinaw Ballroom, 421 Columbus Ave., GH)
9 a.m. Pre-Talk, in Person
10 a.m. C3 Kids, in Woodbine Room with Miss Mary and volunteer Sally Alderink
10 a.m. Gathering, In Person + Livestream on Facebook
C3 Teacher: Kent Dobson
Music: Molly

Meditation: Nelleke Knarr                                      

11 a.m. Talk Back
Tuesday, November 8   Election Day — Don't Forget to Vote!
7 p.m. C3 Men's Group (American Legion, GH)
Wednesday, November 9
6:30 p.m.  Board of Trustees Meeting (C3 Office, 1447 Washington Ave., GH)

Saturday, November 12
Noon Vigil for Peace and Justice (Central Park, GH)
Sunday, November 13
Central Park Place (Mackinaw Ballroom, 421 Columbus Ave., GH)
9 a.m. Pre-Talk, in Person
10 a.m. C3 Kids, in Woodbine Room with Miss Mary and volunteer Joyce Cawthon
10 a.m. Gathering, In Person + Livestream on Facebook
C3 Teacher: Kent Dobson
Music: Gabrial James

Meditation: Rod Van Abbema                                      

11 a.m. Talk Back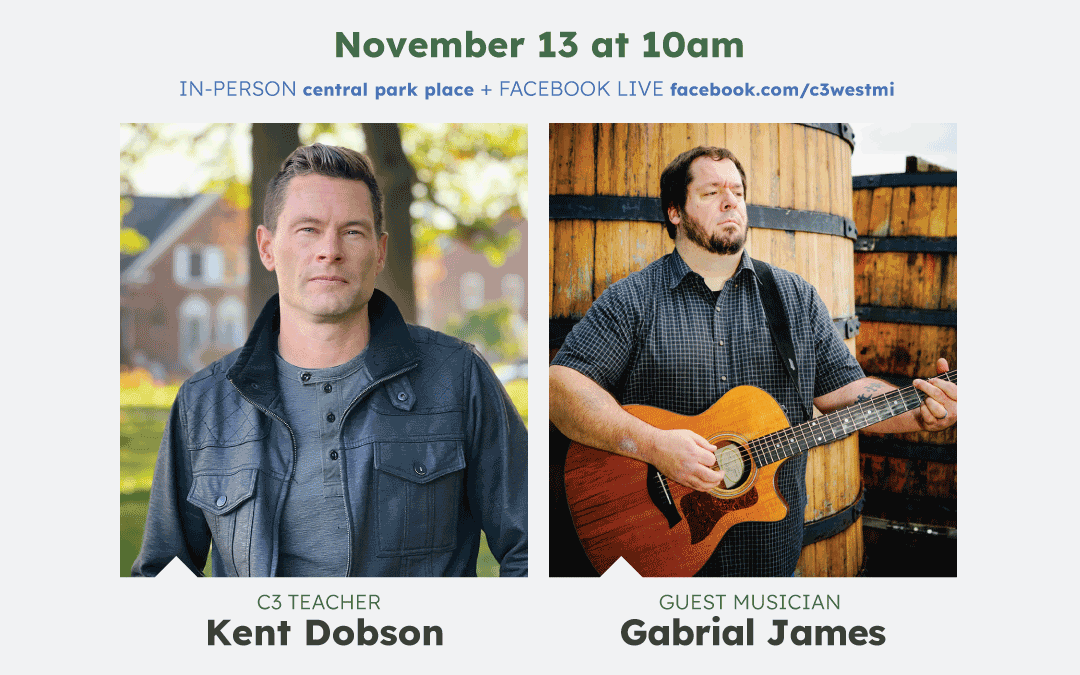 Kent Dobson has been our lead teacher since September 2017. He helps people orient their life to be in deeper relationship with Mystery, the shape of their own soul, and to a meaningful sense of their unique voice in the world.
Gabrial James is a solo artist from Grand Rapids, now living in Spring Lake. He got his start in music when he was 10, at St. Cecilia Music Society of Grand Rapids, where he had the opportunity to perform with the Grand Rapids, Detroit, and Chicago symphonies. Now he earns his living playing classic and folk rock, country and bluegrass, soul and blues. 

Find Us + Share on Facebook

Each week we post information about upcoming Gatherings and other special events. Help us extend our reach and recognition by sharing our posts!
Instagram Photos Needed
We would love to feature photos of C3 members in action or other C3 events on our Instagram feed. Email your high res photos (or ideas) to trustee

Tom Edwards

.