C3 inspires spiritual, intellectual, and creative exploration and action, led by the questions, "what are the biggest challenges we face on our shared journey, and how do we respond to those challenges?"
Our esteemed C3 teacher Kent Dobson delves further into the question What's the Point of a Religious Life?  His more personal-than-usual musings last week will continue, as he embraces the essence of our series We Have Questions by sharing some of his own journey. Musician Hannah Laine returns, and Leslie Newman contributes the meditation.


Our weekly Gathering takes place in the Mackinaw Ballroom at Central Park Place every Sunday at 10 a.m. Pre-Talk and Awakenings (meditation) precede the Gathering at 9 a.m. After the Gathering, enjoy a Small Bite and join Talk Back. Our C3 Kids meet at 10 a.m. in the C3 Kids' area of the Mackinaw Room. The Gathering is live-streamed on C3's Facebook page. 
Missed an email? Revisit or catch up on our website > 

Updates

Need Event Information? Our website has a full event calendar > 

Upcoming Events



🆕  An Exciting Opportunity at C3
     In the coming months, we will be hiring an Executive Director to join the C3 leadership team. Duties for the Executive Director will include everyday operational and administrative responsibilities as well as long-term and special activities that support our mission. They will actively support our robust volunteer teams, Board of Trustees, and Lead Teacher in reaching our goals and serving our C3 and greater West Michigan communities.
     Our request: Please forward this link, c3westmichigan.org/employment, to anyone you see as a possible candidate or who might know someone who'd be interested. The posting closes on October 31; we plan to have it filled by year's end. 
     With Gratitude,
     Executive Director Search Team
     Beth Buelow, Ira Engeltjes, Kathy Humphrey, Mark Smith, Wayne Johnson
Save These Dates!

     Be sure to mark your calendars for October 22 and November 5. October 22 is Kent's last Sunday as our lead teacher. Plan to stay after the Gathering for a special time to celebrate his six years with us and send him off with our thanks and good wishes.
     Because of our recently approved bylaws changes, our annual meeting will be held on November 5 immediately following the Gathering. At this time we'll reaffirm our commitment to the C3 community, elect new Board of Trustee members, and learn more about what's going on in many different areas of C3.
     You won't want to miss either of these special Sundays!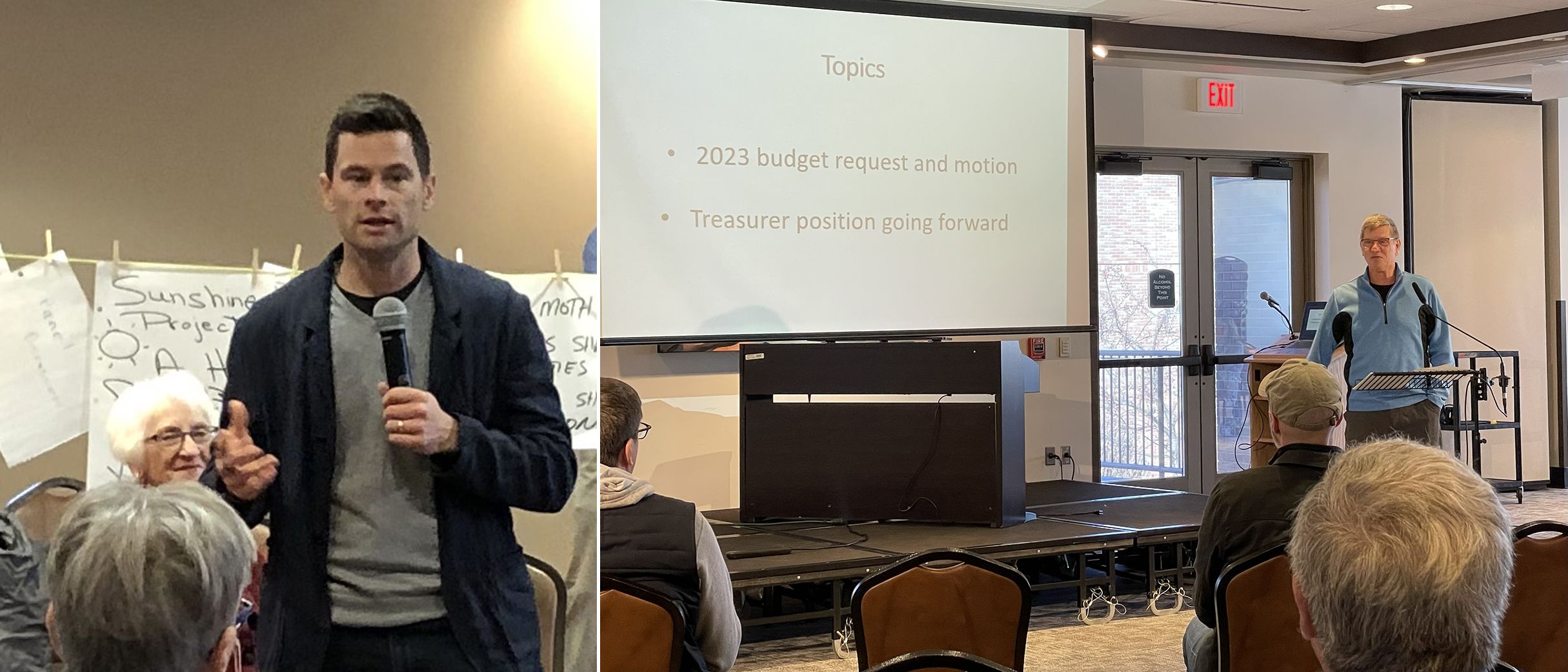 Autumn Kickoff Bonfire and Social 

Almost 50 people gathered for good food, great conversation, bonfire gazing, and the Cornhhole Tournament on September 24. Winners were Mary Ellen Mika and Gordy Alderink. The McMasters were champion bonfire builders, the food was abundant and fabulous, the weather was perfect, and the deer who watched from the sidelines were both entertained and entertaining! Many thanks to Joyce and David for organizing this fun event. What a great way to enhance our well-being by spending time with C3 friends who appreciate our presence and affirm our common humanity!

🆕  Sign Up for Sunday Dinner Group

Sign up at the Membership Table to join fellow C3ers for a meal at The Kirby Sunday evening at 5:30p.m.
🆕  C3 Men's Group
The group's meeting on Tuesday, October 10, will be at Ted Larned's home at the usual time, 7 to 8:30 p.m.
🆕  Women's Journey Returns

Would you enjoy getting together on a monthly basis to share stories, laughter, and build friendships with C3 women? Join us for an organizational meeting on Monday, October 23, at 6:30 p.m. at The Bookman (715 Washington Ave., GH). We will make a plan for Women's Journey 2024! Contact Becky Park with questions.

Week 3@C3 for October
We will be collecting for the Muskegon Rescue Mission's Thanksgiving Baskets Project. 
Needed for the baskets are:
Packaged items: 
stuffing mix

mashed potatoes 

macaroni and cheese 

brownie or cake mixes

canned corn and green beans
Muskegon Rescue Mission prepares to give away 1,000 Thanksgiving meal baskets. These items will be collected this coming Sunday and on October 15.
Travel-size Items
Every Woman's Place takes contributions of travel size toiletry items—shampoo, conditioner, wrapped soap, lotions, nail files, floss. If you have any of these to contribute, bring them any Sunday to the Week 3@C3 table.

Use your IRA and/or Required Minimum Distribution (RMD) to support C3.
Would you like to save money on your taxes and support C3 at the same time? You can use money in your IRA to contribute directly to a charitable organization like C3, without it being considered a taxable distribution. The same applies if you are required to take an RMD. Be certain to consult with your tax advisor or financial representative as it is important to understand the process and follow the appropriate guidelines.
Honor and Memorial Giving
A donation was made in memory of Marie Bahlke (Sarah Jacob's mother), by Mark and Kathy Smith.
Your ongoing support of C3 is greatly appreciated. Online donations can be made here. Automatic donations can be set up by contacting Carol Takas at Selby Accounting. Checks should be sent to C3 Spiritual Community, P. O. Box 371, Grand Haven, MI 49417. C3 is a 501(c)(3) Tax-Exempt Organization. Our tax ID is 38-1960212.

🆕  Adopt-A-Highway
Thanks to the 20 or so folks who cleaned up our section of US-31 on September 30. Your help in collecting 58 bags of trash was so appreciated!
Front row to back row, left to right: Charity McMaster, Yvonne Ousted, Mike Rozich, Charlotte Rozich, John Leitner, Karen Cotton, Ryan Cotton, Marian Mulette, Michele Pool, Shannon McMaster, Berny Snoeyer, and Tom Edwards. Not pictured: Chrys Moelter-Gray, Bill Haug, Jane Curtis, Annie Wassmann, and Tom Redick.
Vigil for Peace and Justice
The Vigil for Peace and Justice continues through November, every Saturday from noon to 1 p.m. along Washington Avenue at Central Park.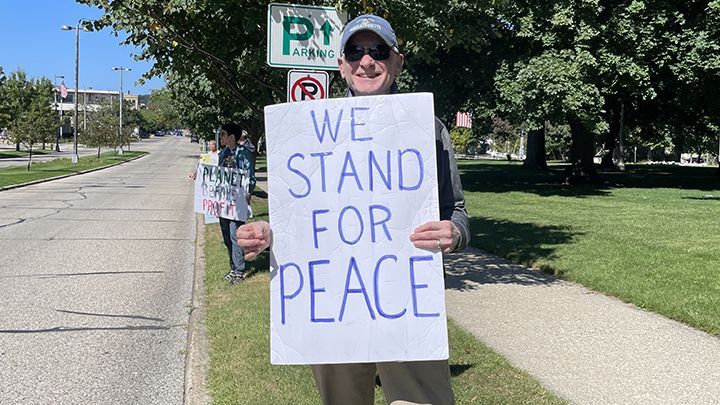 Humanity for Prisoners Presents The Voices of Humanity
The annual Fall Speaker Series for Humanity for  Prisoners will have a new look this October, as their first film festival, featuring Behind our Walls, is scheduled for Friday, October 27, 7 p.m. at Central Park Place in Grand Haven. Further details here.
Caring for the members of our C3 Community is a shared communal responsibility, rather than a role reserved for a pastor, priest, or leader. Our C3 Community Care Team encourages members to support each other at time of need with notes, cards, phone calls, visits, meals, and transportation. C3 members are urged to contact the Community Care Team to inform them of life events, illness, or hardships, which can be shared with the C3 Community. To report a need or request help, or to help visit members in hospital, rehab or recovering at home, contact Cheryl Van Abbema: email or Mike and Charlotte Rozich: email.
Lynne Deur is undergoing multiple procedures to receive a cochlear implant. She and Jean will remain in Michigan until she has the implant and is comfortable with it. Cards can be sent to Lynne at 18332 N. Shore Estates, Spring Lake, MI 49456.
Jean Regester continues to recuperate at home, but is still unable to move around much or stand for very long. A Meal Train has been created to assist with evening meals. If you're able and willing to help, check it out at here.   
Barb Van Leeuwen's treatment continues. Cards or notes may be sent to Barb via text,email or at home: 2669 Weatherby Hills Drive SE, Grand Rapids 49546.
🐓 Note: Pam Park has a few dozen fresh eggs. Text her to reserve a dozen for $3, and she'll bring them to C3 on Sunday.

🆕  Naturalization Ceremonies at Loutit District Library
Good news! The USCIS (United States Citizenship and Immigration Services) has scheduled two naturalization ceremonies at the Loutit District Library on Tuesday, October 17. Several C3 folks have volunteered at previous ceremonies and found them to be very impressive and moving. There will be one ceremony at 10 a.m. and one at 1:30 p.m. The public is welcome to attend.
🆕  Happenings at Loutit District Library

This is just a reminder to check out all the interesting things happening at our Loutit District Library in October, including the Banned and Challenged Books Event, Morning Meditation, and the Friday Matinee.
Series on Racial Reconciliation at St. John's Episcopal

On September 25, St. John 's Episcopal Church in Grand Haven offered the first in an 11-part series, Sacred Ground, a film-based dialogue on racial reconciliation. A schedule of classes and a registration page can be found online.   
Series on Climate Change and Faith at First Presbyterian Church
A four-part series on Climate Change and Faith is being held at First Presbyterian Church in Grand Haven on October 8, 15, 22, and 29. Click here for more information.
Dinner and Movie Night at the Momentum Center
The monthly Dinner and Movie Night at the Momentum Center in Grand Haven takes place on Friday, October 13,  and features Elemental, a film which illustrates that embracing diversity and truly seeing people for who they are can lead to deeper connections and understanding among people. Dinner begins at 5 p.m.(pot luck items welcome but not necessary) and the movie starts at 6 p.m. This film will also be shown at the Holland Momentum Center on Monday, October 9, from 5:30 to 7:30 p.m., with free popcorn.

Saturday, October 7
12 p.m.  Vigil for Peace and Justice (Washington Ave. at Central Park, GH)

Sunday, October 8
All events held in the Mackinaw Ballroom in Central Park Place (421 Columbus Ave., GH)
9 a.m. Pre-Talk & Awakenings
10 a.m. C3 Kids with Miss Mary and volunteer Char Kole
10 a.m. Gathering, In Person + Livestream on Facebook
   • C3 Teacher: Kent Dobson
   • Musician: Kyle Rasche
   • Meditation: Leslie Newman               
11 a.m. Talk Back
Tuesday, October 10

7 p.m. C3 Men's Group (Ted Larned's home, 7420 W. Spring Lake Road)
Wednesday, October 11
6:30 p.m. Board of Trustees Meeting (C3 Office, 1447 Washington Ave., GH)
Saturday, October 14
12 p.m. Vigil for Peace and Justice (Washington Ave. at Central Park, GH)
Sunday, October 15
All events held in the Mackinaw Ballroom in Central Park Place (421 Columbus Ave., GH)
9 a.m. Pre-Talk & Awakenings
10 a.m. C3 Kids with Miss Mary and volunteer Patti Baldus
10 a.m. Gathering, In Person + Livestream on Facebook
   • C3 Teacher: Dr. Sarah Kornfield
   • Musician: Hannah Lane
   • Meditation: Charity McMaster               
11 a.m. Talk Back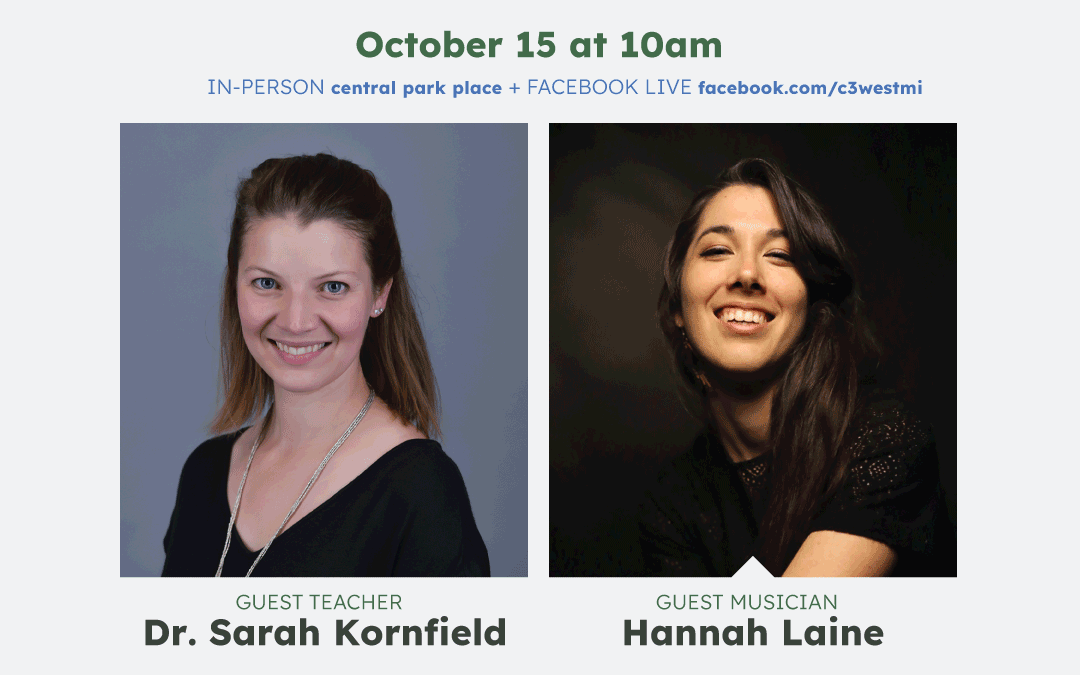 Dr. Sarah Kornfield is Associate Professor of Communication at Hope College, and affiliated professor of Women's and Gender Studies. Her research combines rhetorical criticism and feminist theory to analyze three pillars of U.S. public culture: entertainment television, Christian religiosity, and politics. She is the author of Contemporary Rhetorical Criticism, and the upcoming publication from Johns Hopkins University Press, Invoking the Fathers.
Hannah Laine is a musician and vocal empowerment coach from Grand Rapids, best known as the vocalist for the Future-Soul band Earth Radio. She began singing and songwriting at a very young age, and has found refuge in music as a way of healing and processing her life experiences. Skilled in piano, vocal improvisation, beat-making, layering effects, and looping, her abilities to create a soundscape or groovy bop are limitless.

Thank you for supporting C3!
We would really appreciate it if you could take a few minutes to share your experience at C3 by reviewing us on Google. Thank you!
Google requires reviewers to have a Google account. If you don't have one you can set one up with your current email address, follow instructions here.

C3 Spiritual Community Office
1447 Washington Ave., Grand Haven, MI  49417
Mailing Address: P.O. Box 371, Grand Haven, MI 49417
Becky Park, Office Manager
Office Hours: Wednesday 12:30–2:30 p.m., Friday 10:30 a.m.–12:30 p.m., or by appointment
Automatic donations are handled by Carol Takas at Selby Accounting.
Please direct any questions to Shannon McMaster.
C3 Board of Trustees
Chair: Sally Alderink
Vice-Chair: Teresa Colbry
Secretary: Valerie Engeltjes
Treasurer: Shannon McMaster
Beth Buelow
Andy Cawthon
Kim Crozier
Tom Edwards
Kathy Humphrey
Wayne Johnson
Rod Van Abbema
Newsletter Submissions and Editor: Chrysteen Moelter-Gray.

Newsletter Designer: Annie Wassmann 
Copyright © 2023 C3 Spiritual Community. All rights reserved.