C3 inspires spiritual, intellectual, and creative exploration and action, led by the questions, "what are the biggest challenges we face on our shared journey, and how do we respond to those challenges?"
In his teaching last week, Kent pointed out that the essence of C3 is the pursuit of meaning, which is reflected in our ongoing series We Have Questions. This week, in honor of the indigenous traditions surrounding the Day of the Dead, guest teacher Ruth Zwald asks How Can We Honor the Bones of Our Ancestors? Some of our favorite musicians return, Carmen Maret and Andrew Bergeron, the Folias Duo. Charlotte Rozich will provide the  meditation.


Our weekly Gathering takes place in the Mackinaw Ballroom at Central Park Place every Sunday at 10 a.m. Pre-Talk and Awakenings (meditation) precede the Gathering at 9 a.m. After the Gathering, enjoy a Small Bite and join Talk Back. Our C3 Kids meet at 10 a.m. in the C3 Kids' area of the Mackinaw Room. The Gathering is live-streamed on C3's Facebook page. 
Missed an email? Revisit or catch up on our website > 

Updates

Need Event Information? Our website has a full event calendar > 

Upcoming Events



🆕  Last Sunday's

Teaching

here.
🆕  Celebration of Gratitude and Farewell
What a lovely celebration and farewell we had last Sunday after the Gathering. It was so nice that Kent's family was there to mark the occasion as well. Thanks to everyone who planned, contributed food, labor, and good energy to mark Kent's last Sunday with us as Lead Teacher. Did you know you can 

be a patron of Kent's podcast

?
🆕  A Note of Thanks from Kent
Last Sunday was such an important day for me, and I want to express my deepest gratitude. I felt warmly supported and loved by the community. I will miss all of you. I also want to thank each of you for your thoughtful cards and gifts. It was very moving to read each note, and your gifts were an unexpected surprise. I'm so grateful our paths crossed. You have taught me so much. I believe in C3, and know you'll face the future with confidence and creativity. I hope to return down the road as a guest speaker when I'm in town.  
Much love and appreciation, Kent  
🆕  Thank you to Bill Klouw and Becky Park for all their great event photos. Check out all the photos on our Community Life web page.
C3 Community Annual Meeting
Make a special note on your calendar to attend the Annual Meeting on November 5! It will be held right after the Gathering and is a wonderful way to celebrate C3 and each other. You'll get a chance to elect new Board of Trustees members, honor this year's outstanding volunteer, and learn about all the many activities that are going on that make this unique, community-driven organization thrive.
We have a slate of three candidates for the Board, whose bios can be seen here. Please thank retiring Board of Trustees members Sally Alderink, Valerie Engeltjes, and Tom Edwards for their time and effort in service to the C3 Community.  
You'll want to be a part of this!

🆕  Submitting Information for C3 Update and C3 Matters
Newsletter and bulletin submissions for October 30 – November 16, should be sent to Annie Wassmann and Becky Park, in addition to Chrys Moelter-Gray, who will be traveling. Thanks!
Usher Openings Now
Wanted: C3 members for simple, fun, 15-minute job once every five Sundays

Requirements: ability to smile, greet, and hand out bulletins

Pay: personal satisfaction from meeting nice people and serving C3

Inquiries: 

Rod Van Abbema
An Exciting Opportunity at C3
In the coming months, we will be hiring an Executive Director to join the C3 leadership team. Duties for the Executive Director will include everyday operational and administrative responsibilities as well as long-term and special activities that support our mission. They will actively support our robust volunteer teams, Board of Trustees, and Lead Teacher in reaching our goals and serving our C3 and greater West Michigan communities. Please forward this link, c3westmichigan.org/employment, to anyone you see as a possible candidate or who might know someone who'd be interested. The posting closes on October 31; the Executive Director Search Team plans to have it filled by year's end.

🆕  Week 3@C3 for November
We will be delivering care and compassion to the good people of Israel and Palestine by contributing to Doctors without Borders/Médicins sans Frontieres (MSF). This organization provides independent, impartial medical humanitarian assistance to the people who need it most. Gifts may be given through November 19 in the following ways:
Check made out to "C3 Spiritual Community" with notation "Week 3@C3" in the memo line.

Cash in an envelope with "Week 3@C3" noted on the outside of the envelope.

Credit card: See Chase at the sound table, and remind him that your gift is for Week 3@C3.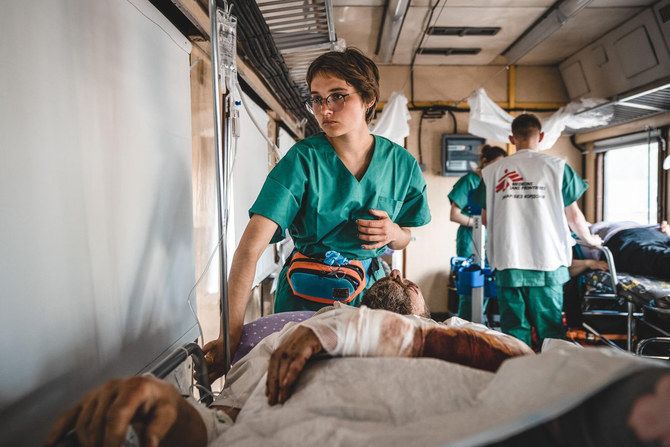 Tonight: HFP Presents The Voices of Humanity

C3 has supported Humanity for Prisoners for years. Theirs is a work of compassionate action for the incarcerated. Their annual Fall Speaker Event has a new look this year, their first film festival, featuring Behind our Walls, Friday, October 27, 7p.m. at Central Park Place in Grand Haven. Admission is $20 at the door.  
HFP Communicator
Click here to read the Humanity for Prisoners newsletter for October.
Vigil for Peace and Justice
We will stand for badly needed peace this Saturday from noon to 1 p.m. along Washington Avenue at Central Park. New folks are always welcome to join.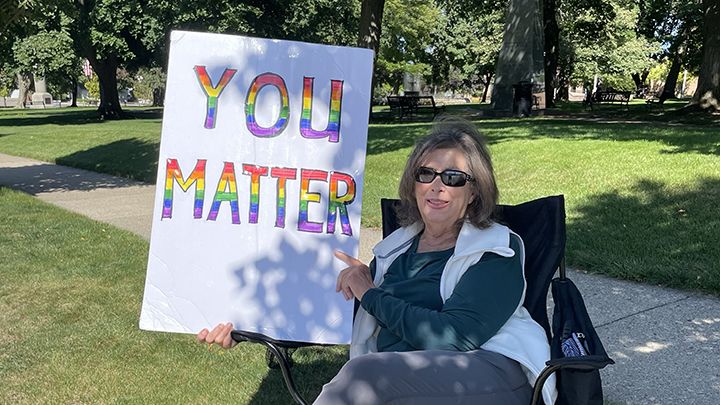 Caring for the members of our C3 Community is a shared communal responsibility, rather than a role reserved for a pastor, priest, or leader. Our C3 Community Care Team encourages members to support each other at time of need with notes, cards, phone calls, visits, meals, and transportation. C3 members are urged to contact the Community Care Team to inform them of life events, illness, or hardships, which can be shared with the C3 Community. To report a need or request help, or to help visit members in hospital, rehab or recovering at home, contact Cheryl Van Abbema: email or Mike and Charlotte Rozich: email.
Patricia Johnson is recovering from knee-replacement surgery at home and doing physical therapy. Cards and well-wishes can be sent to 220 Sherman Avenue, Grand Haven, MI 49417, or by email.
Jean Regester has moved to Mary Free Bed for stroke recovery therapy: Room 3327, Mary Free Bed Rehabilitation Hospital, 2235 Wealthy Street SE, Grand Rapids, MI 49503-5299. Jean welcomes calls or texts at 616-822-1414. 🆕  Check her Caring Bridge. 
🆕  It was great to see Barb and Jerry Van Leeuwen at C3 last Sunday!
🆕  Tom Webber had back surgery recently and is recovering at home. Cards may be sent to 13897 Van Buren Street, Holland, MI 49424.

🆕  Sign Up for Sunday Dinner Group
Sunday Dinner Group will meet at The Kirby at 5:30 p.m. Sign up at the Membership table at the Gathering.
🆕  No C3 Men's Group on Halloween
The Men's group will not meet on Tuesday, October 31, due to Halloween. The group resumes the following week at Ted Larned's home, 17420 W. Spring Lake Road, Spring Lake, MI 49456.
🆕  Women's Journey Returns
A large, lively group of women met at The Bookman on Monday evening. The next meeting will be at The Bookman on Monday, November 20, 6:30 p.m. Bring paint chips for our poem-writing activity.
C3 Book Club and Friends
At our next meeting, 6:30 p.m. at The Bookman, on Tuesday, November 21, we will discuss The Henna Artist by Alka Joshi. Keep thinking of three books to suggest for 2024, when we meet for our holiday party and book selection process in December.

Honor and Memorial Giving Program
Last year the Finance Committee created a program for Honor and Memorial giving to support C3. Cards for this purpose are available at the Membership Table. The gifts, with permission, will be listed in the newsletter (names only, no dollar amounts). As always, your donations are invaluable to us, thank you! 
🆕  New C3 member Kerry Fitzgerald made a donation in memory of her mother, Janice Fitzgerald.
Your ongoing support of C3 is greatly appreciated. Online donations can be made here. Automatic donations can be set up by contacting Carol Takas at Selby Accounting. Checks should be sent to C3 Spiritual Community, P. O. Box 371, Grand Haven, MI 49417. C3 is a 501(c)(3) Tax-Exempt Organization. Our tax ID is 38-1960212.

🆕  Medication Takeback Event
You can drop off unused, unwanted and expired medications tomorrow, Saturday, October 28, in Coopersville, Holland, and Zeeland. See details here!
🆕  Invitation to Community Rec Fest
Grand Haven Church of the Nazarene invites the whole community to a monthly Community Rec Fest at their location, 1620 S. Beechtree, once a month from November through April, beginning on November 10. The event runs from 6 to 8 p.m., with a Lego Contest at 6:30. No cost to enter; snacks available for purchase. Call the church office with questions: 616-842-7030.
Ottawa County Board & Commission Postings

There are several open seats in eleven of the Ottawa County Boards and Commissions. Take a look and see if you might be the perfect candidate for filling one of these positions to represent your fellow Ottawa County citizens. Act quickly; the application deadline is the near the end of the month for most positions.
Civil Rights Road Trip 2024
The next Civil Rights Road Trip is scheduled for next April 22–25. This is the same journey that several C3 members have already made and highly recommend.
🆕  Registration is now open. There is a limit of 25 participants.

Saturday, October 28
12 p.m. Vigil for Peace and Justice (Washington Ave. at Central Park, GH)
Sunday, October 29
All events held in the Mackinaw Ballroom in Central Park Place (421 Columbus Ave., GH)
9 a.m. Pre-Talk & Awakenings
10 a.m. C3 Kids with Joyce Cawthon and volunteer Sandy Kate Stephens
10 a.m. Gathering, In Person + Livestream on Facebook
   • Guest Teacher: Ruth Zwald
   • Musicians: Folias Duo
   • Meditation: Charlotte Rozich             
11 a.m. Talk Back
Saturday, November 4
12 p.m. Vigil for Peace and Justice (Washington Ave. at Central Park, GH)
Sunday, November 5
All events held in the Mackinaw Ballroom in Central Park Place (421 Columbus Ave., GH)
9 a.m. Pre-Talk & Awakenings
10 a.m. C3 Kids with Miss Mary and volunteer Charity McMaster
10 a.m. Gathering, In Person + Livestream on Facebook
   • Guest Teacher: Beth Buelow
   • Musician: Spencer LaJoye
   • Meditation: Wayne Johnson           
11 a.m. C3 Community Annual Meeting
Beth Buelow has been part of the C3 Community since March 2018 and has loved every minute of it. She's a business owner; leadership, team, and mentor coach; author, speaker, and mediator, and she has added photographer to the list of ways she wants to be known in the world.

Spencer LaJoye is an East Coast singer/songwriter from the Midwest making queer indie folk music for everyone. The 2021 Kerrville Songwriting Competition winner spins crystalline vocals through a loop pedal while strumming an acoustic guitar in charming, banter-heavy performances that keep audiences laughing one moment and weeping the next.

Thank you for supporting C3!
We would really appreciate it if you could take a few minutes to share your experience at C3 by reviewing us on Google. Thank you!
Google requires reviewers to have a Google account. If you don't have one you can set one up with your current email address, follow instructions here.

C3 Spiritual Community Office
1447 Washington Ave., Grand Haven, MI  49417
Mailing Address: P.O. Box 371, Grand Haven, MI 49417
Becky Park, Office Manager
Office Hours: Mondays and Tuesdays from 12 noon — 2:30 p.m., or by appointment.
Automatic donations are handled by Carol Takas at Selby Accounting.
Please direct any questions to Shannon McMaster.
C3 Board of Trustees
Chair: Sally Alderink
Vice-Chair: Teresa Colbry
Secretary: Valerie Engeltjes
Treasurer: Shannon McMaster
Beth Buelow
Andy Cawthon
Kim Crozier
Tom Edwards
Kathy Humphrey
Wayne Johnson
Rod Van Abbema
Newsletter Submissions and Editor: Chrysteen Moelter-Gray.

Newsletter Designer: Annie Wassmann 
Copyright © 2023 C3 Spiritual Community. All rights reserved.