C3 inspires spiritual, intellectual, and creative exploration and action, led by the questions, "what are the biggest challenges we face on our shared journey, and how do we respond to those challenges?"
Our series We Have Questions continues with Kent Dobson's teaching, Do We Know What We Mean by God Anymore? We're delighted to hear from Just Us, a group of singers that includes a few of our members. The meditation comes from Rod Van Abbema.
All C3 Sunday-morning events take place in the Mackinaw Ballroom at Central Park Place. Pre-Talk and Awakenings start at 9 a.m. The Gathering begins at 10 a.m.; Small Bites and a special Community Meeting follow the Gathering this week. C3 Kids meet at 10 a.m. in the C3 Kids' area in the Mackinaw Room. If you aren't able to join us in person, you can watch the Gathering online on C3's Facebook page.


Think you might have missed an email? Revisit or catch up on our website > Updates
Need Event Information? Our website has a full event calendar > Upcoming Events
Last Sunday's Teaching here.  Last Sunday's Meditation here. Also, Ellie Williams suggests listening to the On Being episode, Living the Questions with Krista Tippett.
Remember the Community Meeting on July 9!
The short community meeting is this Sunday, right after the Gathering. The Finance and Membership committees are proposing a bylaw change that will allow us to move our annual meeting from February to November. The move aligns better with budget approval and implementation. It also means more of our membership can participate in the meeting before they leave for sunshine and warmer weather. The meeting also will include a report on the search for an executive director and what's going on with C3 and Central Park Place. Even if you can't be there, please click here to email your proxy vote to chairperson Sally Alderink.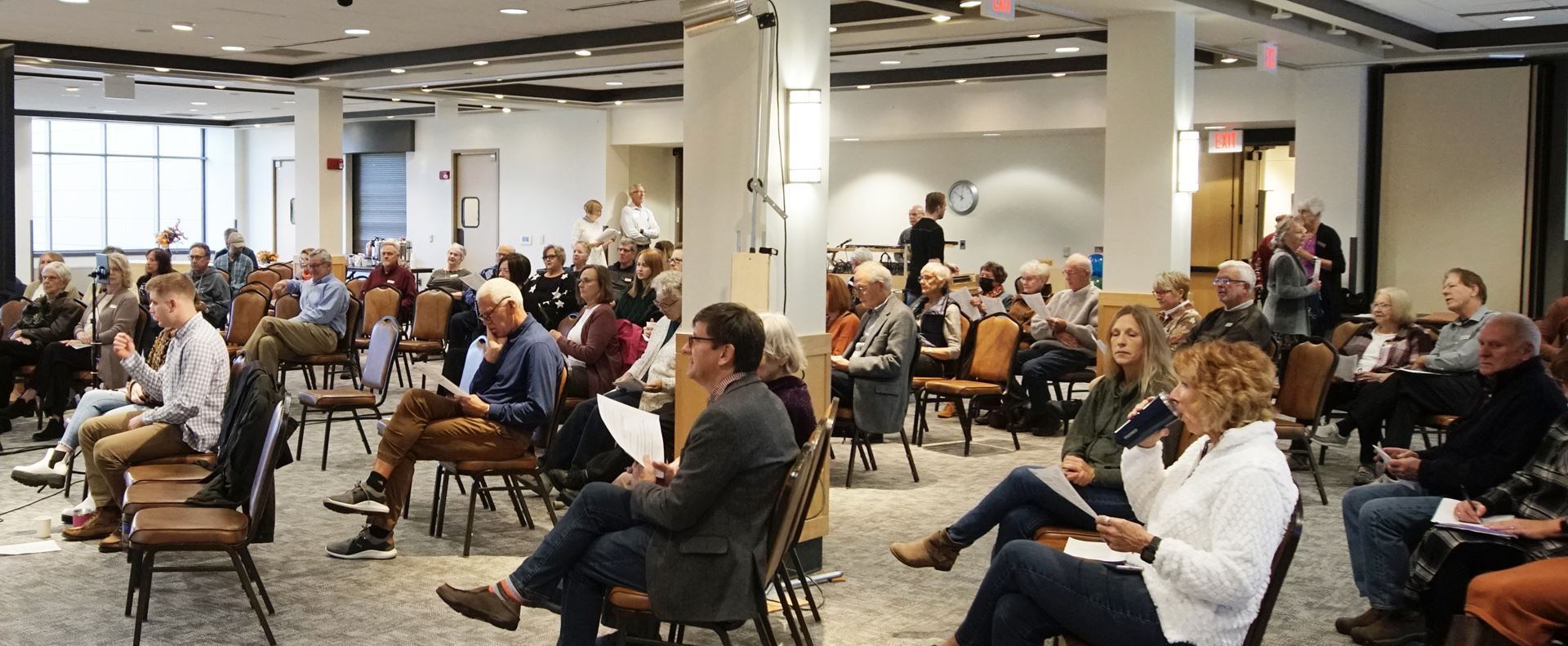 🆕  C3 Booth for Flea on 7th
Click here to learn all about the C3 booth at Flea on 7th, the Coast Guard Festival flea market on Sunday, July 30. Our intent is to use the market to both raise money and to promote the C3 community as socially active. Both quality vintage items and volunteers are needed, but please refer to the attachment for information on how to offer items for sale and to volunteer, or contact Tom Edwards.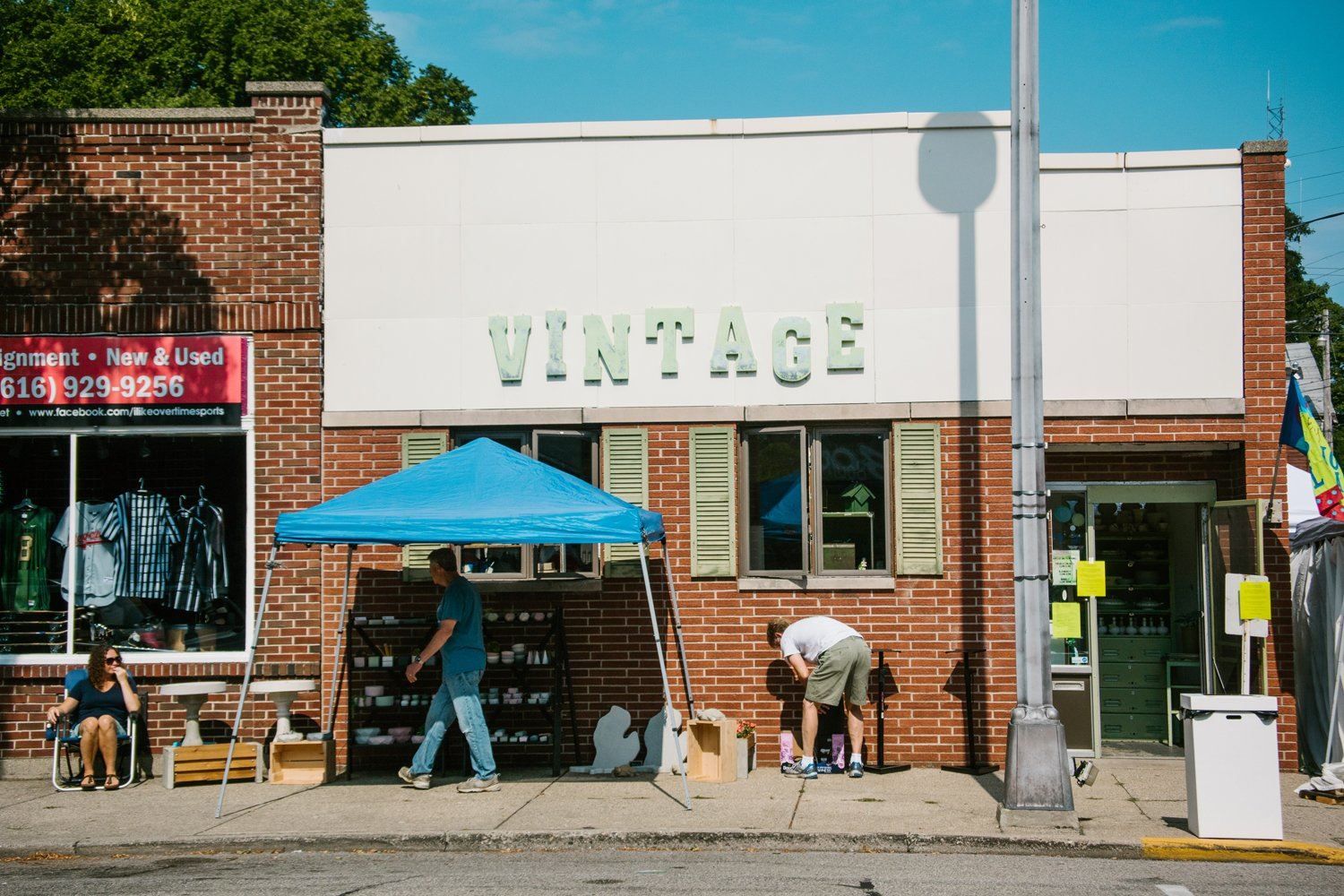 Dine with Nine-ty on July 15!

Join us this summer for a delightful twist on our beloved Dine with Nine event! We are excited to announce the expansion of this gathering into an "everyone-is-welcome" community dinner at the picturesque Mulligan's Hollow Lodge in Grand Haven. Save the date for Saturday, July 15; dinner begins at 5:30 p.m. To let us know what food you'll bring, kindly utilize the sign-up sheet at the Gathering. Bring your own beverage (alcohol is allowed) and place setting, utensils, and cups (we are being friendly to Mother Earth). For drop-off convenience, you may drive up to the lodge, but all event parking is in the YMCA parking lot. Rain or shine, the event will go on, with ample space indoors and outdoors that is ADA accessible.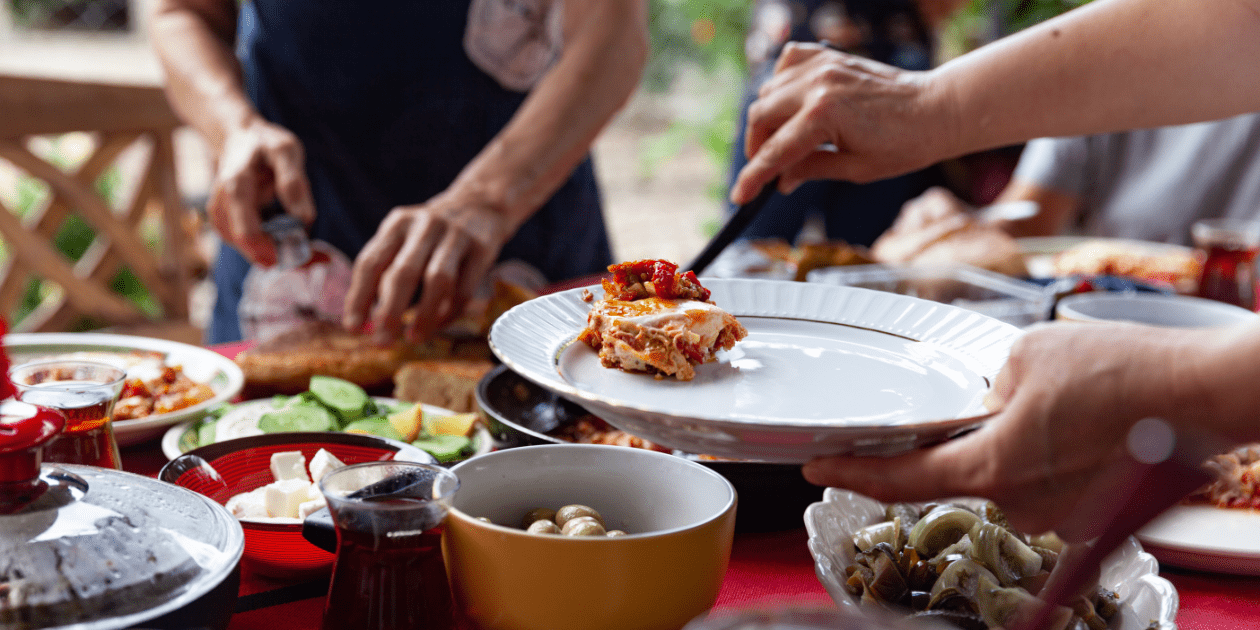 Pedaling (and Beaching) for C3
Andy Cawthon reports that the "pedaling fools" are rolling along with 376.6 miles pedaled so far. Six sponsors are supporting the riders. And Chrys M-G has made two trips to the beach so far, with one including swimming (extra $$). This easy, healthy approach will help raise much-needed funds for C3. You can join in by making personal pledges or sponsoring others. It's an "honor system" fundraiser, eliminating the need for accounting. Join in and contribute to the C3 cause now through September 17!
Caring for the members of our C3 Community is a shared communal responsibility, rather than a role reserved for a pastor, priest, or leader. Our C3 Community Care Team encourages members to support each other at time of need with notes, cards, phone calls, visits, meals, and transportation. C3 members are urged to contact the Community Care Team to inform them of life events, illness, or hardships, which can be shared with the C3 Community. To report a need or request help, or to help visit members in hospital, rehab or recovering at home, contact Cheryl Van Abbema: email or Mike and Charlotte Rozich: email.
Carolyn DeVries has moved from the rehab facility to an assisted living facility for a couple weeks as she continues her recovery from a fall. She welcomes texts at 616-502-5432.Carolyn DeVries has moved from the rehab facility to an assisted living facility for a couple weeks as she continues her recovery from a fall. She welcomes texts at 616-502-5432.
Meg Lawton (well-loved by long-time C3ers) has suffered catastrophic health issues. Her friend in Australia has set up a fundraiser to help with Meg's rehab and other medical expenses. Cards or notes may be sent to Meg via her parents: c/o Mr. & Mrs. Russell, 25/4 Terralong Street, Kiama, NSW, 2533, Australia. Suzi Koster will again have braceletsmade by Nicole Fisher Draft ($25) to support Meg this Sunday. 
🆕  Phil Koster's younger brother, James Koster (age 78), passed away on Wednesday, July 5, in Kentwood, shortly after entering hospice. Cards may be sent to 3647 Brentwood Street, Norton Shores, MI 49441. The obituary can be seen here. 

Summertime Vigil for Peace and Justice
With an increase in summertime traffic, it's a good time to make a statement for social justice issues! Join us from noon to 1 p.m. along Washington Avenue at Central Park in Grand Haven. Feel free to bring a chair to make yourself more comfortable.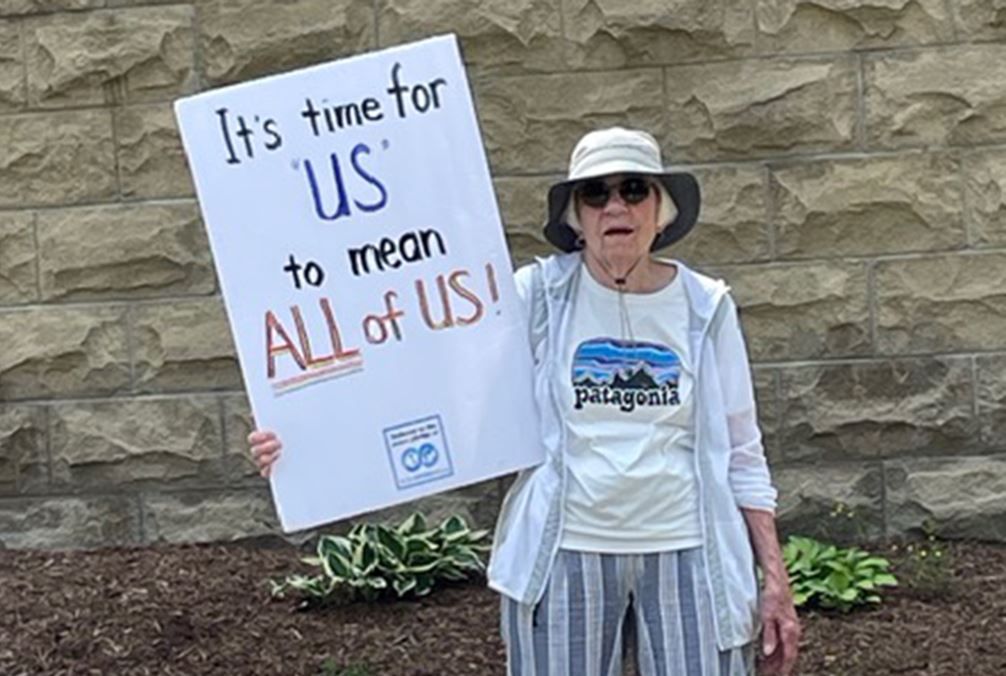 🆕  HFP July Newsletter
Click here to read the July issue of the Humanity for Prisoners newsletter.
🆕  Momentum Center Newsletters

Click here to read recent newsletters from the Momentum Center.

Week 3@C3
We received a big-hearted "thank you" from Kids Food Basket for the outpouring of healthy food for hungry kids. Every Woman's Place also thanked us for responding in a generous way to its urgent request for underwear.
We will be taking a "vacation" from Week 3@C3 in July. Be prepared to collect school supplies in August.

Sunday Dinner Group 
🆕  We will meet at Lucy's Market and Deli (133 Columbus Avenue, GH) at 5:30 on Sunday evening. Please sign up at the Membership table at the Gathering on Sunday, or let Chrys Moelter-Gray know before12:30 Sunday afternoon. Please note that we will not meet next Sunday, but hope to spend time with people at the Dine with Nine-ty event on Saturday, July 15.
C3 Men's Group
The C3 Men's Group meets from 7 to 8:30 p.m. on Tuesdays at the American Legion Hall on Harbor Drive. Contact Phil Koster for more information.


Use your IRA and/or Required Minimum Distribution (RMD) to support C3
Would you like to save money on your taxes and support C3 at the same time? You can use money in your IRA to contribute directly to a charitable organization like C3, without it being considered a taxable distribution. The same applies if you are required to take an RMD. Be certain to consult with your tax advisor or financial representative as it is important to understand the process and follow the appropriate guidelines.
Your ongoing support of C3 is greatly appreciated. Online donations can be made here. Automatic donations can be set up by contacting Carol Takas at Selby Accounting. Checks should be sent to C3 Spiritual Community, P. O. Box 371, Grand Haven, MI 49417. C3 is a 501(c)(3) Tax-Exempt Organization. Our tax ID is 38-1960212.

Momentum Center

The movie for Friday, July 14, is The Mitchells vs the Machines (A quirky, dysfunctional family's road trip is upended when they find themselves in the middle of the robot apocalypse and suddenly become humanity's unlikeliest last hope. – IMDb). Sounds like a fun follow-up to Beth's teaching about AI in June, and it's a good opportunity to connect with the Momentum Center and community. Dinner is served at 5 p.m., the movie starts at 6, at 714 Columbus Avenue. Everyone is welcome!

Saturday, July 8
12 p.m.  Vigil for Peace and Justice (Washington Ave. at Central Park, GH)
Sunday, July 9
All events held in the Mackinaw Ballroom in Central Park Place 
(421 Columbus Ave., GH)
9 a.m.  Pre-Talk and Awakenings
10 a.m. C3 Kids with Miss Mary and Charmaine Kole
10 a.m. Gathering, In Person + Livestream on Facebook
•  Teacher: Kent Dobson
•  Music: Just Us
•  Meditation: Rod Van Abbema                                  
11 a.m.  Community Meeting
5:30 p.m.  Dinner Group (Lucy's Market and Deli, 133 Columbus, GH)
Tuesday, July 11  
7 p.m.  C3 Men's Group (American Legion, GH)
Wednesday, July 12
6:30 p.m.  Board of Trustees Meeting (C3 Office, 1447 Washington Ave., GH)
Saturday, July 15
12 p.m.  Vigil for Peace and Justice (Washington Ave. at Central Park, GH)
5:30 p.m.  Dine with Nine-ty (Mulligan's Hollow Lodge)
Sunday, July 16
Allevents held in the Mackinaw Ballroom in Central Park Place (421 Columbus Ave., GH)
9 a.m. Pre-Talk & Awakenings
10a.m. C3 Kids with Miss Mary and volunteer Patti Baldus
10 a.m. Gathering, In Person + Livestream on Facebook
   • Teacher: Michael DeWilde
   • Music: Sonja de Wilde with Jess Willyard and Charlotte DeWilde
   • Meditation: Charity McMaster                          
11 a.m. Talk Back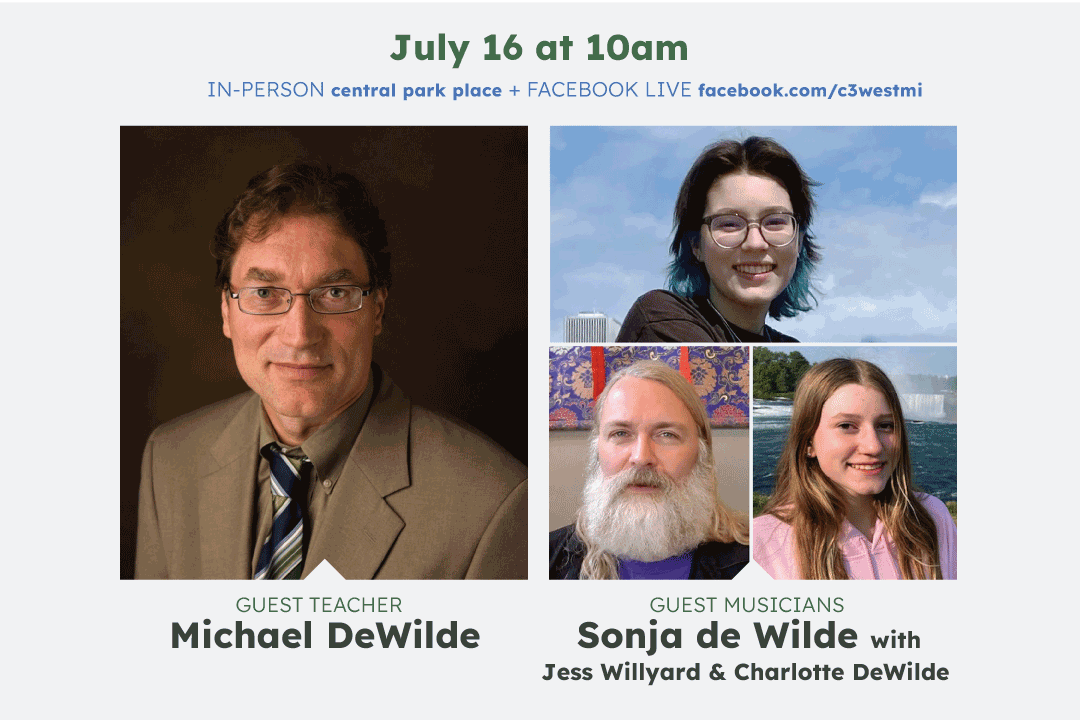 Michael DeWilde, a core Guest Teacher at C3, is the director of the Koeze Business Ethics Initiative in the Seidman College of Business, as well as a full professor in the Management Department at GVSU. He holds an MTS from Harvard University and did his undergraduate work at William James College (GVSU) in Michigan. His research and teaching interests include the impact of social capital on civic and economic well-being, neuroethics, and the use of roleplaying in business pedagogy.
Sonja de Wilde is a rising junior at Forest Hills Northern High School with an interest in marine biology and writing. She loves to travel and is passionate about languages. She has written over 200 songs, a very select few of which she actually likes. 
Jess Willyard is a guitar singer-songwriter who has played music in the Ann Arbor/Detroit area since the early 90's in Metal, Reggae, Folk, and Rock bands. He currently teaches guitar, bass, ukulele and mandolin. Also, he studied with Tibetan Buddhist master Gelek Rinpoche for over 20 years and is a qualified representative of the Gelugpa Tradition of Tibetan Buddhism.
Charlotte DeWilde will be entering the ninth grade this year. She loves to sing, travel, write poetry, and  play basketball. Though not necessarily in that order. 

Thank you for supporting C3!
We would really appreciate it if you could take a few minutes to share your experience at C3 by reviewing us on Google. Thank you!
Google requires reviewers to have a Google account. If you don't have one you can set one up with your current email address, follow instructions here.

C3 Spiritual Community Office
1447 Washington Ave., Grand Haven, MI  49417
Mailing Address: P.O. Box 371, Grand Haven, MI 49417
Becky Park, Office Manager
Office Hours: Wednesday 12:30–2:30 p.m., Friday 10:30 a.m.–12:30 p.m., or by appointment
Automatic donations are handled by Carol Takas at Selby Accounting.
Please direct any questions to Shannon McMaster.
C3 Board of Trustees
Chair: Sally Alderink
Vice-Chair: Teresa Colbry
Secretary: Valerie Engeltjes
Treasurer: Shannon McMaster
Beth Buelow
Andy Cawthon
Kim Crozier
Tom Edwards
Kathy Humphrey
Wayne Johnson
Rod Van Abbema
Newsletter Submissions and Editor: Chrysteen Moelter-Gray.

Newsletter Designer: Annie Wassmann 
Copyright © 2023 C3 Spiritual Community. All rights reserved.