C3 inspires spiritual, intellectual, and creative exploration and action, led by the questions, "what are the biggest challenges we face on our shared journey, and how do we respond to those challenges?"
Our Gathering this week features Greg Rappleye, poet and Hope College professor, who joins our series We Have Questions, to ask How Do We Speak with the Dead? Jennifer and Jared Adams, who are Annagail, bring us the music. Our meditation will be given by Rod Van Abbema.


Our weekly Gathering takes place in the Mackinaw Ballroom at Central Park Place every Sunday at 10 a.m. Pre-Talk and Awakenings (meditation) precede the Gathering at 9 a.m. After the Gathering, enjoy a Small Bite and join Talk Back. Our C3 Kids meet at 10 a.m. in the C3 Kids' area of the Mackinaw Room. The Gathering is live-streamed on C3's Facebook page.

Missed an email? Revisit or catch up on our website > 

Updates

Need Event Information? Our website has a full event calendar > 

Upcoming Events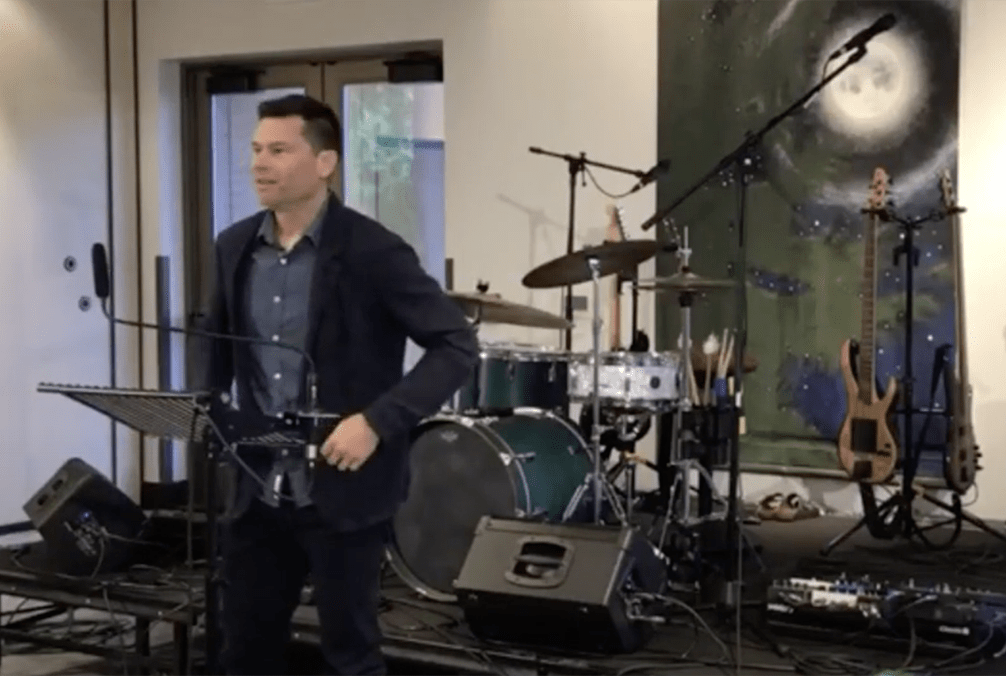 🆕  Claude's Farewell
The Board of Trustees and the C3 Kids Committee would like to acknowledge Claude McMasters' graduation and express our appreciation of his contributions, which include helping with C3 Kids and three years of setup and take down for our Sunday Gatherings. Claude will attend Grand Valley in the fall. If you have not already made a contribution to Claude's graduation, and would like to do so at C3, look for a decorated box with Claude's name on it at the sound table. The box will be there for the next three Sundays! Good luck, Claude!
New C3 Logo T-Shirts
After the Gatherings, Teresa Colbry will be taking orders for new C3 logo t-shirts! We've mocked up the shirts in two colors — Indigo Blue and Prairie Dust Brown. The cost of the shirts is $15, payable when the shirt is ordered by cash or check. We need 25 pre-paid orders of a single color to move forward. We may have to gang orders into one color. T-Shirt Specs: Gildan Ultra 100% Cotton, Short Sleeve; Crew neck (No V necks at this time); Unisex sizing (S, M, L, XL; XXL—add $2); Logo will be screen printed in white ink.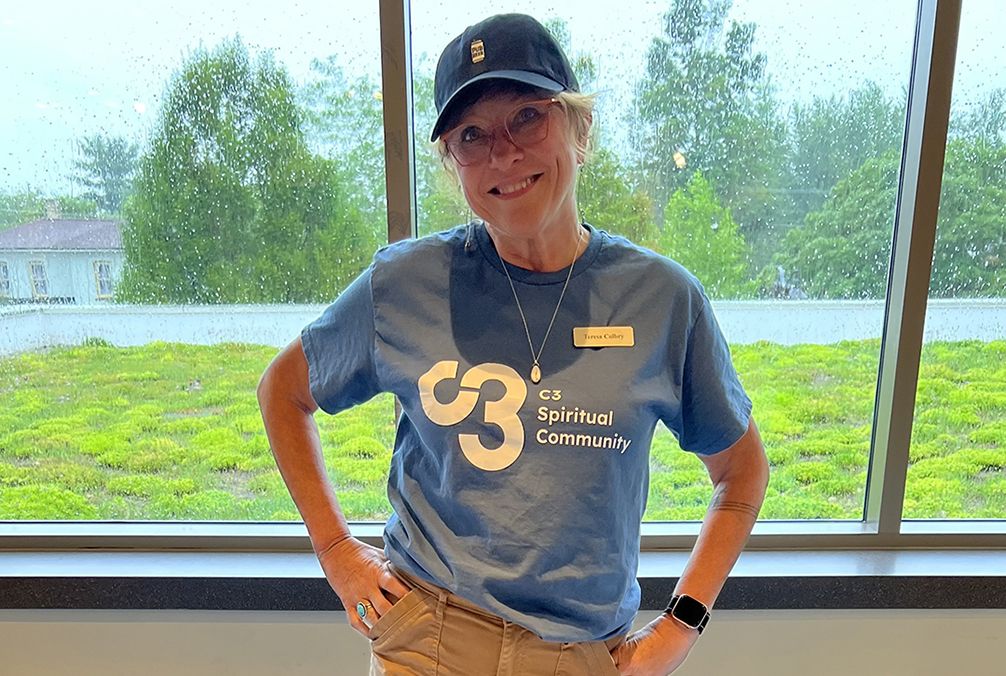 Guest Teachers and Beyond
Kent was a guest teacher long before he became our lead teacher. Maybe there's someone you know who could follow his footsteps. Or maybe the person could speak yearly or perhaps become a core teacher. Regardless of what might happen with any particular person, right now, we're looking for many guest teachers in the upcoming months. That's where you come in. If you have ideas of people who would be a good fit as a guest teacher, please send an email to GuestTeacherNames [at] c3westmichigan [dot] org with as much information as you can about the person. Thank you so much!
Before becoming lead teacher Kent Dobson appeared on the C3 stage as a guest teacher. This teaching entitled, Unloading the Camel: Unlearned and Unknowing with Kent Dobson, has over 1000 views!
🆕  Wild Apricot for Members App

Wild Apricot helps members to stay in touch with this handy app. Easily find other members of C3 and contact them. To download the app, navigate to your app store and search for "Wild Apricot for Members". Download and open the app and log in with your member user name and password. (Note: If you have forgotten your log in credentials you will need to navigate to the C3 Wild Apricot Member Directory Webpage and click on "log in". At the next prompt click on "forgot password" and follow instructions.)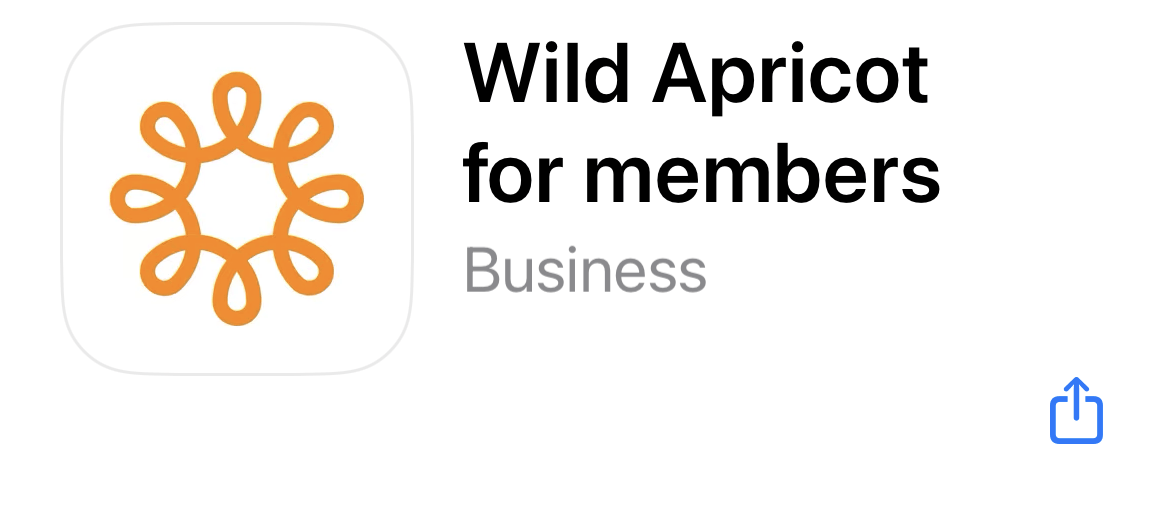 Board of Trustees Election Nomination Period
The nomination period for Board of Trustee candidates is now open and runs from August 1 through October 1. Anyone interested in running for office should contact a current board member. Please encourage other potential candidates to apply.
C3 Summer Fundraiser Update

Gordy Alderink, John Leitner, Ira Engeltjes, and Andy Cawthon have been pedaling to up the ante, while Chrys Moelter-Gray has added a few more swims in Lake MIchigan, all to raise funds for C3. You are encouraged to sponsor any of these C3ers with a pledge! They will continue pedaling and dipping until Sunday, September 17, and will report totals and dollars shortly after that.

🆕  Vigil for Peace and Justice
The Vigil for Peace and Justice takes place every Saturday from noon to 1 p.m. along Washington Avenue at Central Park in Grand Haven.
Grand Haven Hispanic Heritage Fiesta
Mark Saturday, September 16, 11 a.m. to 10:30 p.m. on your calendar as the date for this year's Hispanic Heritage Fiesta! C3 is a sponsor and on the planning team. This event honors our Hispanic community with music, dance, a Mercado (marketplace), kids' activities, food, and more. We will have a C3 Booth, and we need a canopy for the day. Please contact Rod Van Abbema if you have one to loan.
Fall Adopt-A-Highway Date
Another important date to set aside is the morning of September 30. Our fall Adopt-A-Highway cleanup has been scheduled for that Saturday. Rain date is Sunday, October 1, after the Gathering.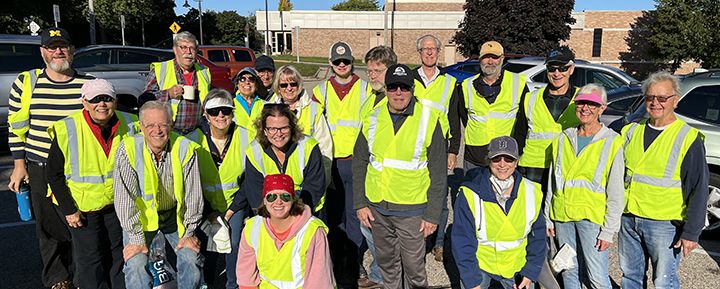 🆕  Sunday Dinner Group 
We're meeting again at William Ferry Park in Ferrysburg (110 Pine Street) at 5:30 on Sunday evening, repeating our "Bring Your Own Picnic" (or grab some take-out food on the way)!
C3 Men's Group
The C3 Men's Group meets from 7 to 8:30 p.m. on Tuesdays at the American Legion Hall on Harbor Drive. Contact Phil Koster at 616-402-1751 for more information.
Caring for the members of our C3 Community is a shared communal responsibility, rather than a role reserved for a pastor, priest, or leader. Our C3 Community Care Team encourages members to support each other at time of need with notes, cards, phone calls, visits, meals, and transportation. C3 members are urged to contact the Community Care Team to inform them of life events, illness, or hardships, which can be shared with the C3 Community. To report a need or request help, or to help visit members in hospital, rehab or recovering at home, contact Cheryl Van Abbema: email or Mike and Charlotte Rozich: email.
Cyndi Casemier's mother Carolyn Casemier-Rotz, passed away on July 23. The obituary may be read here. A Celebration of Life will be held September 2, 4 to 7 p.m. at Klaasen's Funeral Home. Cards may be sent to Cyndi at 13489 Redbird Lane, Grand Haven, MI 49417.
Carolyn DeVries wishes to thank all for the kindness and thoughtfulness shown during her recovery from a fall. She is currently continuing recovery at home.
Hank & Karen Nash have moved to Washington state, north of Seattle, to live closer to family. Karen reports "a plethora of liberal churches out here." They have asked to share their new contact information with C3 friends. Address: 15932 Village Green Drive, Unit D, Mill Creek, WA 98012.

Week 3@C3 in August
We're collecting Back-to-School items based on teachers' stated needs within the Muskegon Heights Public School Academy system. The items will be distributed by the teachers themselves, based on needs of individual classrooms and teachers. See the printable list of possible donations here. You may bring items from the list below to C3 this Sunday or on August 20.
Copy paper – 8 1/2″  x 11″ white; by case or ream; lots
Sanitizer wipes – Clorox brand suggested; dozens of containers
Kleenex or other similar brand tissues; multiple boxes

Standard, spiral-bound notebooks – wide ruled (important!); dozens

Pocket folders – hundreds; colorful

Pencils – #2 Ticonderoga brand (specifically for testing); many packages

Pink Pearl erasers

Crayola wax crayons: 24-ct boxes; individual boxes or packs of six or more

Colored pencils – for students (not adult type); many boxes

Scotch tape – replacement rolls for dispensers or regular filled plastic dispensers

Lysol scented sprays

Please note specifics, as other item types may not be useful in the classroom. These are very basic school supplies. Let's be generous and see to what degree we can relieve the teachers at MLK from having to spend their own money to achieve success in their classrooms. You may also consider sending a check made out to "C3–Back to School Project."  Mail to Week 3 @ C3, P.O. Box 371, Grand Haven, MI 49417, and we will shop for you.
Travel-size Items
Every Woman's Place takes contributions of travel size toiletry items—shampoo, conditioner, wrapped soap, lotions, nail files, floss. If you have any of these to contribute, bring them any Sunday to the Week 3@C3 table.

Use your IRA and/or Required Minimum Distribution (RMD) to support C3
Would you like to save money on your taxes and support C3 at the same time? You can use money in your IRA to contribute directly to a charitable organization like C3, without it being considered a taxable distribution. The same applies if you are required to take an RMD. Be certain to consult with your tax advisor or financial representative as it is important to understand the process and follow the appropriate guidelines.
Your ongoing support of C3 is greatly appreciated. Online donations can be made here. Automatic donations can be set up by contacting Carol Takas at Selby Accounting. Checks should be sent to C3 Spiritual Community, P. O. Box 371, Grand Haven, MI 49417. C3 is a 501(c)(3) Tax-Exempt Organization. Our tax ID is 38-1960212.

Summer Theater!

C3 member Julie Bratton  and C3 Friends Joseph and Natalie Carmolli are appearing in The Book of Will, part of the Playhouse at White Lake's Summer Theater Festival. Based on a true story—it's 1619, William Shakespeare has been dead for three years and the members of his acting troupe are starting to pass away too. The remaining members realize…nothing is written down!  Shakespeare only gave each actor the words he was to say. What happens to the plays when no one is alive to remember them? A meditation on life, loss, love, Shakespeare, theater, and the quietly steadfast leadership of women. Performances August 11-13. Get your tickets here.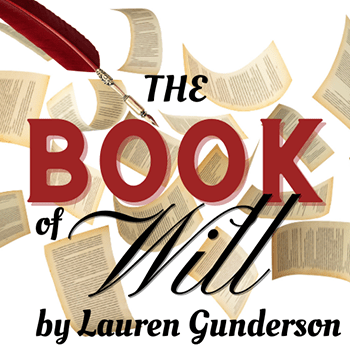 Momentum Center
Free Dinner and Movie Night — Tonight! Hot dogs and burgers from the grill are the featured menu items for the free dinner this evening, at 5:00 p.m. Pot luck items are welcome, but not expected. The movie 

Nimona

 begins at 6 p.m. This movie is out-of-the-ordinary, and sure to stretch your imagination. This is always a fun event!
Town Hall Meeting. The first post-pandemic in-person town hall meeting is scheduled for Monday, August 14, at the new Momentum Center location (401 N. 7th Street, Grand Haven). The topic is COVID: Effects on Mental Illness and Substance Abuse. Details 

here

. 

Books and Bling Sale at Muskegon Heights Branch Library
It's tomorrow! Attend the sale on Saturday, August 12, from 10 a.m. to 2 p.m. at the Muskegon Heights Branch Library, 2808 Sanford Street, Muskegon Heights, 49444. Take a look at the beautifully renovated library and see if there isn't something that tickles your fancy to purchase.
Faith and Politics in Ottawa County

A panel discussion on this topic takes place on Thursday, August 17, 6 to 7:30 p.m. at Central Park Place, Grand Haven, put on by The Ottawa Coalition of the Unifying Congregations. Further information is available on the Unifying Coalition website.

Saturday, August 12
12 p.m.  Vigil for Peace and Justice (Washington Ave. at Central Park, GH)
Sunday, August 13
All events held in the Mackinaw Ballroom in Central Park Place (421 Columbus Ave., GH)
9 a.m. Pre-Talk & Awakenings
10 a.m. C3 Kids with Miss Mary and volunteer Sandy Kate Stephens
10 a.m. Gathering, In Person + Livestream on Facebook
   • C3 Teacher: Greg Rappleye
   • Music: Annagail 
   • Meditation: Rod Van Abbema                 
11 a.m. Talk Back
5:30 p.m.  Dinner Group (BYO Picnic, William Ferry Park, Ferrysburg)
Tuesday, August 15

7 p.m. C3 Men's Group (American Legion, GH)

Saturday, August 19
12 p.m.  Vigil for Peace and Justice (Washington Ave. at Central Park, GH)
Sunday, August 20
All events held in the Mackinaw Ballroom in Central Park Place (421 Columbus Ave., GH)
9 a.m. Pre-Talk & Awakenings
10 a.m. C3 Kids with Miss Mary and volunteer Sally Alderink
10 a.m. Gathering, In Person + Livestream on Facebook
   • C3 Teacher: Brie Stoner
   • Music: Genna & Jesse 
   • Meditation: Leslie Newman                 
11 a.m. Talk Back